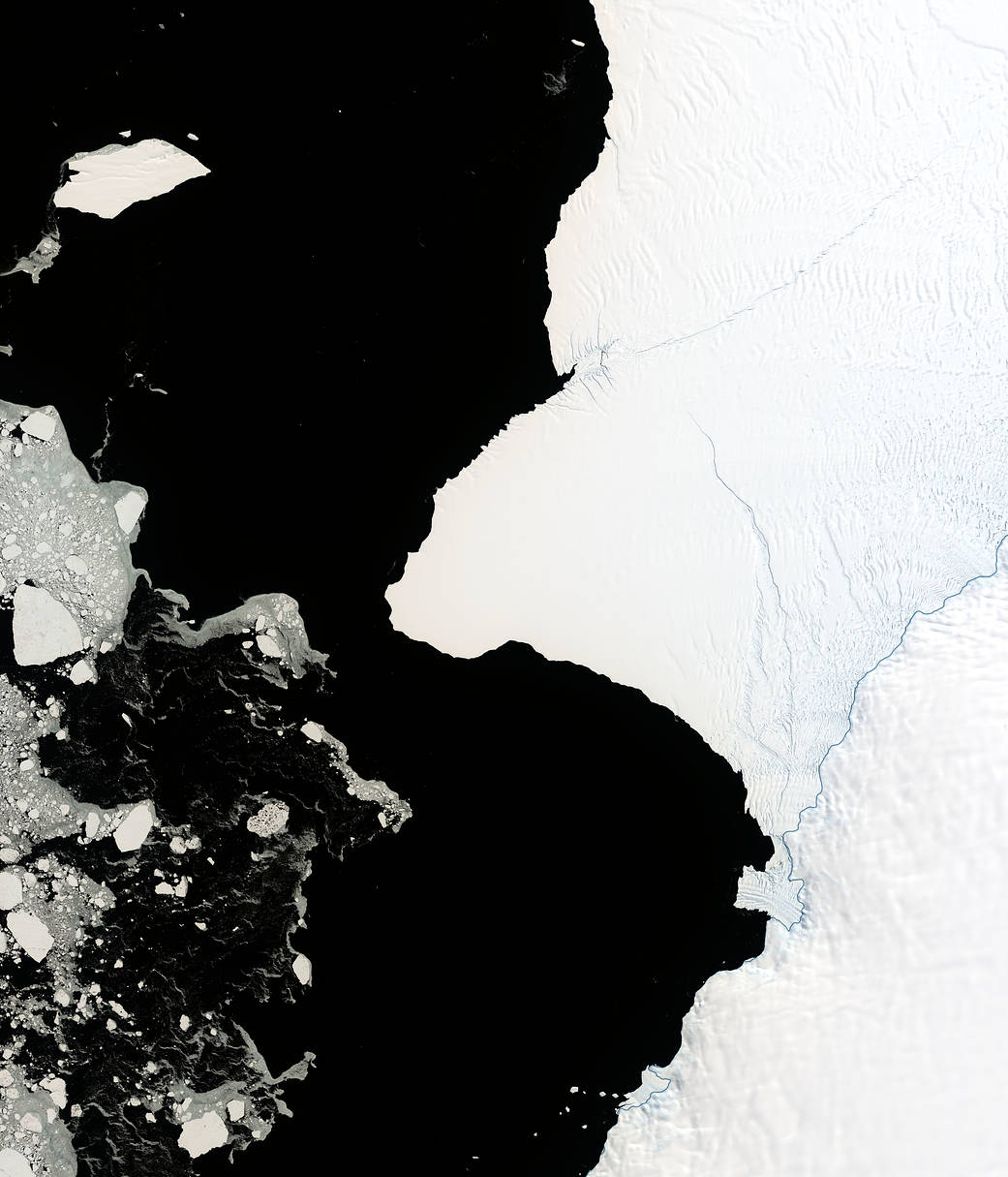 Cracks growing across Antarctica's Brunt Ice Shelf are poised to release an iceberg with an area about twice the size of New York City. It is not yet clear how the remaining ice shelf will respond following the break, posing an uncertain future for scientific infrastructure and a human presence on the shelf that was first established in 1955.
The above image, from the Operational Land Imager (OLI) on Landsat 8, shows the area on January 23, 2019. The crack along the top of the image—the so-called Halloween crack—first appeared in late October 2016 and continues to grow eastward from an area known as the McDonald Ice Rumples. The rumples are due to the way ice flows over an underwater formation, where the bedrock rises high enough to reach into the underside of the ice shelf. This rocky formation impedes the flow of ice and causes pressure waves, crevasses, and rifts to form at the surface.
The more immediate concern is the rift visible in the center of the image. Previously stable for about 35 years, this crack recently started accelerating northward as fast as 4 kilometers per year.
Calving is a normal part of the life cycle of ice shelves, but the recent changes are unfamiliar in this area. The edge of the Brunt Ice Shelf has evolved slowly since Ernest Shackleton surveyed the coast in 1915, but it has been speeding up in the past several years.
Before and after images and additional information: NASA Earth Observatory
Image Credit: NASA Earth Observatory image by Joshua Stevens, using Landsat data from the U.S. Geological Survey
Caption: Kathryn Hansen, with image interpretation by Chris Shuman (NASA/UMBC)