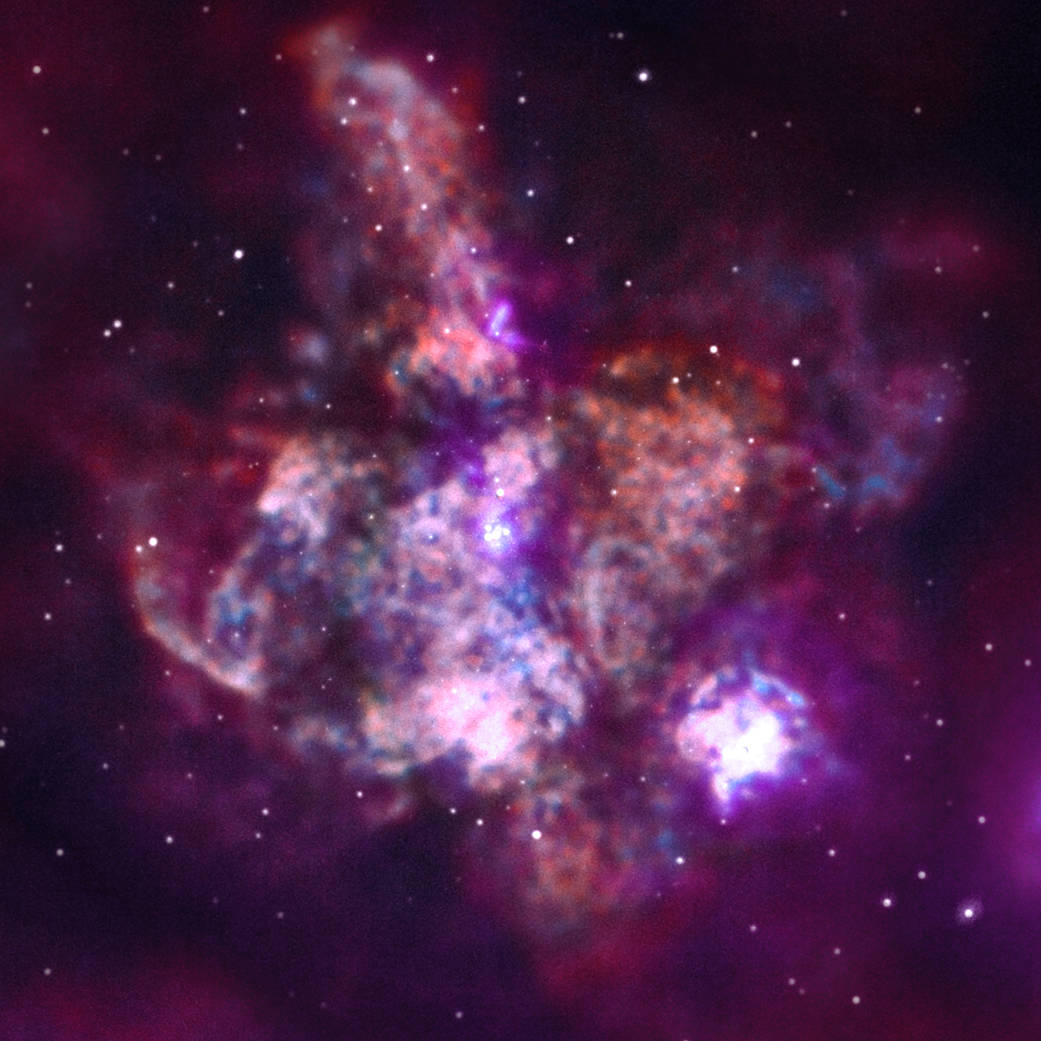 At the center of 30 Doradus, one of the largest star-forming regions located close to the Milky Way, thousands of massive stars are blowing off material and producing intense radiation along with powerful winds. Chandra detects gas that has been heated to millions of degrees by these stellar winds and also by supernova explosions that mark the end of some giant stars' lives. These X-rays come from shock fronts, similar to sonic booms produced by supersonic airplanes, that rumble through the system.
This new Chandra image of 30 Doradus, which is nicknamed the "Tarantula Nebula," contains data from several long observations totaling almost 24 days of observing spread out over about 700 days. The colors in this Chandra image are red, green and purple to highlight low, medium and high X-ray energies respectively.
Astronomers used the long set of Chandra observations to discover that one of the bright X-ray sources shows regular variations in its X-ray output, with a period of 155 days. This variation originates from two massive stars orbiting each other, in a double-star system called Melnick 34. Follow-up observations with the European Southern Observatory's Very Large Telescope and the Gemini Observatory, both in Chile, measured the change in velocities of both stars during their orbit, leading to mass estimates of 139 and 127 times the mass of the sun. This makes the Melnick 34 the most massive binary known, as reported in a paper published earlier this year. Within about two or three million years, both stars should implode to form black holes. If the binary survives these violent events, the black holes might eventually merge to produce a burst of gravitational waves.
The X-rays likely originate from shock waves generated by the collision of material blowing away from the surfaces of both stars, making Melnick 34 a "colliding-wind binary".
Image credit: NASA/CXC/Penn State Univ./L. Townsley et al.
Read Chandra 20th Anniversary feature
View gallery of other 20th Anniversary images
Read more from NASA's Chandra X-ray Observatory.
For more Chandra images, multimedia and related materials, visit: