NASA / Ken Ulbrich
A recent flight on a commercial rocket tested an environmental monitoring experiment that may allow for multiple technologies on the same vehicle while checking for possible interference from electrical and magnetic sources.
Masten Space Systems, Mojave, California, conducted the Nov. 2, 2016, flight test on its Xodiac rocket launching from Mojave Air and Spaceport, California, carrying a Johns Hopkins University Applied Physics Laboratory (JHU APL), Laurel, Maryland, electromagnetic field measurement experiment onboard.
Named JANUS, after a Roman god of transitions and new beginnings, the experiment gauged the spacecraft's internal environmental conditions. This was the first flight of APL's JANUS system, which will ultimately facilitate routine integration and flight testing of multiple future experiments and technology demonstrations.
Under NASA's Flight Opportunities (FO) program's suborbital flight providers often support testing of multiple technologies that require being flown together in low-to-no microgravity flights. For this flight, Masten's vertical-take off and vertical-landing rocket flight tested the measurement experiment reaching an altitude of approximately 1,476 feet.
"This initial flight is JHU APL's first step into a new era of exploiting commercial suborbital low-cost access to space for scientific research and technology development." said D. H. Todd Smith, JHU APL senior scientist and JANUS principle investigator." NASA's Flight Opportunities program offers a critical pathway toward achieving these goals."
A follow-on flight test of the JHU APL JANUS platform will include a global positioning system and an accelerometer with an inertial measurement unit to gauge resistance or disinclination to motion, action or change. This second flight is aimed to fly an experiment to a higher altitude of up to 60 miles.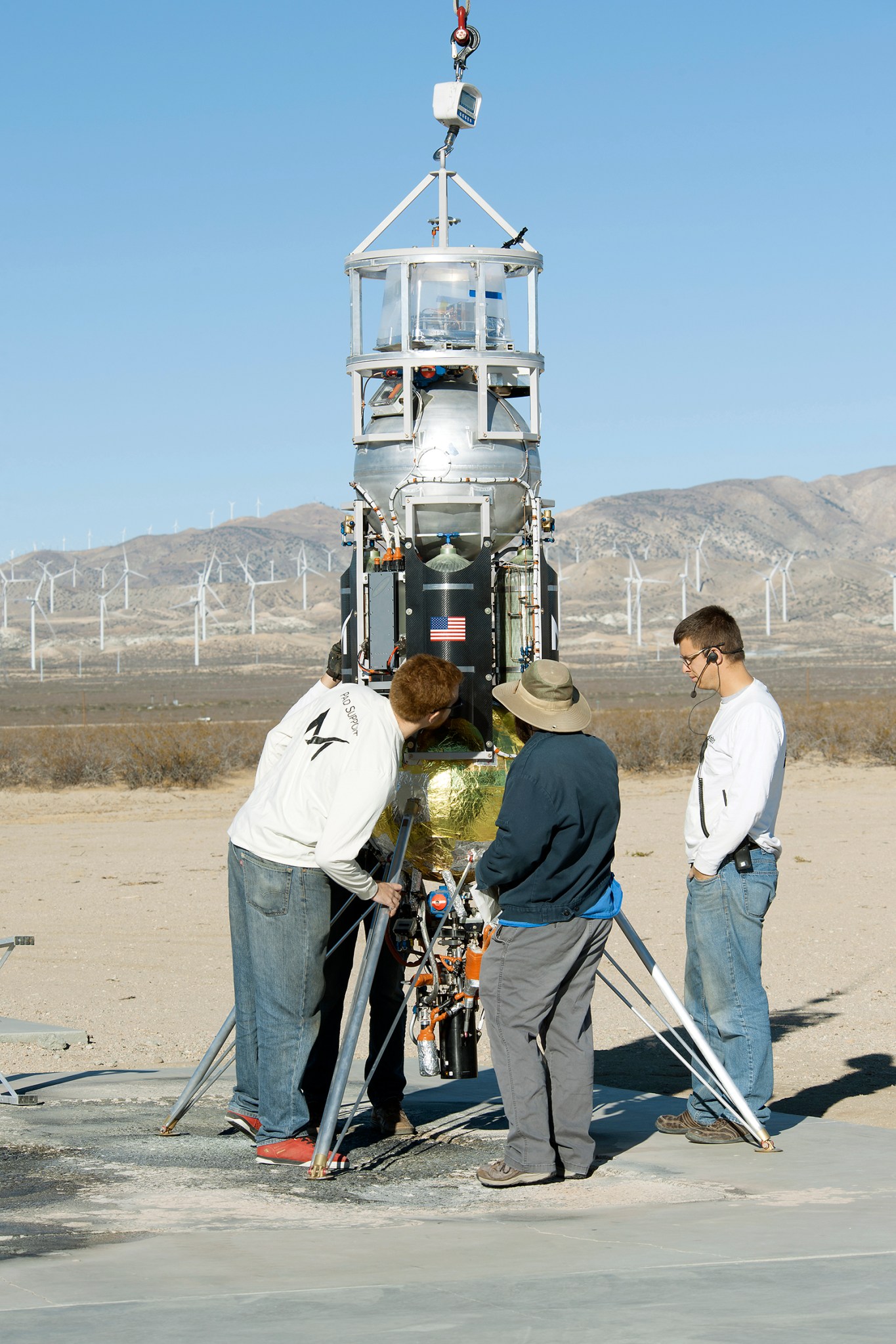 NASA / Ken Ulbrich
As NASA continues its Journey to Mars, the FO program is assisting the agency by maturing space technologies through flight tests in space-like environments where these technologies will eventually be operating. The program has already successfully tested technologies that are now on the International Space Station.
"Working with these commercial flight providers like Masten and university researcher institutions such as the Johns Hopkins Applied Physics Laboratory, NASA can advance innovative technologies more affordably," said Joe Hernandez, NASA FO campaign manager.
Through the FO program, the Space Technology Mission Directorate, STMD, selects promising technologies from industry, academia and government, and tests them on commercial launch vehicles.
The program is managed at NASA's Armstrong Flight Research Center in Edwards, California. STMD is responsible for developing the crosscutting, pioneering new technologies and capabilities needed by the agency to achieve its current and future missions.
Leslie Williams
NASA Armstrong Flight Research Center