As of this writing, astronauts and cosmonauts have celebrated 81 birthdays aboard the International Space Station (ISS), an average of about four per year since human occupancy began in November 2000. As crewmembers made repeat flights to ISS, a number have celebrated more than one birthday in space, the record now standing at four. In addition to celebrating their own special days traveling in space, ISS crewmembers participate remotely in the anniversary festivities of their ground-based loved ones, co-workers, celebrities, historical figures, pets, and even organizations from their outpost in low Earth orbit. Prior to the ISS Program, dozens more astronauts and cosmonauts celebrated their special day in orbit, mostly aboard Soviet and Russian space stations, since the first event in 1971. Space limitations don't allow featuring every space-based birthday, and some were more private events, but we provide a healthy and happy sample of celebrations through the years.
The first person to celebrate a birthday in space was Soviet cosmonaut Viktor I. Patsayev, who turned 38 on June 19, 1971, during his 24-day mission aboard the world's first experimental space station Salyut. The first American astronaut to celebrate his birthday in space was Charles "Pete" Conrad, when he turned 43 aboard the Skylab 1 space station on June 2, 1973. Richard H. Truly became the first Space Shuttle astronaut to celebrate a birthday in space when STS-2 launched on his 44th birthday on Nov. 12, 1981. Quite the birthday candle!


Left: Patsayev aboard Salyut. Middle: Conrad aboard Skylab.
Right: Truly with an oversized birthday card prior to his launch on STS-2.
Janet L. Kavandi, the first woman to celebrate a birthday in space, has the distinction of having the first birthday on ISS on July 17, 2001. Kavandi, a crewmember aboard Space Shuttle Atlantis during the STS-104 mission, celebrated the event on the day her crewmates Michael L. Gernhardt and James F. Reilly conducted their second EVA of the mission to install the Quest airlock onto ISS. Her orbital birthday cake consisted of a lit penlite stuck in a brownie. Expedition 4 Commander Yuri I. Onufriyenko holds the distinction as the first long-duration crewmember to celebrate a birthday aboard ISS on Feb. 6, 2002, while Expedition 6 Science Office Donald Pettit holds that honor as the first American long-duration crewmember to celebrate his birthday on ISS, on April 20, 2003.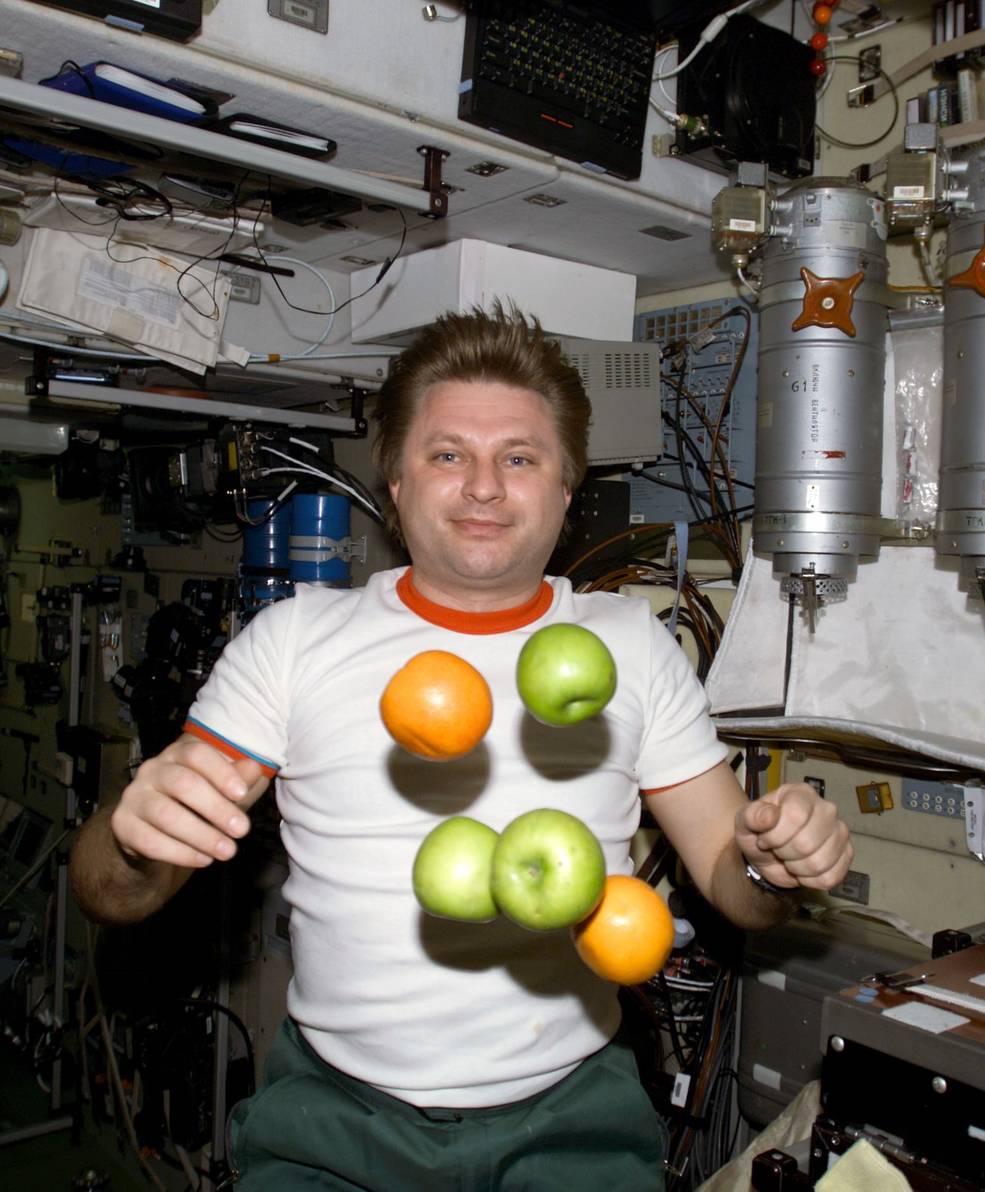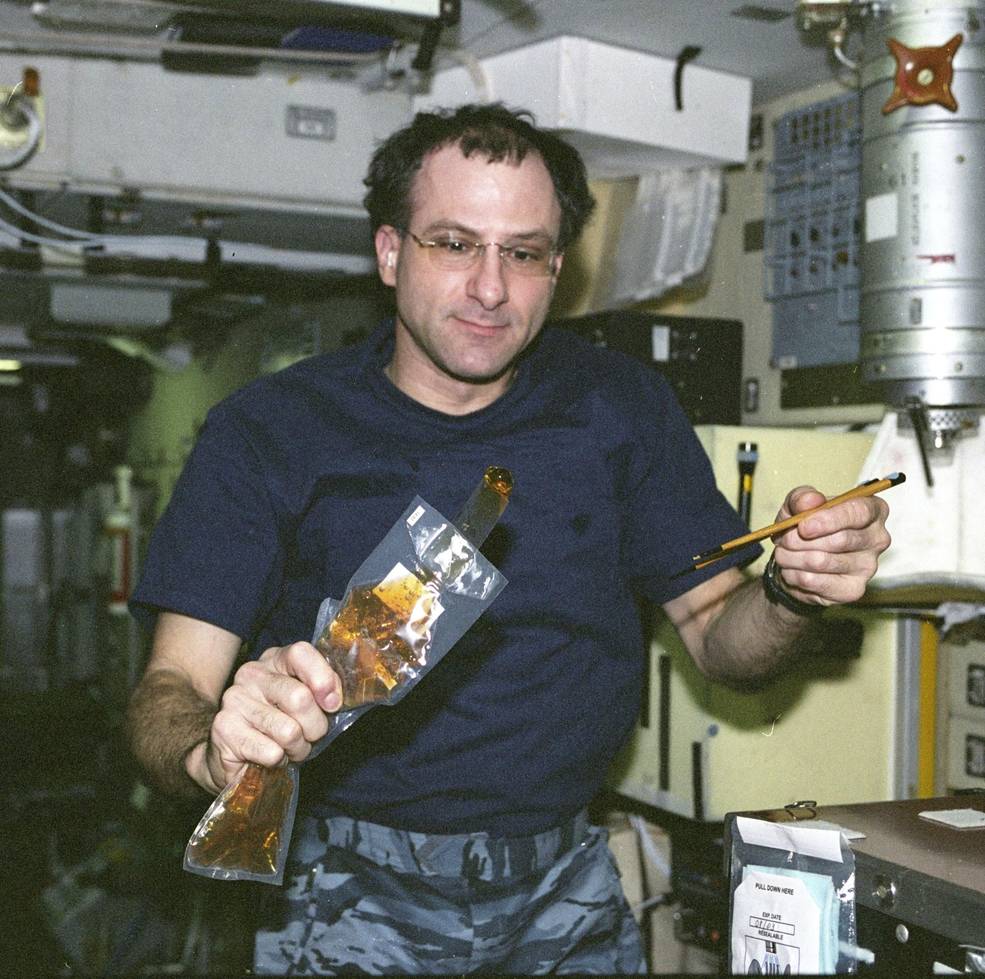 Left: Kavandi celebrates her birthday during STS-104 while docked to ISS.
Middle: Onufriyenko was the first long-duration crewmember to celebrate a birthday
on ISS during Expedition 4. Right: Pettit was the first American long-duration crewmember to
celebrate a birthday on ISS during Expedition 6.
Expedition 7 Science Officer Ed T. Lu considers Honolulu, Hawaii, his hometown. In honor of his 40th birthday on July 1, 2003, which he celebrated aboard ISS with his crewmate Yuri I. Malenchenko, Hawaii Governor Linda Lingle proclaimed that day as "Edward Tsang Lu Day" in his home state. Knowing of his fondness for Hawaiian aloha shirts, Malenchenko as well as personnel in Mission Control in Houston wore the colorful shirts to help Lu celebrate his birthday.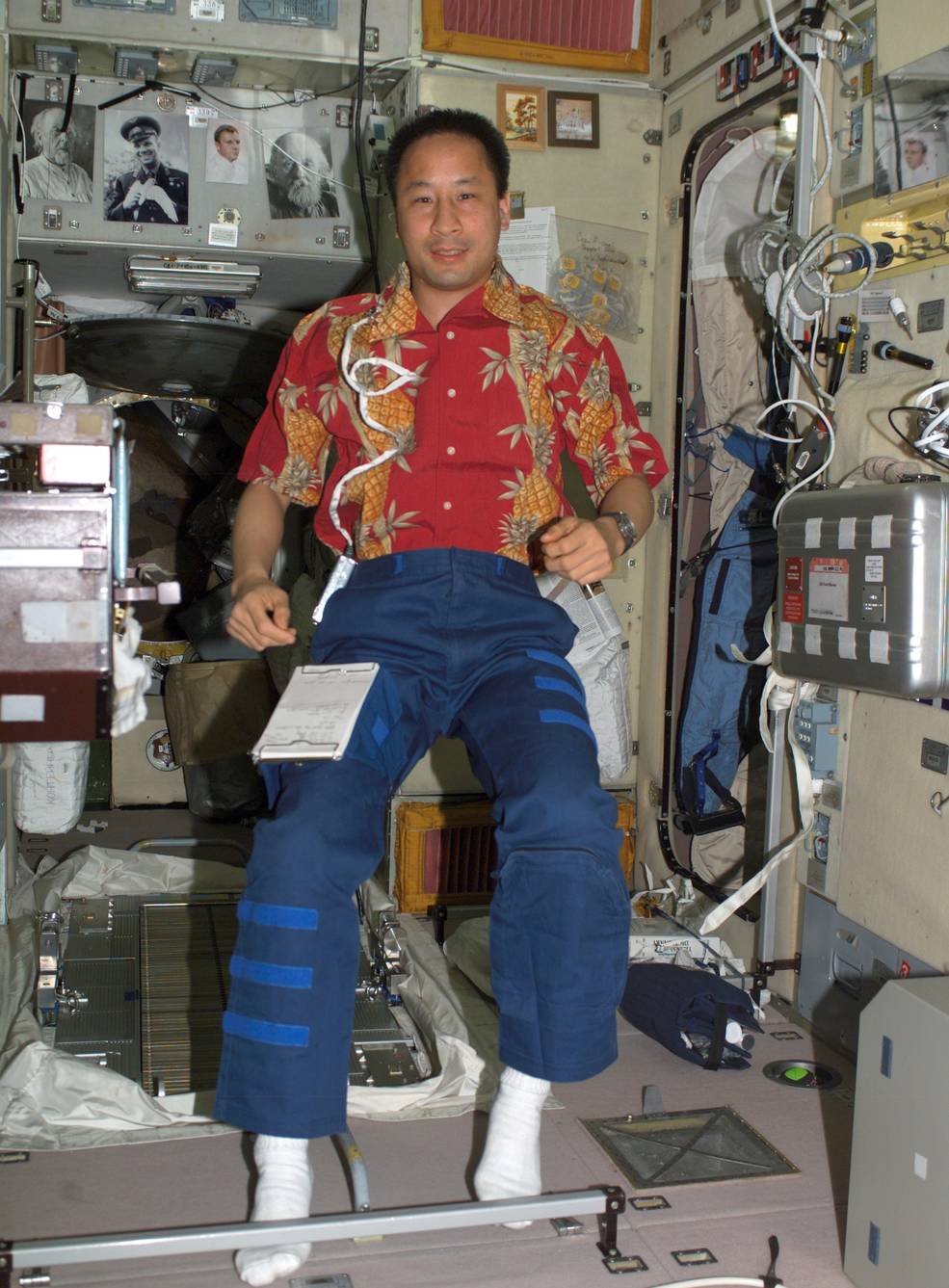 Left: Lu wearing a Hawaiian aloha shirt during Expedition 7.
Right: Personnel in Mission Control wearing aloha shirts in honor of Lu's birthday.
For his 54th birthday on April 15, 2005, Expedition 11 Flight Engineer and ISS Science Officer John L. Phillips received a warm sendoff from his family at the Baikonur Cosmodrome in Kazakhstan as he and his crewmates launched to ISS – undoubtedly the most memorable birthday candle Phillips had ever enjoyed!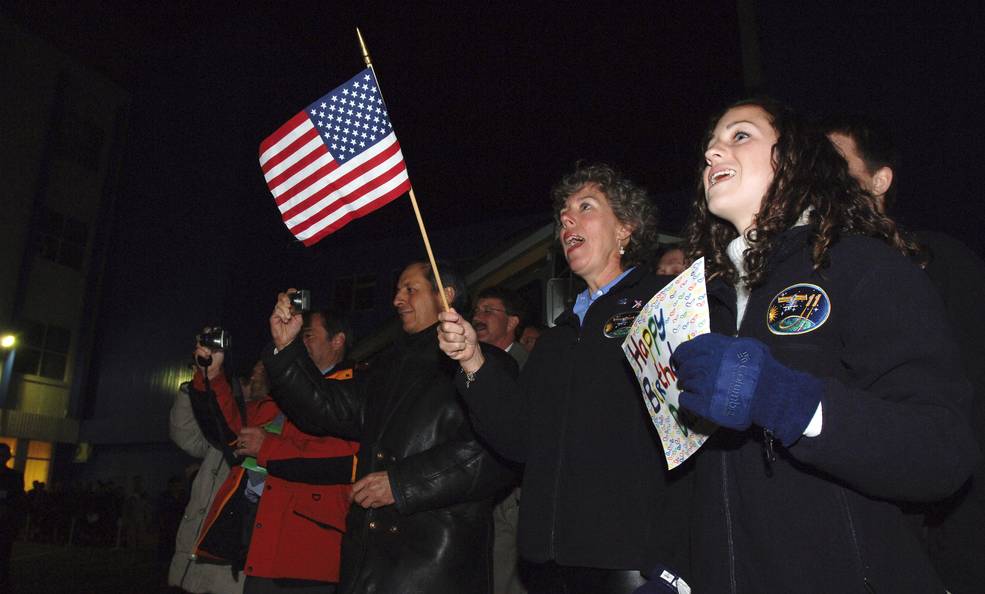 Left: Family of Phillips provide a birthday send off on his launch day. Right: Triple celebration
aboard ISS during Expedition 20 – Padalka's (at center) birthday, Father's Day, and Wakata's
(above Padalka) 100th day in orbit; Romanenko, DeWinne, and Barratt are also in the photo taken by Thirsk.
As Commander of Expedition 20, Gennadi I. Padalka helped initiate 6-crew operations aboard ISS, significantly increasing crew time available for research. Uniquely, Expedition 20 included crewmembers from all five ISS partners – Padalka and Roman Y. Romanenko from Russia, Michael R. Barratt from NASA, Robert B. Thirsk from Canada, Frank L. DeWinne from the European Space Agency (ESA), and Koichi Wakata from the Japan Aerospace Exploration Agency (JAXA). On June 21, 2009, Padalka turned 51 and his five crewmates helped him celebrate his second of four birthdays aboard ISS, the most of anyone to date. In addition, all six crewmembers also celebrated Father's Day that fell on the same day and Wakata's 100th day in space.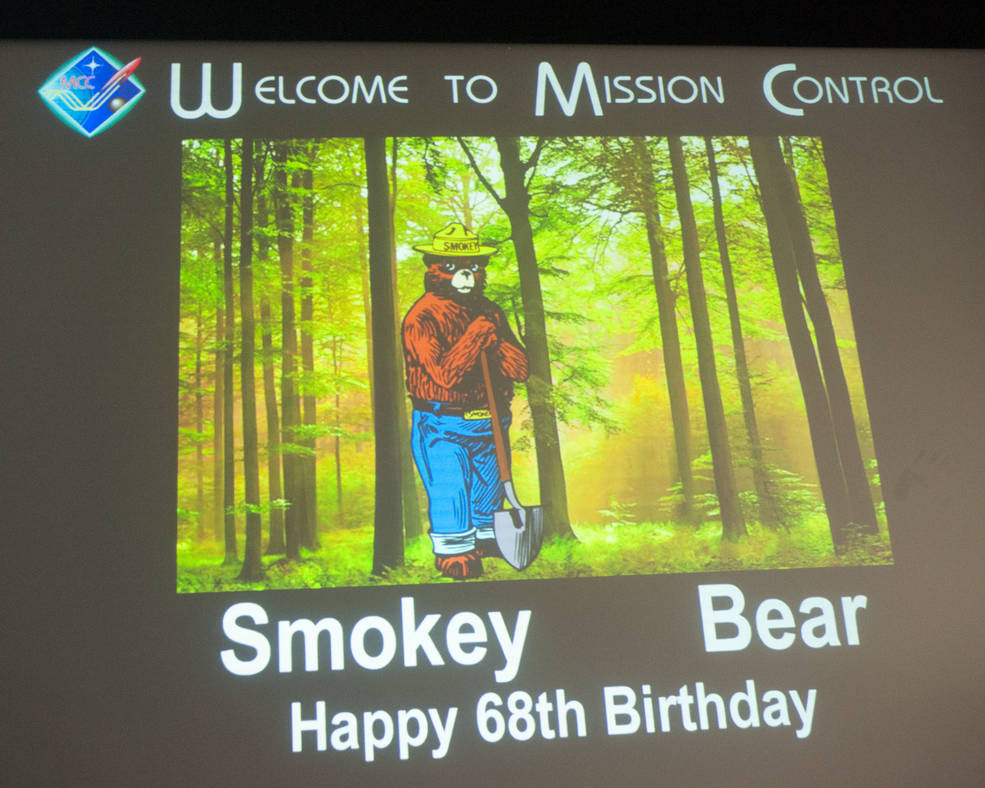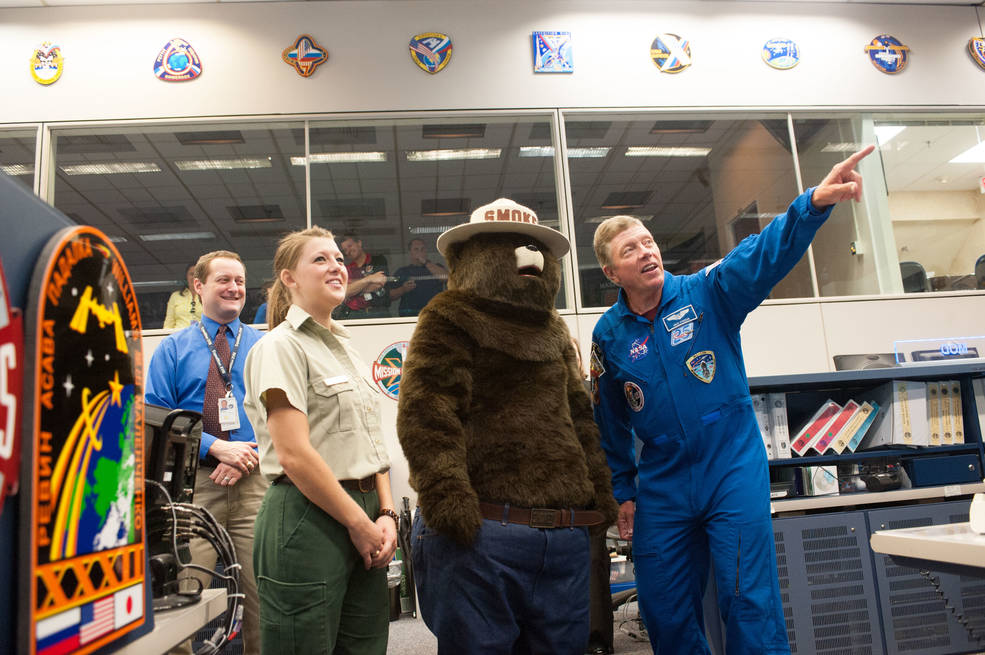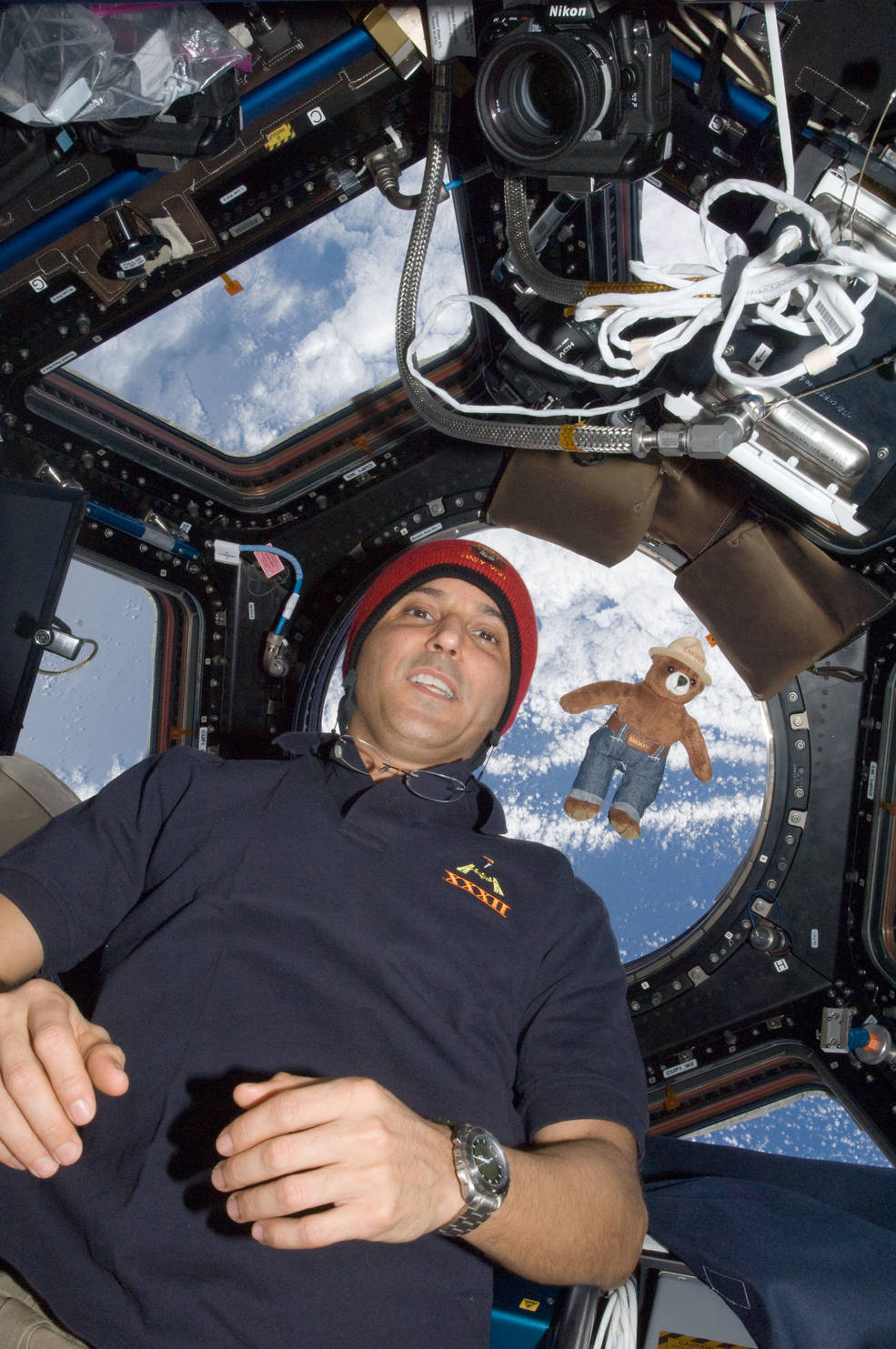 Left: Sign in Mission Control honoring Smokey the Bear's 68th birthday. Middle: Fossum giving Smokey the Bear
a tour in Mission Control. Right: Acaba with a plush Smokey the Bear sending birthday greetings from the Cupola.
The day he arrived on ISS on May 17, 2012, as a member of Expedition 32 also happened to be astronaut Joseph M. "Joe" Acaba's 45th birthday – what a way to celebrate! Less than three months later, on Aug. 9, Acaba helped to honor the 68th birthday of an iconic American figure, Smokey the Bear. NASA helped the US Forest Service and the Texas State Forest Service celebrate Smokey's birthday, which included a visit by the fire prevention spokesperson (spokesbear?) to Mission Control, with astronaut Michael E. Fossum providing a personal tour and Acaba beaming down a congratulatory message, with a plush version of Smokey floating behind him in the Cupola module.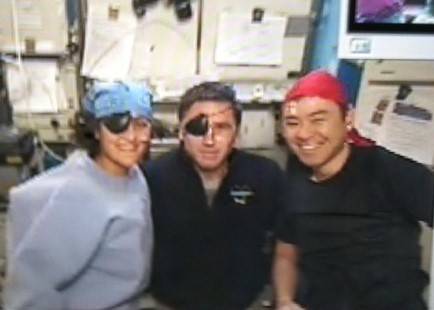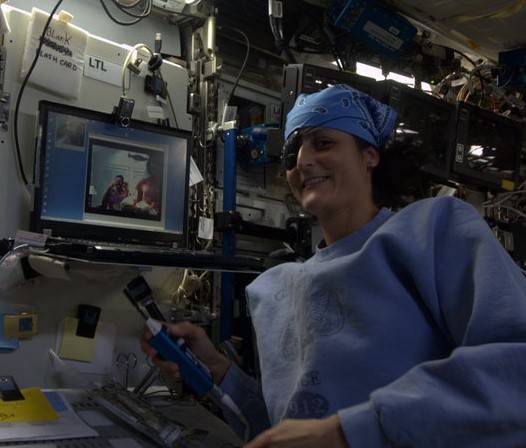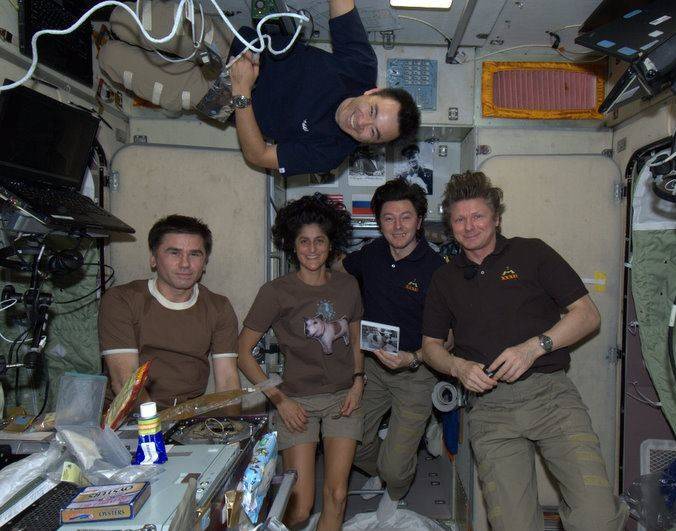 Left: Williams (left) with Malenchenko and Hoshide in pirate garb. Middle: Williams during video link with her family.
Right: Williams celebrates her dog Gorby's birthday with crewmates Malenchenko, Revin, Padalka,
and Hoshide, with Acaba taking the photo.
Astronaut Sunita L. Williams celebrated her birthday aboard ISS on Sept. 19, 2012, coinciding with International Talk Like a Pirate Day; as Commander of Expedition 33 she "ordered" her crewmates Yuri I. Malenchenko and Akihiko Hoshide to join her in dressing as pirates. For dinner that evening, they shared lobster, saag paneer, yakatori, Japanese bacon/pork in sauce and good luck Japanese rice with red beans, and via a video link with family members on the ground Williams virtually blew out candles on a birthday cake. Six days earlier, Williams and her crewmates celebrated her Jack Russell terrier Gorby's 11th birthday.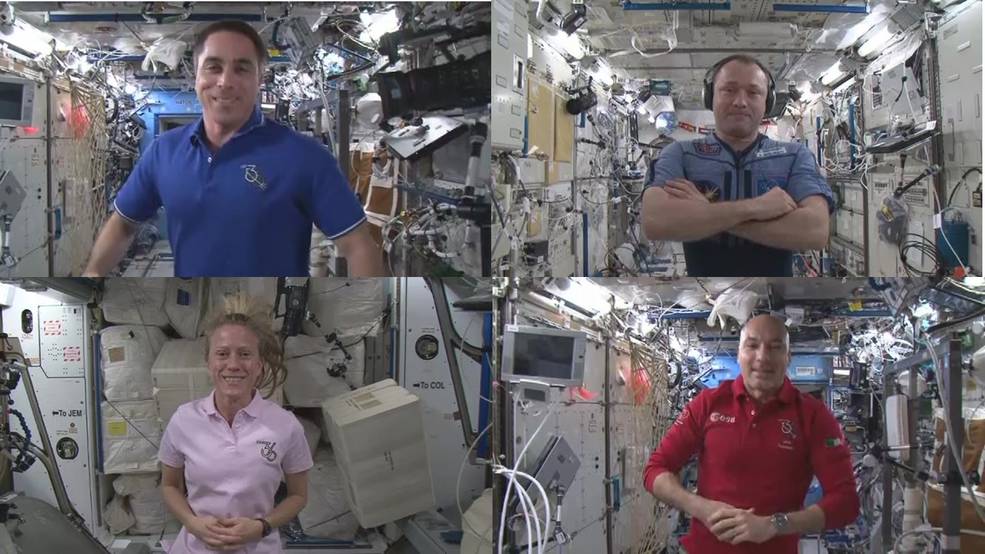 Left: Vinogradov (at center, wearing bow tie), flanked by crewmates Yurchikhin and Misurkin.
Right: Several of Vinogradov's crewmates (top left to bottom right, Cassidy, Misurkin, Nyberg,
and Parmitano) recorded birthday wishes for him.
Expedition 36 Commander Pavel V. Vinogradov celebrated his 60th birthday aboard ISS on Aug. 21, 2013, the oldest person to celebrate such an occasion in space. He had previously celebrated two other birthdays in orbit, in 1997 aboard Mir and in 2006 aboard ISS. Vinogradov's crewmates Christopher J. Cassidy, Alexander A. Misurkin, Karen L. Nyberg, and Luca S. Parmitano recorded birthday wishes for him in three languages while Misurkin and crewmate Fyodor N. Yurchikhin joined him in a video downlink celebration.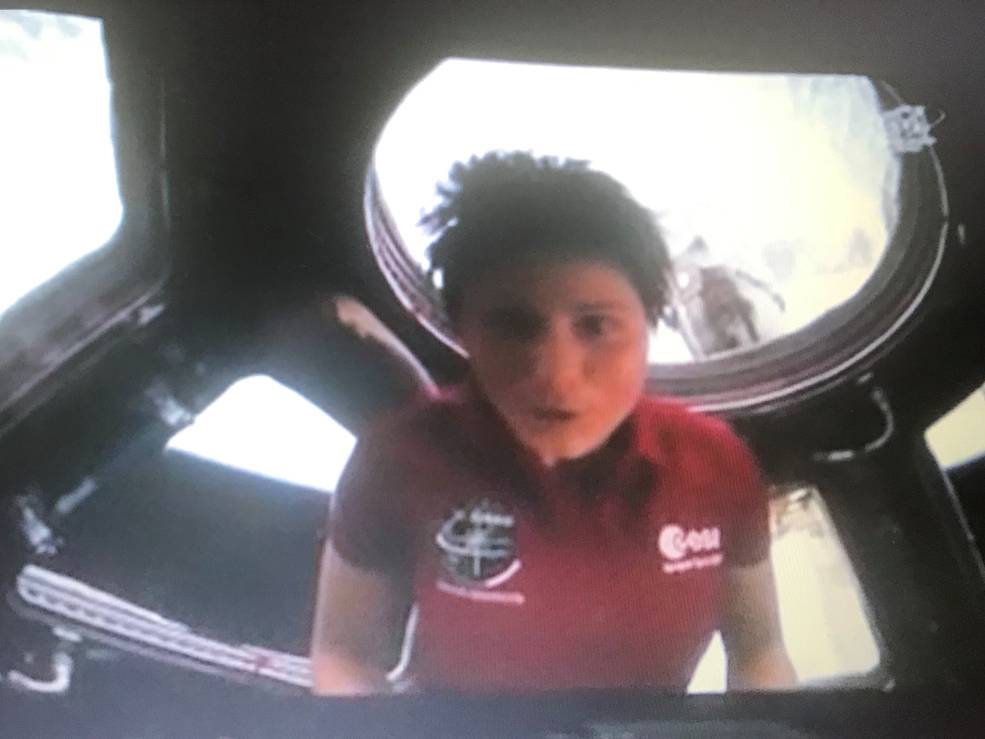 Left: Shkaplerov (left) and Virts (right) help Cristoforetti celebrate her birthday.
Right: Cristoforetti reading from Dante's Paradiso in honor of the writer's 750th anniversary.
In celebration of the 750th anniversary of Italian writer Dante's birth, ESA's Italian astronaut Samantha Cristoforetti read from the first canto of Paradiso in a transmission from ISS. The reading (in Italian) was aired at the Odeon Cinema in Florence, Italy, on April 24, 2015. Cristoforetti celebrated her own birthday aboard ISS two days later with her crewmates Terry W. Virts, Anton N. Shkaplerov, Scott J. Kelly, Mikhail B. Korniyenko, and Gennadi I. Padalka.

Left: Kelly dressed in a gorilla suit emerging from the stowage bag.
Right: Kelly in gorilla suit chasing Peake through Destiny.
To surprise astronaut Scott J. Kelly for his Feb. 21, 2016, birthday during his one-year mission aboard ISS, his twin brother astronaut Mark E. Kelly arranged for the delivery of a life-size gorilla costume to the station. In addition to some mild-mannered shenanigans while wearing the gorilla costume that he posted to social media, such as chasing fellow Expedition 46 crewmember Timothy N. Peake through the Destiny module, Kelly also recorded some educational videos dressed in the non-standard garb.

Left: Pesquet (left) celebrates his birthday with crewmate Novitsky.
Right: Pesquet displays the saxophone gifted to him by his crewmates.
ESA's French astronaut Thomas G. Pesquet is an accomplished musician, especially fond of playing the saxophone. His Expedition 50 crewmates R. Shane Kimbrough, Andrei I. Borisenko, Sergei N. Ryzhikov, Peggy A. Whitson, and Oleg V. Novitsky arranged to have an alto saxophone delivered to ISS. They kept the saxophone hidden aboard ISS and to his great delight and amazement presented it to Pesquet on his birthday on Feb. 27, 2017, who entertained them and the ground with his musical talents.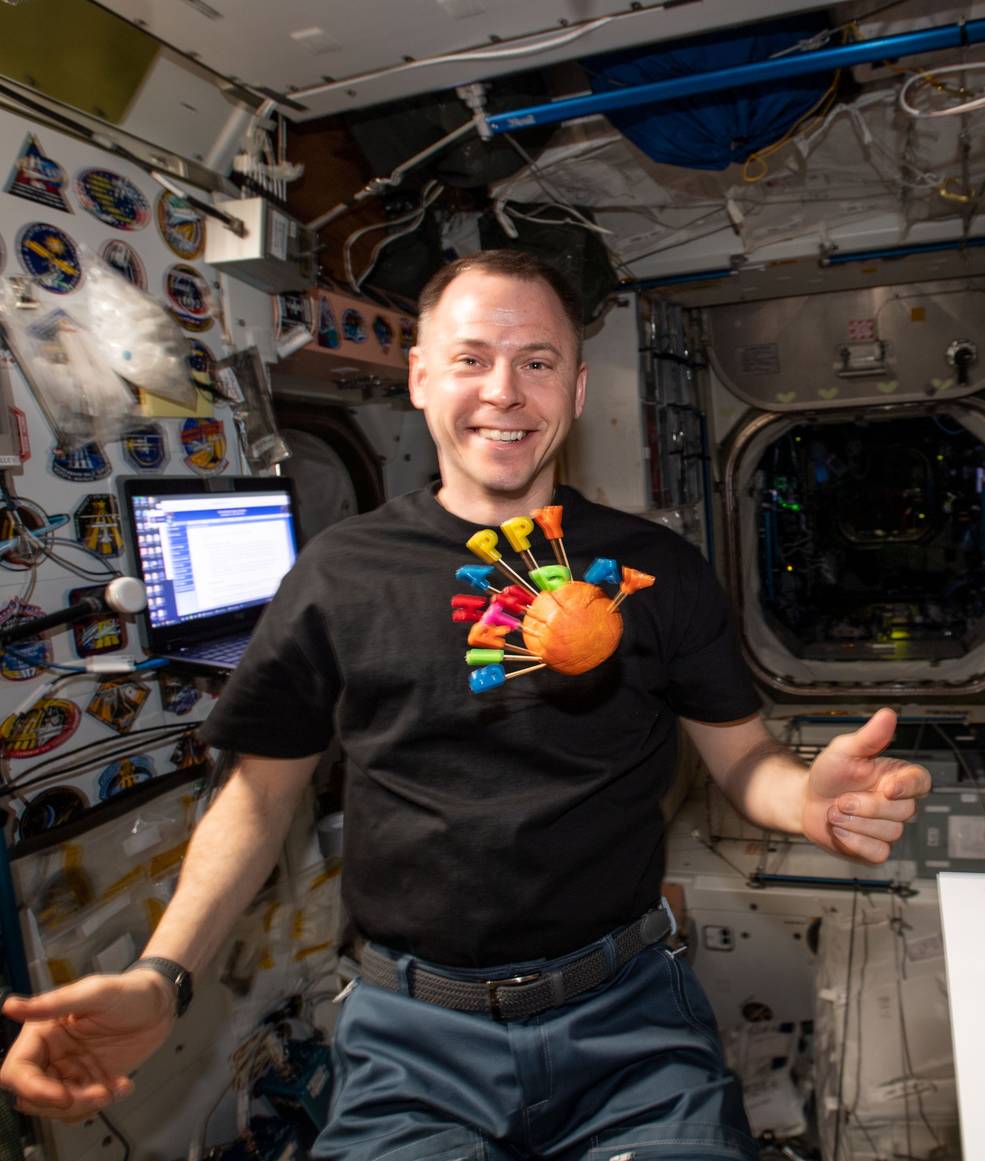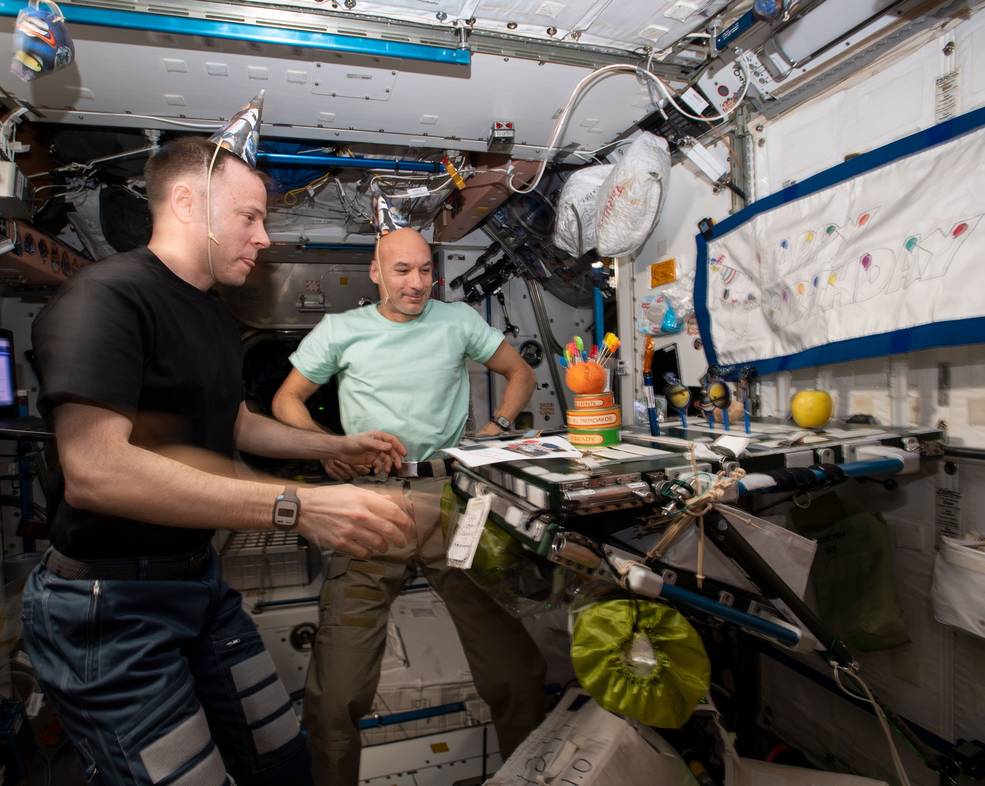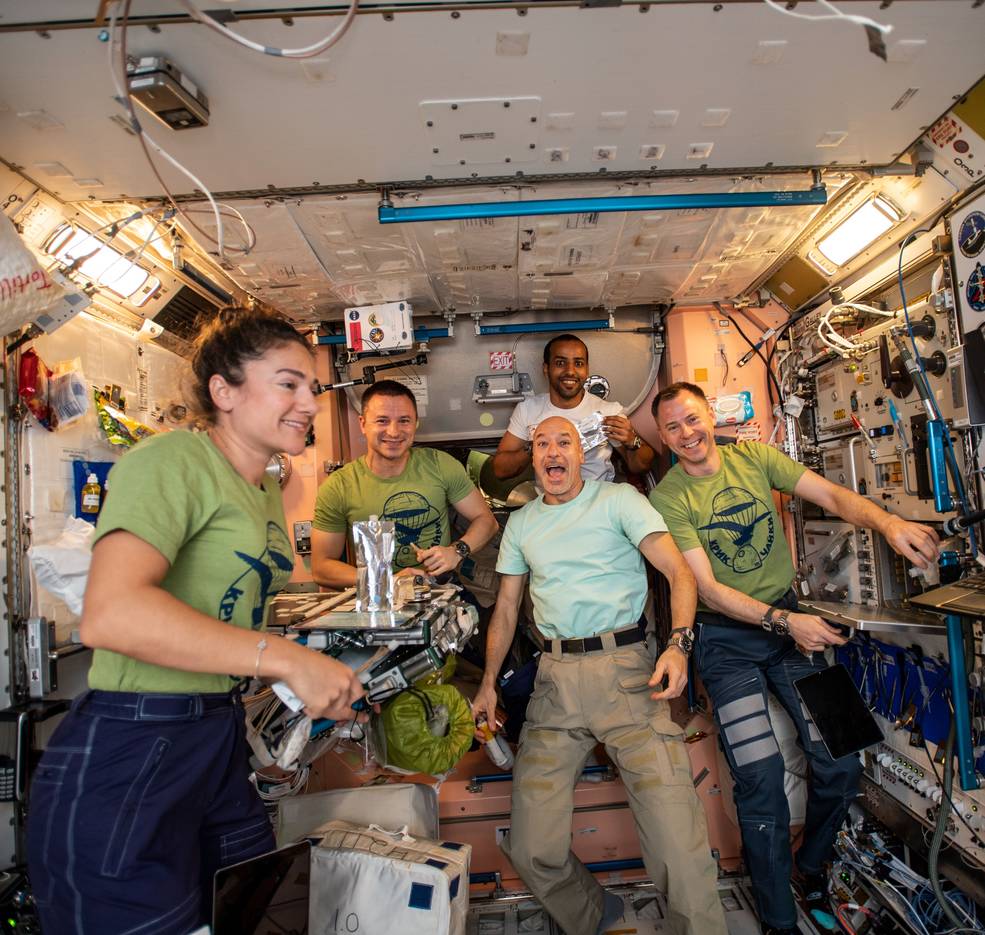 Left: Hague with decorated birthday orange. Middle: Hague (left) assisted by Parmitano to
celebrate his birthday. Right: Parmitano (middle) celebrating his birthday with his crewmates.
With regard to birthdays the week of Sep. 22, 2019, was a busy one aboard ISS for the Expedition 60 crew. On Sept. 25, NASA astronaut T. Nick Hague celebrated his 44th birthday, two days later it was ESA astronaut Luca S. Parmitano's 43rd (and second aboard ISS), followed the next day by Russian cosmonaut Aleksei N. Ovchinin's 48th. The crew decorated an orange with letters spelling out HAPPY BIRTHDAY but also had cake with chocolate frosting decorated with candy-coated chocolates.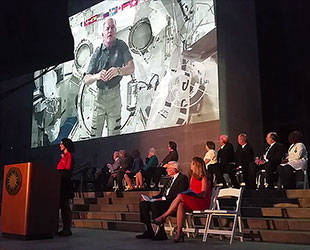 Left: Lindgren posing with a Colorado flag in the Cupola. Right: Williams' message projected onto
a wall during the 40th anniversary celebration of the National Air and Space Museum.
When not celebrating their own birthdays, ISS crewmembers enjoy recognizing other anniversaries. Expedition 44 Flight Engineer Kjell N. Lindgren received Master's and Doctor of Medicine degrees from universities in Colorado and celebrated the 139th anniversary of that state's entry into the Union on Aug. 1, 2015. Expedition 48 Commander Jeffrey N. Williams beamed down a greeting to commemorate the 40th anniversary of the Smithsonian Institution's National Air and Space Museum in Washington, DC, on July 1, 2016.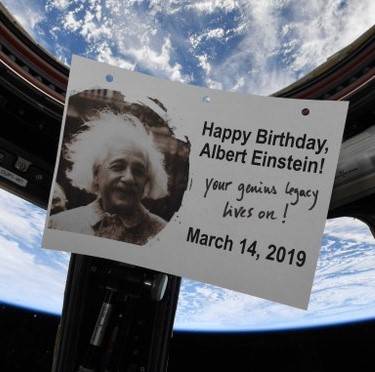 Left: Peake with birthday wishes for Queen Elizabeth II. Middle: Saint-Jacques' card for Albert Einstein.
Right: Kononenko (left) and Ovchinin with signs on their Orlan EVA suits and a painting of Leonov.
During Expedition 47, the United Kingdom's first long-duration astronaut Timothy N. Peake helped to celebrate Queen Elizabeth II's 90th birthday on April 21, 2016, by posing in the Cupola with a hand-written Happy Birthday sign and wearing a T-shirt emblazoned with "Science is Great Britain." Canadian Space Agency astronaut and Expedition 58 Flight Engineer David Saint-Jacques commemorated the 140th anniversary of the birth of Nobel Prize winning scientist Albert Einstein on Pi Day March 14, 2019. To honor Aleksei A. Leonov, the first person to conduct a spacewalk or Extra-Vehicular Activity (EVA), on his 85th birthday (May 30, 2019), Expedition 59 cosmonauts Oleg D. Kononenko and Aleksei N. Ovchinin attached signs to the backs of their Orlan suits for their own EVA the previous day. Kononenko's sign read "Leonov Number 1" and Ovchinin's "Happy Birthday Aleksei Arkhipovich" in Russian.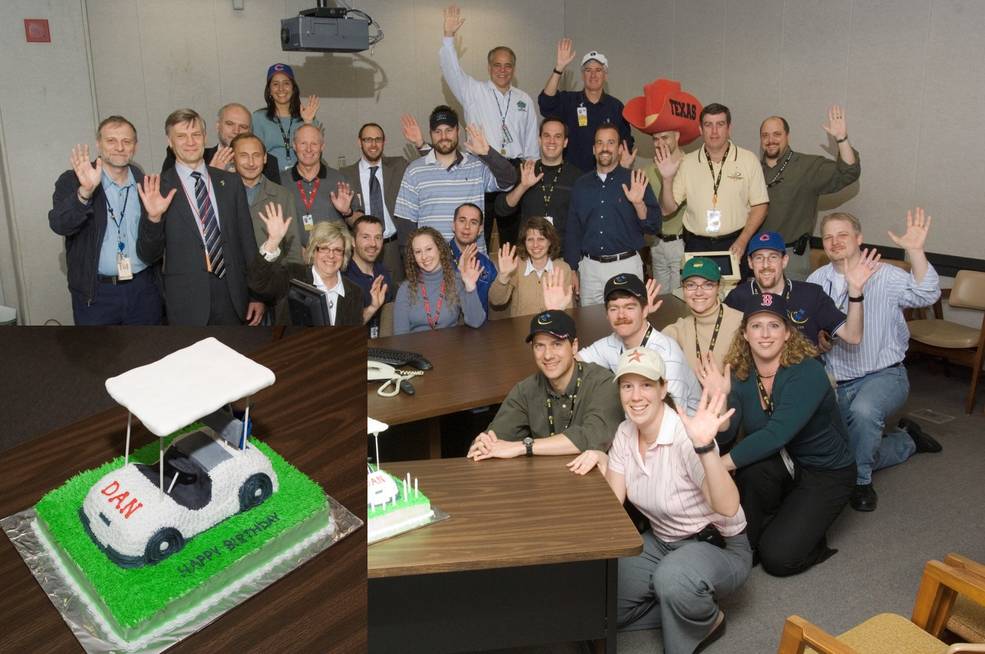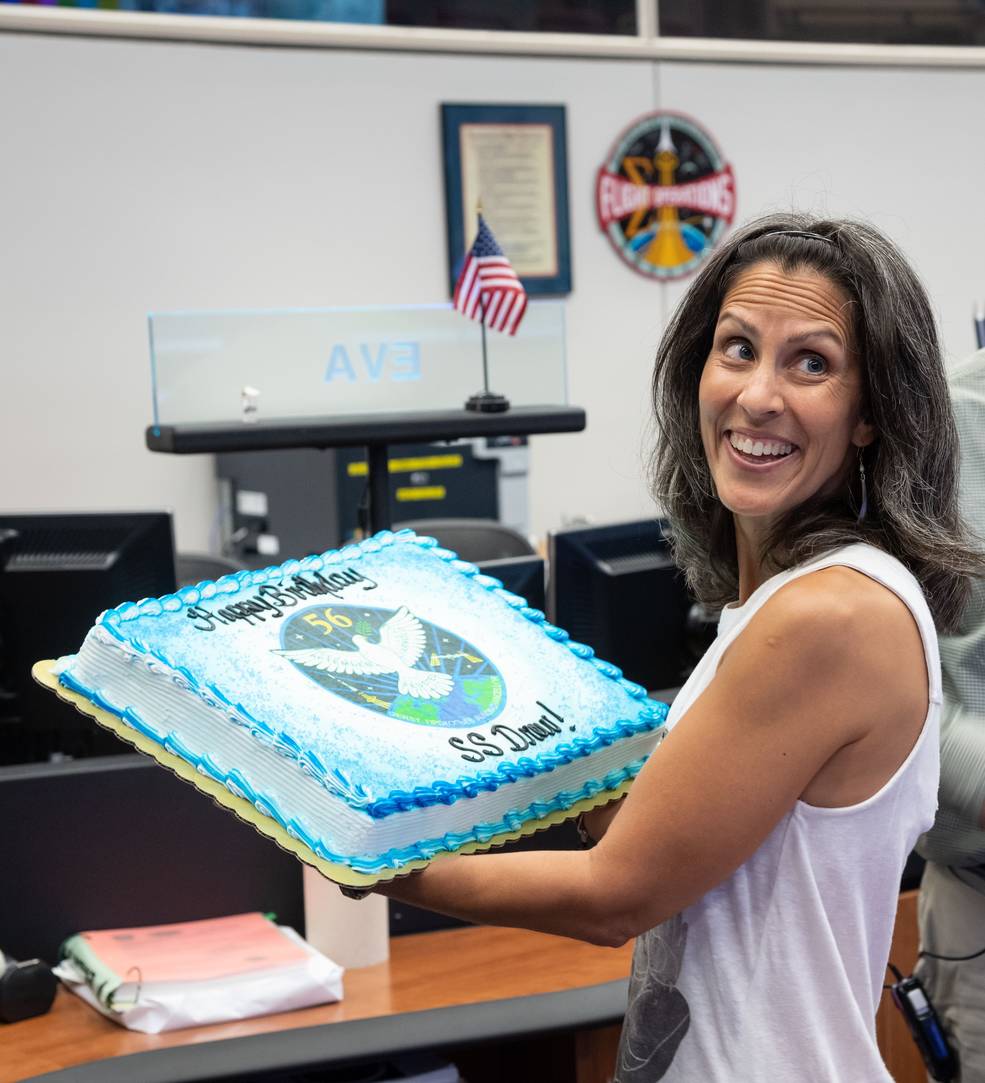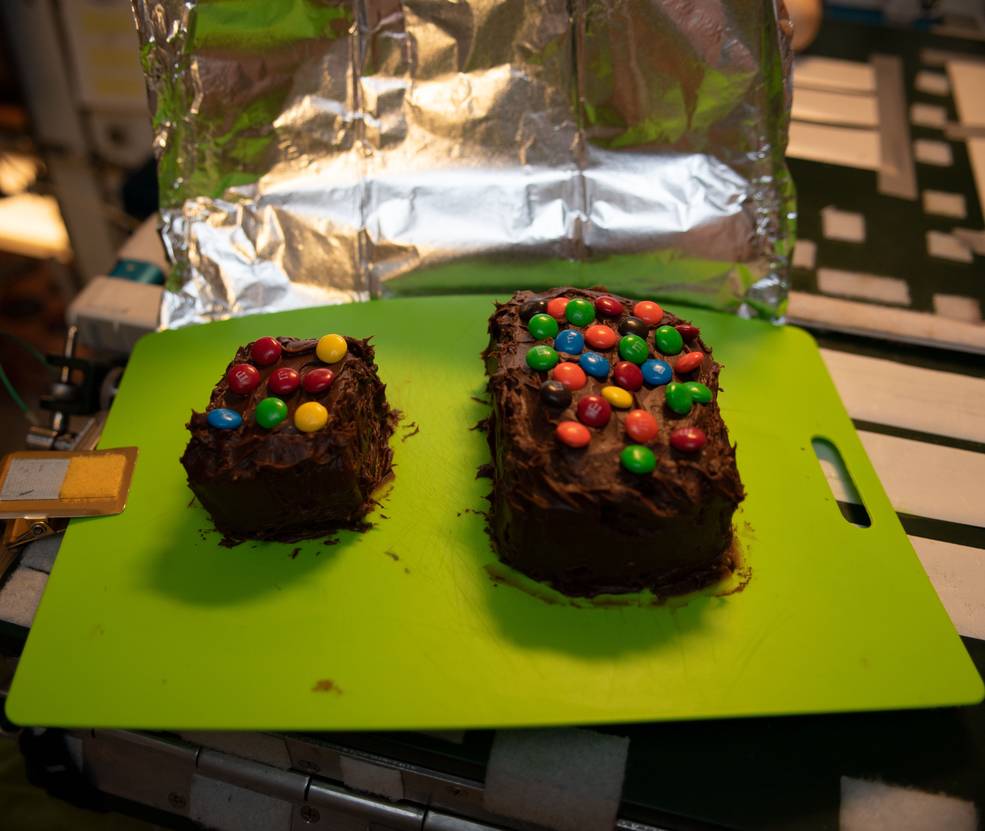 Left: For Expedition 16 Flight Engineer Dan Tani's birthday, controllers gathered around
a golf cart shaped cake. Middle: During Expedition 56, Drew Feustel's wife brought a cake to
Mission Control in honor of his birthday. Right: Chocolate cake onboard ISS during the
September 2019 birthdays.
While cake is a staple at ground-based birthday celebrations, in weightlessness cake generates crumbs that can float around the cabin with the risk of crewmembers inhaling them or equipment being damaged. Family members and colleagues often join in the celebrations by bringing birthday cake to Mission Control and having a virtual party with the crews aboard ISS. For example, during Expedition 16, controllers baked a golf-cart shaped birthday cake for Daniel M. Tani's birthday on Feb. 1, 2008, and during Expedition 56, for Andrew J. "Drew" Feustel's birthday on Aug. 25, 2018, his wife Indira brought a cake to Mission Control and enjoyed a celebration via a two-way video conference. For the triple birthday celebrations in September 2019, the crewmembers treated themselves to chocolate-iced cake with candy-coated chocolates as decoration. Birthday candles, however, are strictly forbidden on ISS.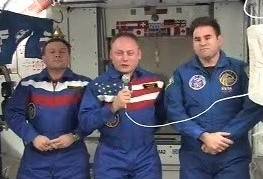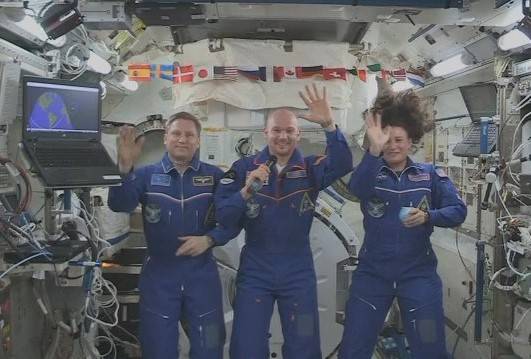 Left: Expedition 18 crewmembers (left to right) Lonchakov, Fincke, and Chamitoff record
a greeting in honor of the 10th anniversary of ISS in 2008. Right: Expedition 57 crewmembers
(left to right) Prokopyev, Gerst, and Auñón-Chancellor record a greeting in honor of the
20th anniversary of ISS in 2018.
And finally, astronauts and cosmonauts aboard ISS celebrated the anniversaries of the unique platform aboard which they live and work. In November 2008, ten years after the launch of the station's first element, the Zarya module, Expedition 18 crewmembers C. Michael Fincke, Yuri V. Lonchakov, and Gregory E. Chamitoff recorded a message for the event. In November 2018, Expedition 57 crewmembers Alexander Gerst, Sergei V. Prokopyev, and Serena M. Auñón-Chancellor reflected on the significance of ISS on its 20th anniversary.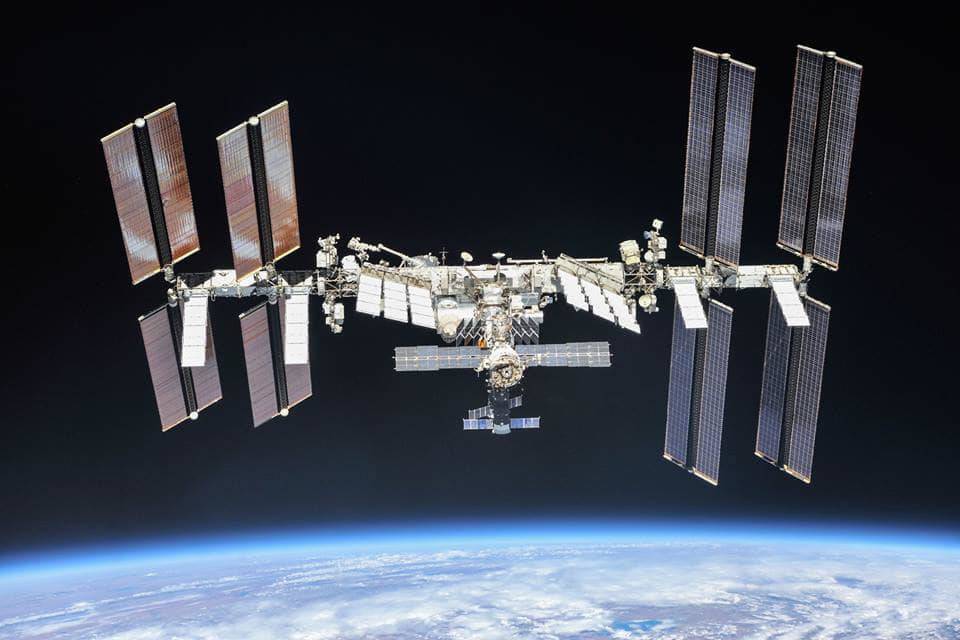 ISS in 2018 – the home of numerous happy birthday celebrations, and many more to come.