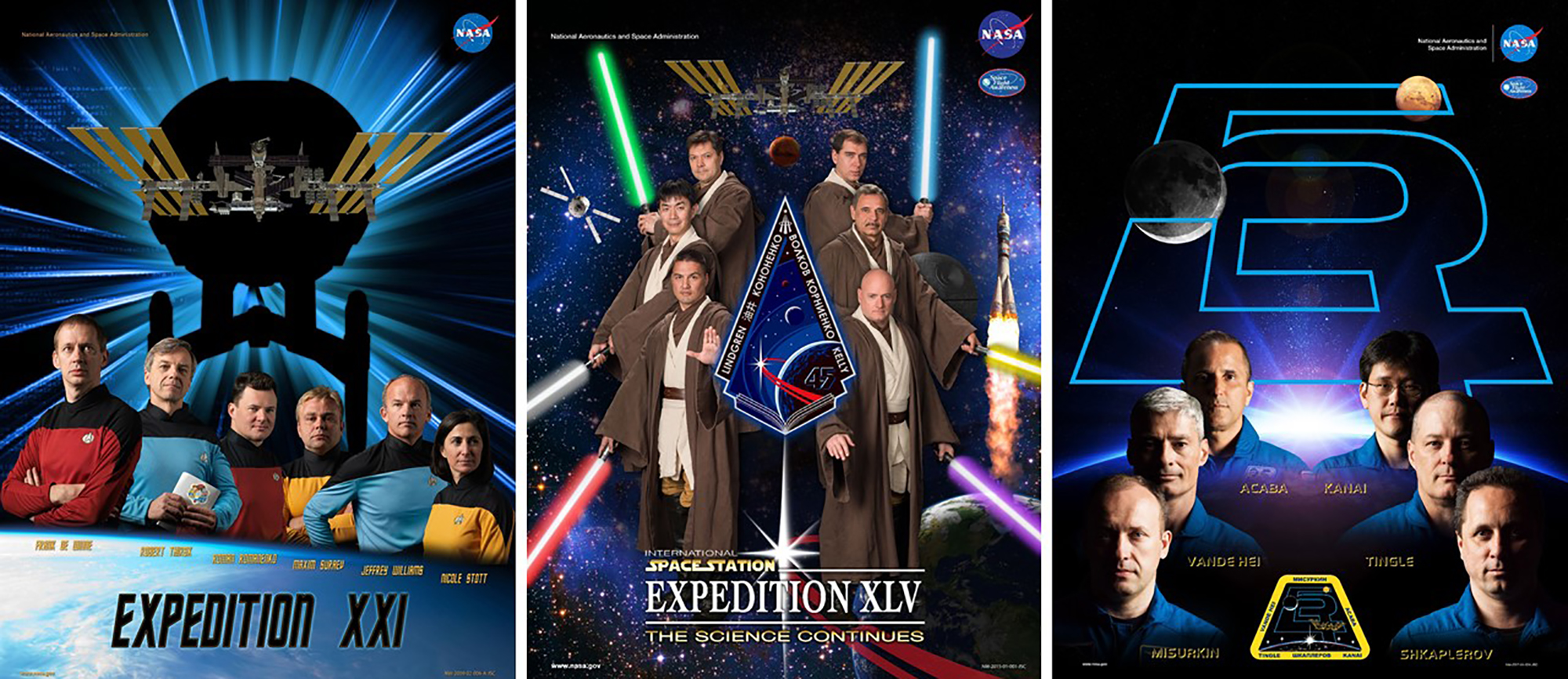 By Bob Granath
NASA's Kennedy Space Center, Florida
With the beginning of Project Mercury, NASA initiated efforts to stress the new program was more than hardware. Rockets and spacecraft had been launching from Cape Canaveral for the better part of a decade. The new flight safety emphasis focused on the fact that the missions now included people.
The program was formalized in 1963 and called Manned Flight Awareness, or MFA. As space shuttle missions flew and the International Space Station Program was beginning in the mid-1990s, the name was updated to what it is today — Space Flight Awareness, or SFA.
The purpose was simple, but crucial. Emphasize that everyone involved in human spaceflight, both government and industry, at NASA centers and suppliers, all play a role in flight safety and mission success.
SFA always has included posters, commemorative photographs, mission emblems and astronauts visiting agency centers and contractors.
Early in the Mercury Program, members of the "Original Seven" astronaut corps made regular appearances. During a visit with employees of General Dynamics, the Atlas rocket prime contractor, Gus Grissom stepped to a microphone and stated their message in a simple manner.
"Do good work," he said.
For years, that was the succinct message for MFA.
According to the NASA History Office's book, "Stages to Saturn" by Roger Bilstein, the Marshall Space Flight Center's Apollo Saturn V Program Office worked with MFA to develop a way to remind employees about the importance of their giving flight hardware special care.
"Marshall's Manned Flight Awareness personnel and the contractors participated in a program to make sure vendors and subcontractors shipped critical space hardware in special containers and boxes," Bilstein wrote. "These boxes were marked with stickers and placards imprinted with reminders to handle with particular care, because the hardware was important to the astronauts whose lives depended on the integrity of the hardware."
The effort included a series of posters advertising the special labels.
In early 1967, Al Chop, director of Public Affairs at NASA's Manned Spacecraft Center (now Johnson Space Center), began looking for a mascot for MFA similar to the United States Forest Service's Smokey the Bear.
Considering the "experience" of Snoopy as an imagined World War I aviator, Chop approached United Features Syndicate, distributor of the Peanuts comic strip. After being initially turned down by the syndicate, he took his proposal directly to Peanuts creator, Charles Schulz.
The cartoonist agreed to allow NASA to use "Snoopy the Astronaut" at no cost. Schulz drew the image the Silver Snoopy award pin is based on, and he created art for posters promoting the program.
The collaboration between Schulz and NASA was a natural. When Apollo 10 flew to the Moon in May 1969, the goal was to use the lunar module (LM) to "snoop around" the next mission's landing site from about 50,000 feet. The crew of Tom Stafford, John Young and Gene Cernan decided to name the LM, "Snoopy" and the command module "Charlie Brown."
The SFA Program continue to grow during the Skylab, Apollo-Soyuz, space shuttle and International Space Station eras. In addition to astronaut visits and promotions items, the SFA Program uses a variety of awards as part of its recognition activities.
Space Flight Awareness Awards & Recognition
SFA Honoree Award is one of the highest presented to NASA and industry and is for first-level management and below. This award is presented to employees for their dedication to quality work and flight safety. Awardees are presented with a certificate, pin and invitation to a special SFA Honoree event.
SFA Silver Snoopy Award, also known as the Astronauts Personal Achievement Award, symbolizes the intent and spirit of Space Flight Awareness. An astronaut presents the award as it is their way of honoring outstanding performance, contributions to flight safety and mission success. Less than one percent of the space program's workforce receives the recognition annually. Awardees are presented with a certificate and a sterling silver Snoopy pin that was flown on a space shuttle mission.
SFA Team Award recognizes small groups that have demonstrated exemplary teamwork while accomplishing a particular task or goal in support of the human spaceflight program. Awardees are presented with a certificate and a pin.
SFA Management Award acknowledges proactive mid-level managers who consistently demonstrate loyalty, empowerment, accountability, diversity, excellence, respect, sharing, honesty and integrity. Awardees receive a trophy.
SFA Flight Safety Award honors significant, outstanding individual or team contributions related to the prevention of anything that could lead to a catastrophic mishap to the vehicle, crew or mission. Awardees receive a trophy.
SFA Supplier Award recognizes significant, outstanding individual or team contributions related to the prevention of anything that could lead to a catastrophic mishap to the vehicle, crew or mission. Awardees receive a trophy.
SFA Trailblazer Award honors employees who are in the early stages of their career. Awardees demonstrate strong work ethic and creative, innovative thinking in support of human spaceflight. Awardees receive a trophy.
SFA Special Local Award is used to recognize local employees for their dedication to quality work, flight safety and mission success. Awardees receive an trophy.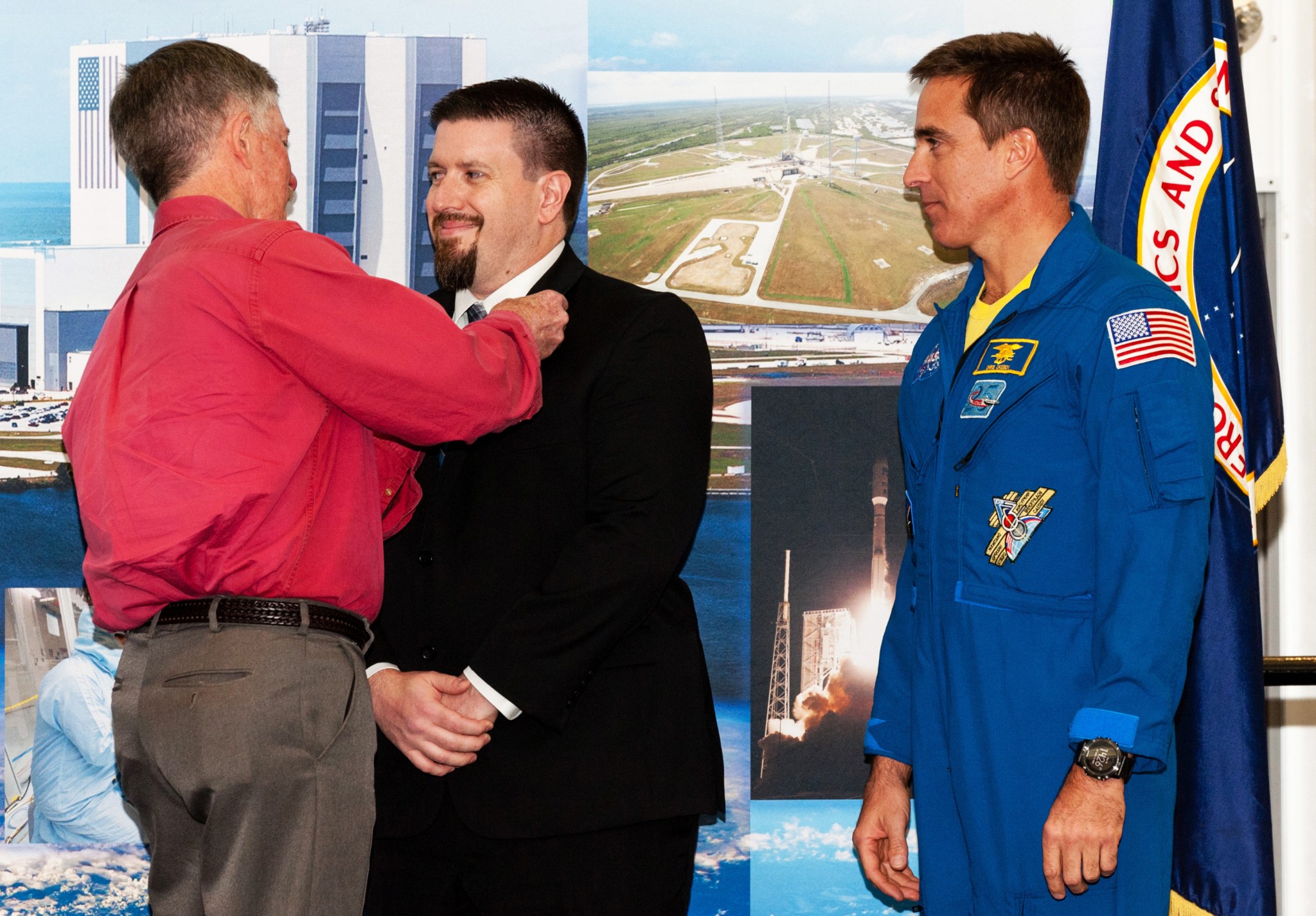 Silver Snoopys Presented for Outstanding Achievements
On Jan. 18, 2018, an awards ceremony took place in the Debus Conference Center of the Kennedy Space Center Visitor Complex honoring the achievements of employees at the Florida spaceport.
SFA Silver Snoopys, the astronauts Personal Achievement Awards, were presented by NASA astronaut Chris Cassidy. He was a member of the STS-127 space shuttle crew and later flew to the space station about Soyuz TMA-08M as part of Expedition 35 and 36.
Assisting Cassidy for one of the awards was former astronaut James "JR" Reilly, who flew on shuttle missions STS-89, STS-104 and STS-117. Reilly attended to help honor his son, Trey Reilly.
The Snoopy awards were presented to 16 individuals for "professionalism dedication and outstanding support that greatly enhances flight safety and mission success."
From NASA:
Keith Connell, Center Planning and Development
Tiffany Fairley, Communications and Public Engagement
Timothy "Ozzie" Fish, Engineering
Julia Hallum, Human Resources
Angel Lucena, Engineering
Kathy Meesakul, Engineering
Darcy Miller, Safety and Mission Assurance
Robyn Mitchell, Spaceport Integration
Bao Nguyen, Center Planning and Development
Tushar Patel, Engineering
James Trey Reilly, Exploration Ground Systems
John Speck, Engineering
Representing the Test and Operations Support Contract:
Albert "Al" Barretta, Jacobs
Mel Green, Jacobs
Jeffrey Moore, Jacobs
Eric Skahn, Jacobs