In August 1968, Apollo Spacecraft Program Manager George M. Low faced a dilemma. The clock was inexorably ticking away to meet President John F. Kennedy's goal of landing a man on the Moon before the end of the decade. The tragic Apollo fire in January 1967 that had cost the lives of three astronauts had been a huge setback, but changes made to the spacecraft as a result of the accident had made it much safer. The Saturn V rocket performed extremely well on Apollo 4, its first test flight in November 1967, but during Apollo 6 five months later, it encountered several significant anomalies. Engineers found solutions to those problems and NASA management decided that on its third flight, Apollo 8, expected to occur before the end of the year, the Saturn V would carry astronauts.
The Apollo Command and Service Module (CSM) had performed well and was ready for its first crewed Earth orbital shakedown mission, Apollo 7, in October. The Lunar Module (LM), the craft that would carry two astronauts down to the Moon's surface on future missions, performed well on Apollo 5, its first uncrewed flight in January 1968. The LM that would first carry astronauts arrived at Kennedy Space Center in June. But testing revealed numerous problems with the vehicle that indicated it wouldn't be ready to fly until sometime in early 1969. That kind of delay was simply not compatible with meeting President Kennedy's fast-approaching deadline. To complicate matters, intelligence reports indicated that the Soviets were close to sending cosmonauts on a trip around the Moon, possibly before the end of the year.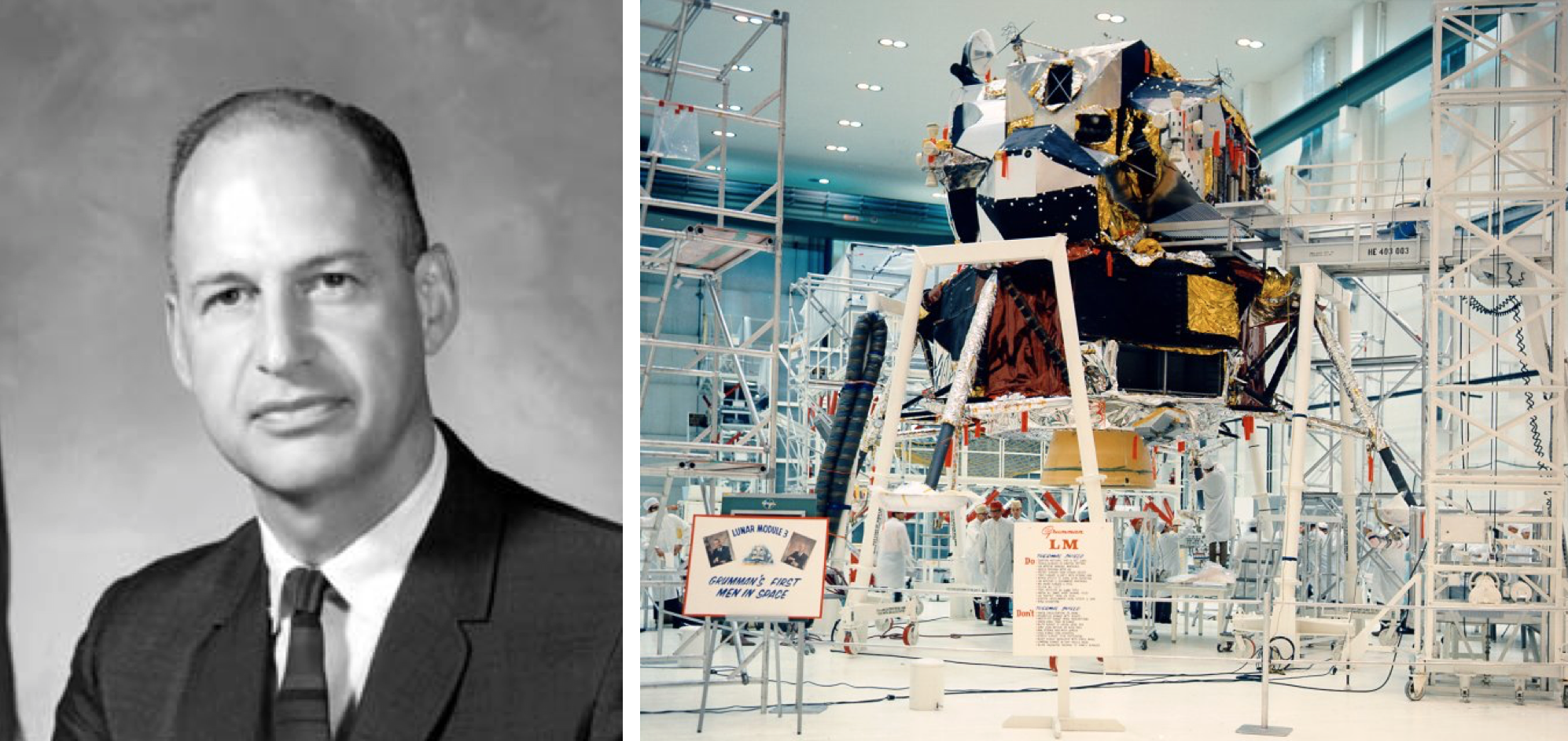 Credits: NASA
As Low pondered this serious dilemma, he began to formulate a plan that was audacious and not without some risk. He needed other managers to evaluate his proposal. Unknown to Low at the time, the events he was about to set in motion significantly increased the likelihood of meeting President Kennedy's goal. On the morning of Friday August 9, he met with Manned Spacecraft Center (MSC) Director Robert L. Gilruth, and presented the plan to him. In short, Low proposed sending Apollo 8 to the Moon, instead of an Earth orbital test of the LM. His rationale was that since the LM wouldn't be ready before early 1969, to maintain the program's momentum, a flight was needed to fill the gap after Apollo 7. Without a LM, another Earth orbital flight wouldn't advance the program much. However, by sending Apollo 8 to the Moon NASA would gain valuable experience in navigation and communications at lunar distances. Gilruth was enthusiastic about the proposal. Next, they called in Christopher C. Kraft, Jr., Director of Flight Operations, for his opinion. Two days earlier, Low had asked Kraft to assess the feasibility of a lunar orbit mission for Apollo 8, and Kraft returned with the answer that it was feasible from a ground control and spacecraft computer standpoint.
Credits: NASA
Later that morning, Chief of Flight Crew Operations Donald K. "Deke" Slayton joined the meeting, and all agreed to seek support for the plan from managers at Marshall Space Flight Center (MSFC) and Kennedy Space Center (KSC) as well as NASA Headquarters (HQ). That same afternoon, the four flew to Huntsville and met with MSFC Director Wernher von Braun, KSC Director Kurt Debus, HQ Apollo Program Director Samuel C. Phillips, and several others. By the end of the meeting, the group identified no insurmountable technical obstacles to the lunar mission plan, with the qualification that the Apollo 7 mission in October must be successful. Von Braun was confident the Saturn V would perform safely and Debus believed KSC would be ready to launch in December. They agreed to meet the following week at NASA HQ for a final assessment of the plan and subsequently brief NASA Administrator James E. Webb and Associate Administrator for Manned Space Flight George E. Mueller. Until those meetings, the group agreed to keep the new plan a secret. The MSC delegation returned to Houston, where Low ended his long day by briefing contractor representatives for the CSM (North American Rockwell) and the LM (Grumman Aerospace) for their input to the plan.
Credits: NASA
Slayton had a phone call to make, to Frank Borman, the commander of the planned Apollo 9. Borman and his crewmates were in Downey, California, conducting tests with their CM. Slayton ordered him back to Houston and offered him command of the new circumlunar Apollo 8 mission. Borman immediately accepted. This meant that Borman, along with Command Module Pilot (CMP) James A. Lovell and Lunar Module Pilot (LMP) William A. Anders would fly Apollo 8 on a circumlunar mission without a LM in December 1968. The originally assigned Apollo 8 team of Commander James A. McDivitt, CMP David R. Scott and LMP Russell L. Schweickart would instead fly the Apollo 9 Earth orbital first LM test in early 1969. Swapping the crews made sense, since Schweickart was already a LM expert, while Anders had less LM experience. McDivitt agreed with the swap, deciding to put his crew's experience to good use and be the first to fly the LM.
Credits: NASA
Assuming Webb, Mueller and ultimately President Lyndon B. Johnson agreed to the plan, NASA had only four months to prepare for the first human voyage to another celestial body. And Soviet pressure only increased through the fall as they flew two uncrewed Zond circumlunar missions, and US reconnaissance satellite imagery showed a large Saturn V-sized N-1 rocket undergoing testing on its launch pad at the Baykonur Cosmodrome in Kazakhstan.
Please read Christopher Kraft's recollections of this meeting and other events leading up to Apollo 8, in his oral histories with the JSC History Office.
For more on the Apollo Program, please visit the JSC History Office page at https://historycollection.jsc.nasa.gov/JSCHistoryPortal/history/apollo.htm