On April 17, 1970, Apollo 13 astronauts James A. Lovell, John L. "Jack" Swigert and Fred W. Haise splashed down in the Pacific Ocean 600 miles southeast of American Samoa, successfully concluding a six-day mission nearly ended by disaster. Two days after launch and 205,000 miles from Earth on their way to the Moon, the explosion of an oxygen tank in their Service Module robbed their Command Module (CM) Odyssey of power and oxygen. The astronauts took refuge in the Lunar Module Aquarius, and through judicious conservation of resources and expert guidance from the teams at Mission Control, the spacecraft designed to support two men for two days kept three men alive for four!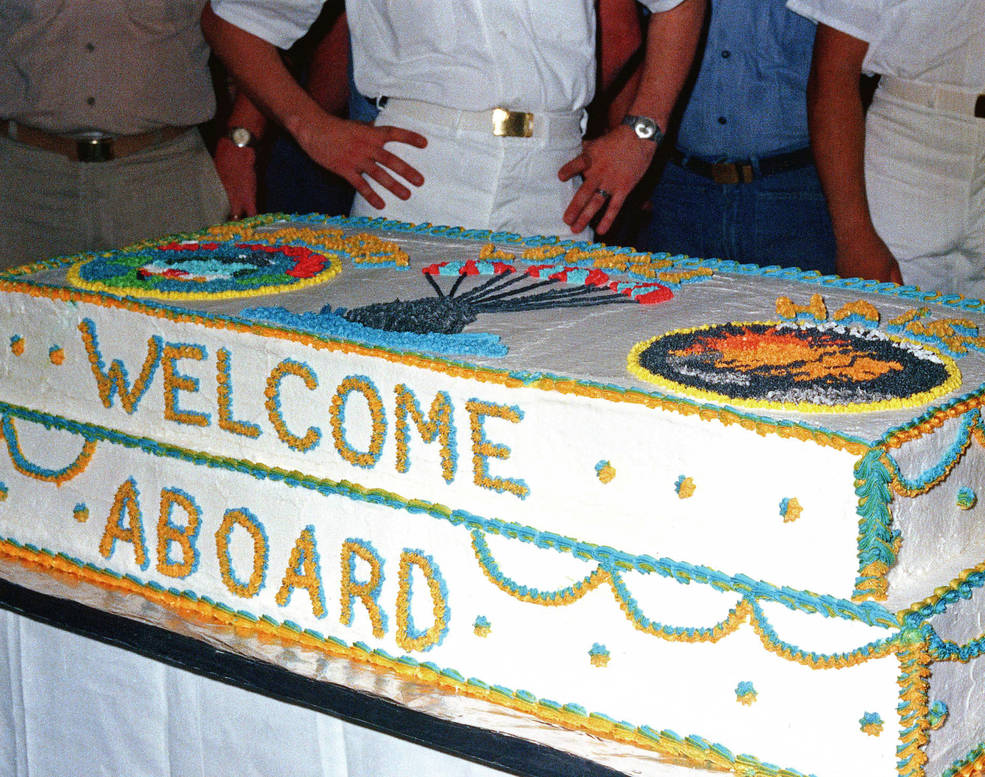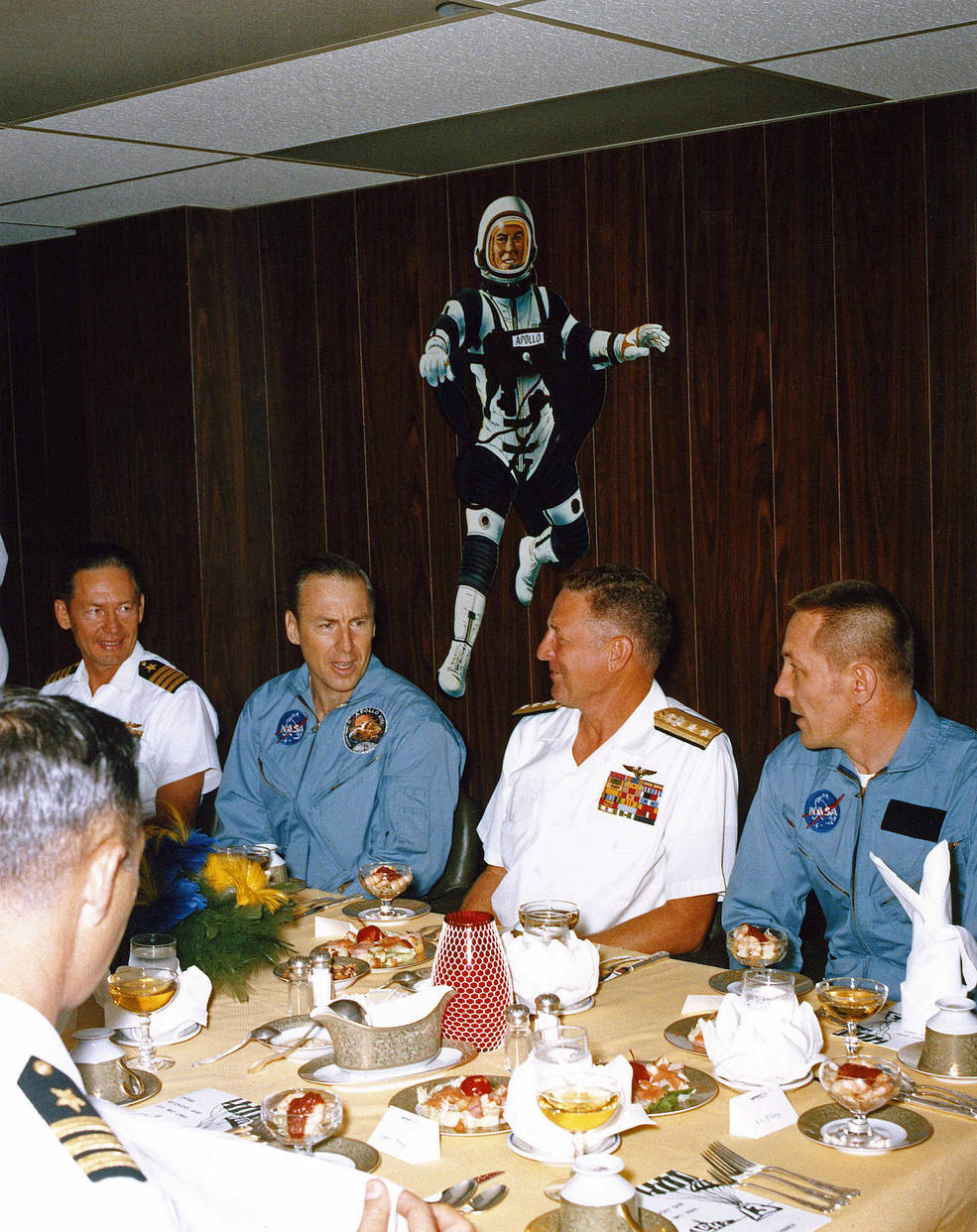 Left: Welcome Aboard the USS Iwo Jima cake for the Apollo 13 astronauts. Middle: Reception aboard the Iwo Jima (left to right) Captain Kirkemo, Lovell, Admiral Davis, Swigert. Right: Swigert (standing) and Lovell examine the CM Odyssey aboard the Iwo Jima.
The skipper of the prime recovery ship, the USS Iwo Jima (LPH-2), Captain Leland E. Kirkemo, and Rear Admiral Donald C. Davis, Commanding Officer of Task Force 130 the Pacific Recovery Forces, welcomed them aboard the ship. After a brief topside ceremony, the astronauts were taken to the ship's sick bay for a brief medical checkup and telephone conversations with their families. President Richard M. Nixon telephoned to congratulate them on their successful recovery. About an hour later, the sailors brought Odyssey aboard the ship. Admiral Davis and Captain Kirkemo hosted a reception in honor of the crew, which Haise had to miss since he remained in sick bay for treatment of a urinary tract infection he developed most likely as a result of dehydration. Lovell and Swigert inspected Odyssey for the effects of reentry. All three spent their first night back on Earth aboard the Iwo Jima.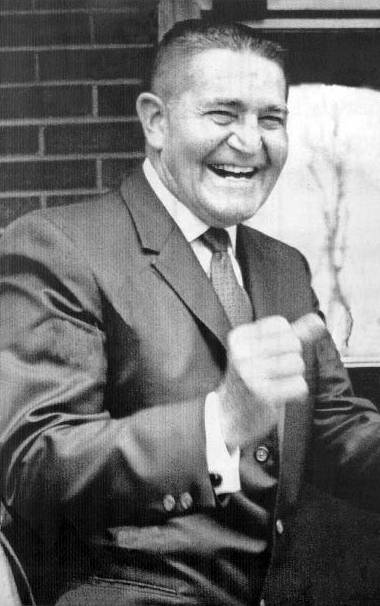 Left: Marilyn Lovell and children Susan, Barbara and Jeffrey meet with reporters after the safe return of Apollo 13. Middle: John Swigert, father of astronaut Swigert, rejoicing after the safe return of Apollo 13. Right: Mary Haise with children Stephen, Frederick and Mary meet with reporters after the safe return of Apollo 13.
The families of the Apollo 13 astronauts were relieved to see them safely back on Earth. Marilyn Lovell and three of their four children and Mary Haise and their three children (with a fourth on the way) met outside their homes with reporters to answer their questions. Swigert's parents John and Virginia who lived in Colorado, were equally relieved that their bachelor son had returned safely to Earth.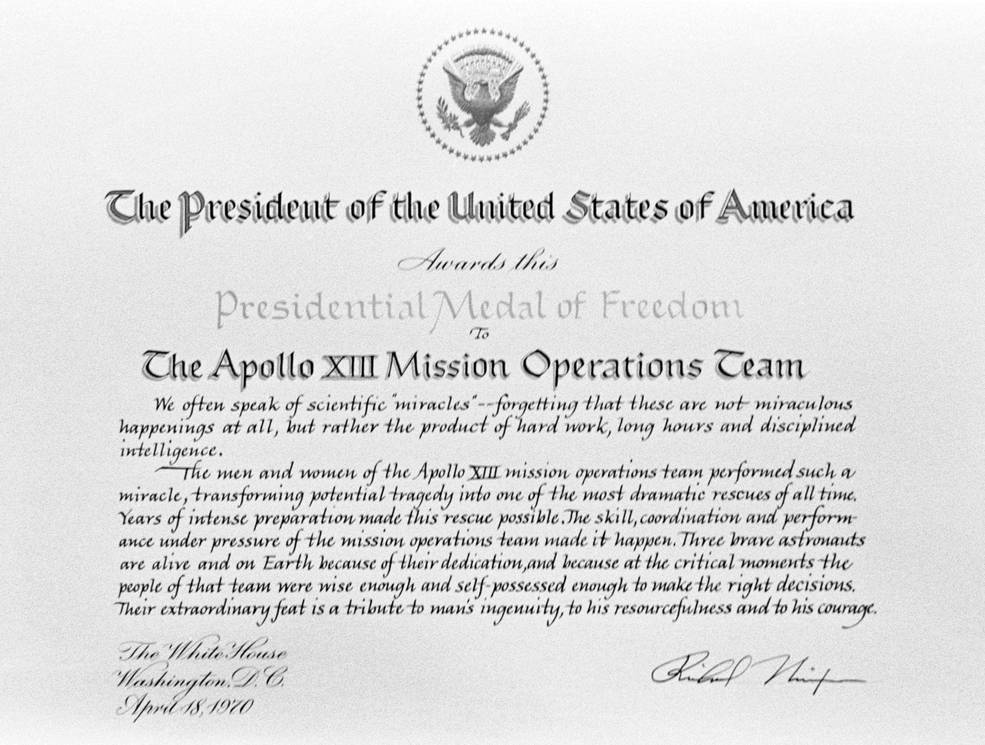 Left: President Nixon at the podium during the ceremony presenting the Presidential Medal of Freedom to the Apollo 13 Mission Operations Team, represented by Flight Directors (left to right) Lunney, Kranz, Griffin and Windler and Director of Flight Operations Sjoberg. Right: The citation of the Presidential
Medal of Freedom awarded to the Apollo 13 Mission Operations Team.

Wide angle view of the crowds at MSC to witness President Nixon awarding the Presidential Medal of Freedom to the Apollo 13 Mission Operations Team.
President Nixon had been closely following developments aboard Apollo 13 since the accident on April 13. After the safe splashdown, he decided to meet the astronauts in Honolulu, Hawaii, as they made their way back to Houston. But he made an important stop along the way. On April 18, Nixon arrived at the Manned Spacecraft Center (MSC), now the Johnson Space Center in Houston. Before a large crowd of NASA and contractor employees and their families assembled on a Saturday morning, Nixon accompanied by NASA Administrator Thomas O. Paine presented the Apollo 13 Mission Operations Team with the Presidential Medal of Freedom to recognize their work during "one of the most dramatic rescues of all time." Sigurd A. "Sig" Sjoberg, Director of Flight Operations at MSC, along with Flight Directors Milton L. Windler, Glynn S. Lunney, Gerald D. "Gerry" Griffin and Eugene F. "Gene" Kranz accepted the award for the team. President Nixon hailed Apollo 13 as a tribute to human courage and an example to the world. After the ceremonies, Lovell's wife Marilyn, Haise's wife Mary and Swigert's parents John and Virginia accompanied the President and Administrator Paine aboard Air Force One to Honolulu.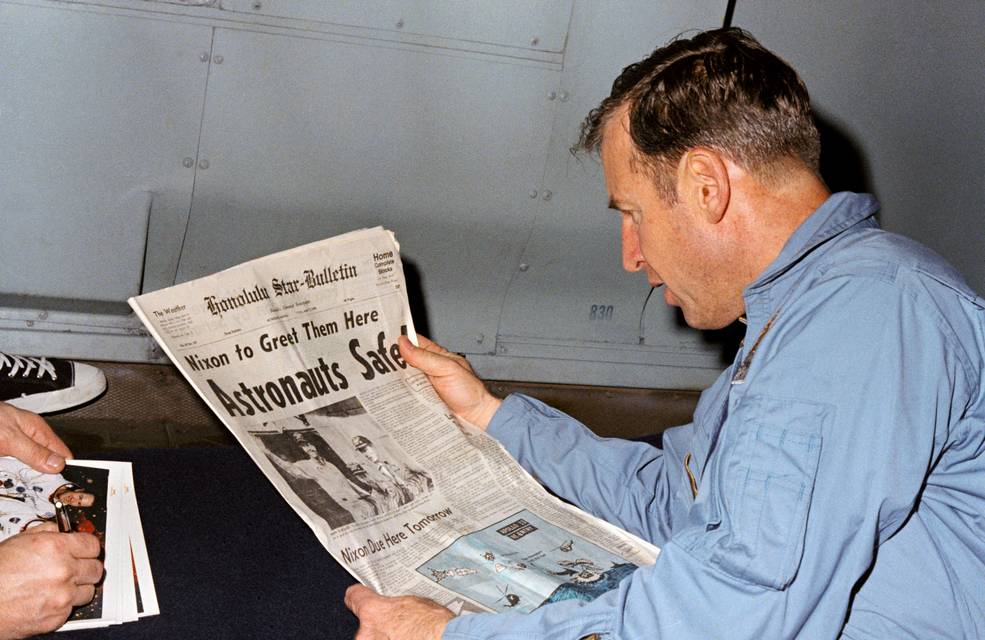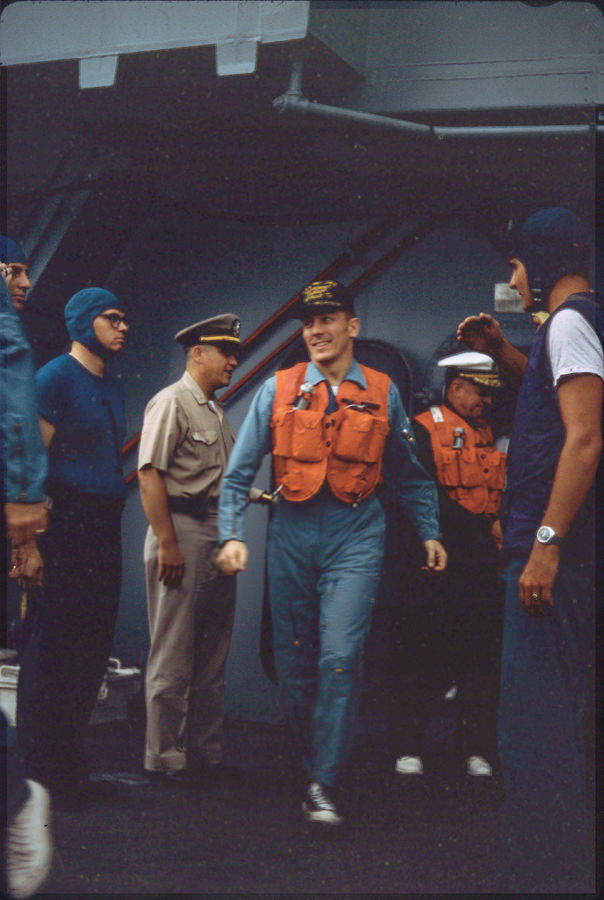 Left: On route to Pago Pago, Lovell reads about their safe return and expected welcome ceremony in Honolulu. Middle and right: Apollo 13 astronauts (left to right) Haise, Lovell and Swigert prepare to board a helicopter aboard Iwo Jima for the flight to Pago Pago.  Images courtesy of Robert Gillette. 
Meanwhile, back aboard the Iwo Jima, after a good night's sleep back in Earth's gravity and a hearty breakfast, the Apollo 13 astronauts boarded a helicopter to fly to Pago Pago, American Samoa. At Tafuna International Airport, Governor John M. Haydon, his wife Jean and other officials and thousands of Samoans gave them a warm welcome including a performance by Samoan dancers. Governor Haydon presented each astronaut with a small gift. From Tafuna the astronauts boarded a C-141 transport plane for the five-and-a-half-hour flight to Honolulu, Hawaii.

Left: Apollo 13 astronauts (left to right) Lovell, Swigert and Haise wearing traditional Samoan ulas during the welcome ceremony in Pago Pago. Right: Samoan dancers perform for the Apollo 13 astronauts, standing on the podium, during the welcome ceremony at the airport in Pago Pago. Credits: Jean P. Haydon Museum.
Arriving at Hickam Air Force Base (AFB) in Honolulu, Hawaii, the astronauts were reunited with their families. During a ceremony at the base, President Nixon presented the astronauts with the Presidential Medal of Freedom. Although Apollo 13 didn't land on the Moon, President Nixon described it as "a successful mission." Lovell speaking for the crew said, "We are glad to be here and we are glad to be a part of America." The astronauts and their families spent the night at Hickam before flying back to Houston.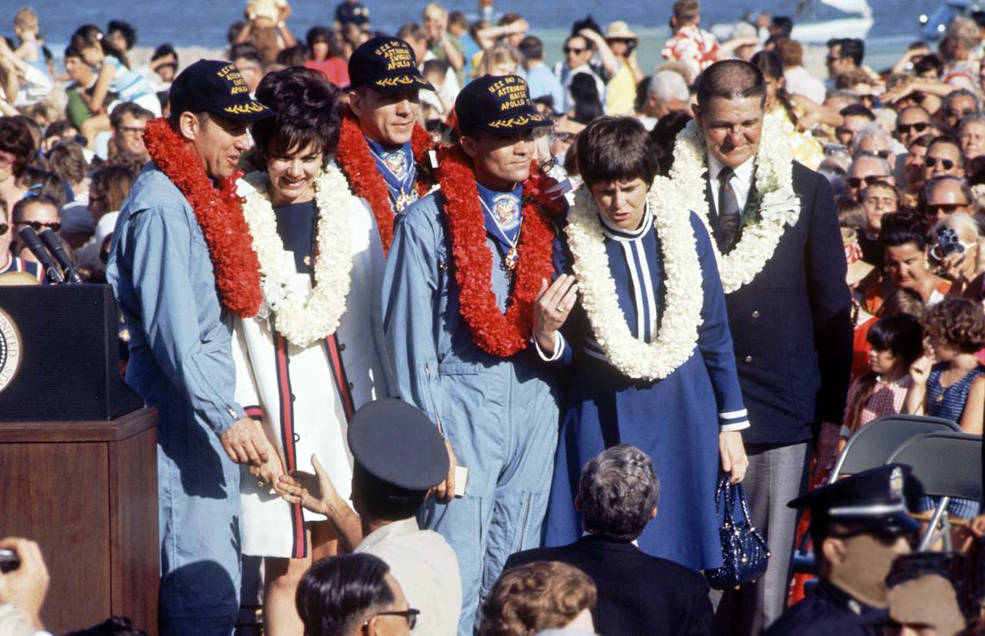 Left: Apollo 13 astronauts (left to right) Haise, Lovell and Swigert with President Nixon after he presented them with the Presidential Medal of Freedom at Hickam AFB. Right: Apollo 13 astronauts Lovell and Haise with their wives and Swigert with his parents at the welcome ceremony
at Hickam AFB. Credits: Nixon Presidential Library.
The next morning, the astronauts and their families accompanied by Administrator Paine boarded a plane at Hickam for the long flight back to Houston, arriving at Ellington AFB near MSC on the evening of April 20, 1970. A large crowd of well-wishers turned out to welcome them home, including MSC Director Robert L. Gilruth and other officials. Also on hand, the Apollo 13 backup crew of John W. Young, Thomas K. "Ken" Mattingly and Charles M. Duke. It was Duke's bout with German measles shortly before launch that had grounded Mattingly and put Swigert on the prime crew to fly Apollo 13. Young, Duke and especially Mattingly played critical roles in ensuring that Lovell, Swigert and Haise returned safely to Earth and their families.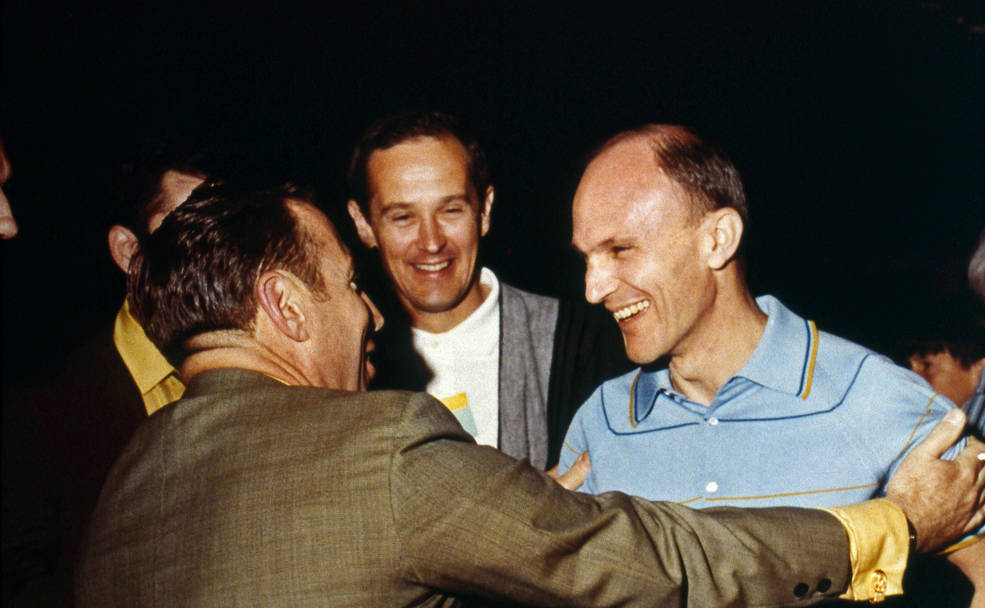 Left: Crowds at Ellington AFB welcome home the crew of Apollo 13. Right: Lovell greeted by the backup crew of Apollo 13 (left to right) Young (hidden behind Lovell), Duke and Mattingly.
The Apollo 13 postflight activities differed from those of the previous two Apollo missions in that the crew did not enter quarantine since they didn't land on the Moon, although all the pertinent facilities and personnel were deployed on the Iwo Jima. The Mobile Quarantine Facility (MQF) had arrived aboard the carrier before it left port in Pearl Harbor, Hawaii, to support the recovery operations but remained unused. The MQF along with the CM Odyssey returned to Pearl Harbor aboard Iwo Jima on April 24. Workers offloaded the MQF and trucked it to Hickam AFB for the flight back to Houston. After offloading Odyssey from the carrier, engineers drained its hazardous propellants and after trucking it to Hickam flew it on April 27 to the North American Rockwell facility in Downey, California, where it was manufactured, for a detailed postflight inspection. It is currently on display at the Kansas Cosmosphere in Hutchinson, Kansas.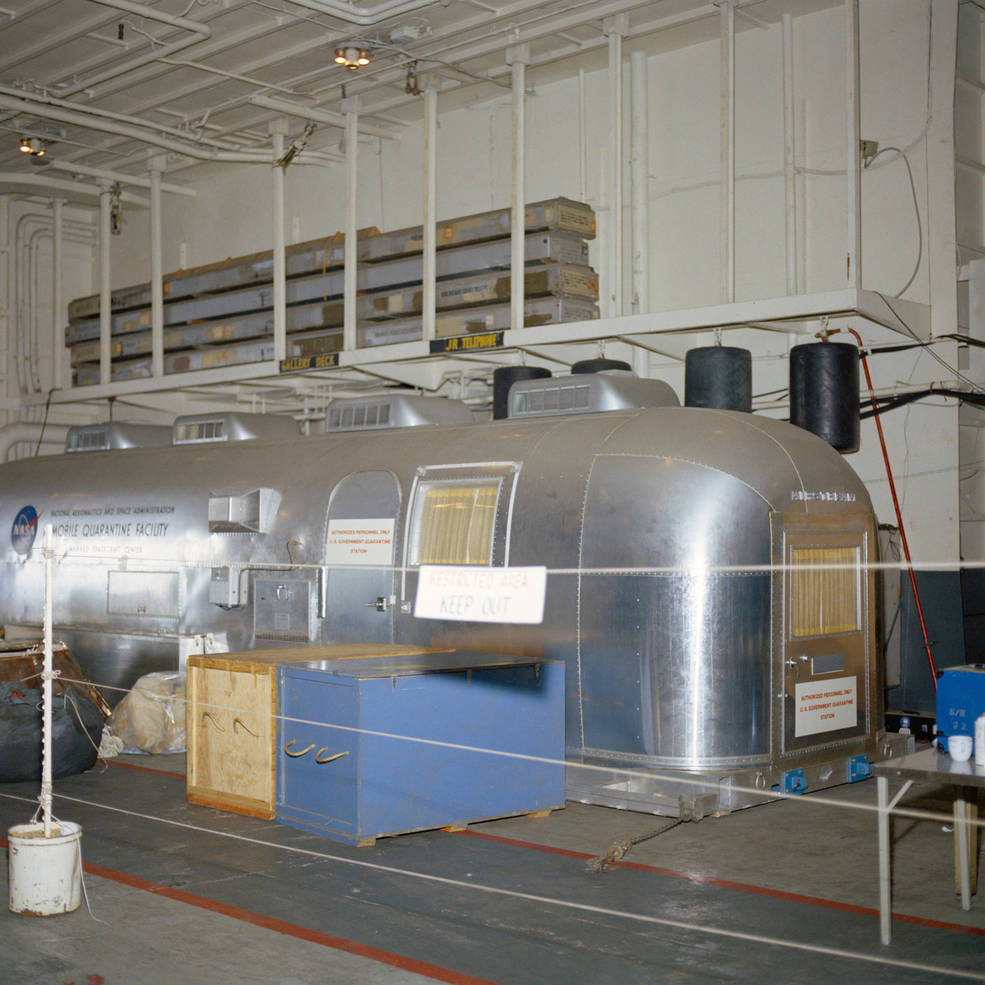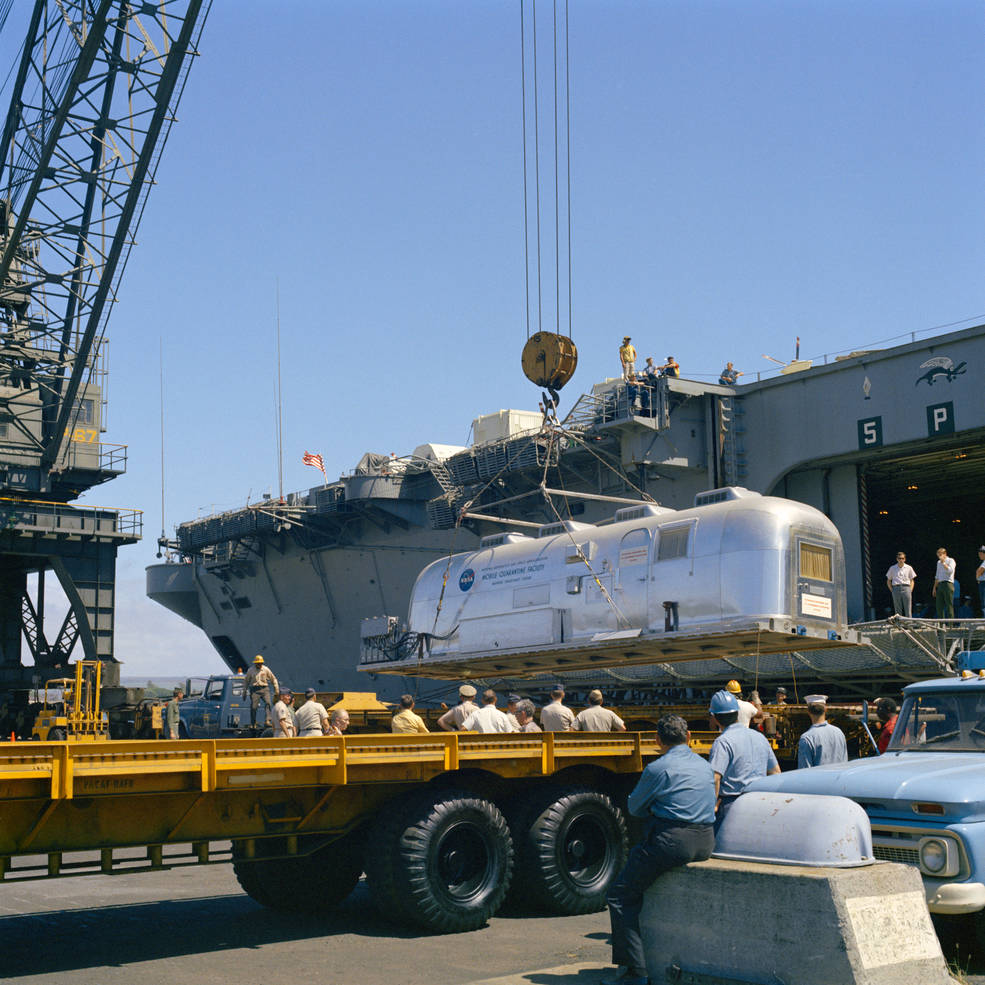 Left: The MQF sitting unused aboard Iwo Jima. Middle: Workers offload the MQF from Iwo Jima prior to transport back to Houston. Right: The Apollo 13 Command Module Odyssey after offloading from Iwo Jima and safing prior to transport to Rockwell Downey.