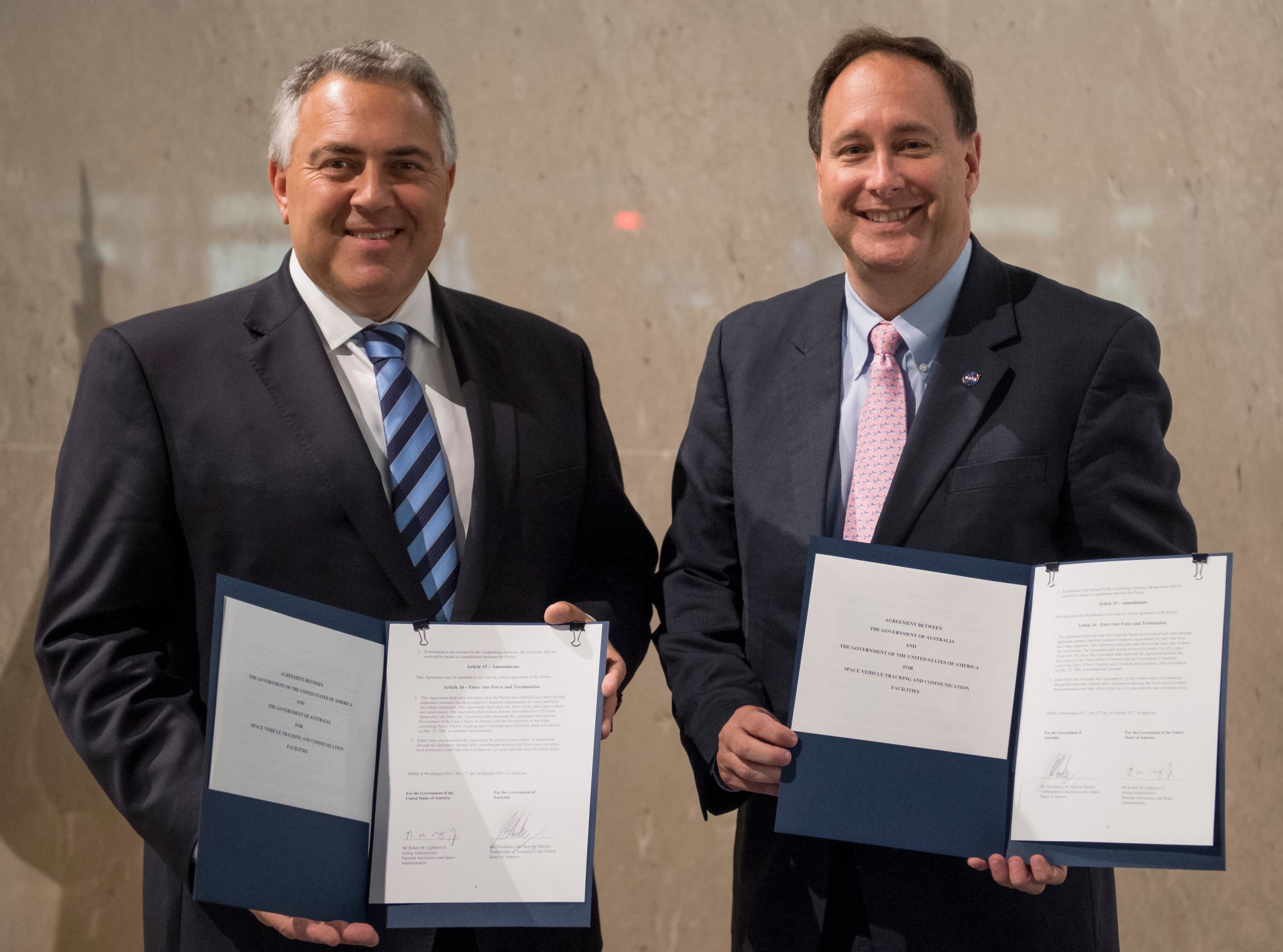 NASA / Bill Ingalls
The United States and Australia have been cooperating in civil space for more than 50 years, and Tuesday, Oct. 17, the two countries reaffirmed their partnership with a new agreement to continue use of critical spacecraft tracking and communication facilities in Australia.
Acting NASA Administrator Robert Lightfoot and His Excellency the Honorable Joe Hockey, Australia's ambassador to the United States of America, signed the new 25-year agreement during a meeting at the Australian embassy in Washington, D.C.
Ambassador Hockey signed the agreement on behalf of the Australian government. 
The Commonwealth Scientific and Industrial Research Organisation (CSIRO) is the cooperating agency on the behalf of the Australian government, and NASA on behalf of the U.S. government.
The facilities covered by the agreement include the Canberra Deep Space Communication Complex (CDSCC) at Tidbinbilla, Tracking and Data Relay Satellite (TDRS) equipment in Alice Springs, in the Northern Territory, and a TDRS facility in Dongara, Western Australia.
These facilities assist virtually all U.S. human and robotic space missions, providing a two-way communications link for spacecraft guidance and control, and data and image relay. Just recently, antennas at the complex in Canberra received the last transmissions from NASA's Cassini spacecraft, concluding a thrilling 13-year chapter in NASA's exploration of Saturn.
The Canberra complex is an integral component of NASA's Deep Space Network (DSN), the world's largest and most sensitive scientific telecommunications system that includes two other deep space communications complexes – one in California and another in Madrid, Spain. It supports interplanetary spacecraft missions and radio and radar astronomy observations for the exploration of our solar system and the universe.
NASA's Space Communications and Navigation (SCaN) program manages and directs the ground-based facilities and services provided by the DSN, Near Earth Network and Space Network. NASA's Jet Propulsion Laboratory in Pasadena, California, manages the DSN for SCaN.
This is one of five agreements between NASA and the Australian government. The agency also has more than a dozen agreements with Australian universities and commercial entities.