The Marshall Star for March 29, 2023.
In This Week's Star
Victoria Garcia: Making Space for Everyone, One Broken Barrier at a Time
By Jessica Barnett
"I didn't know deaf people could work for NASA."
Those were the words used 10 years ago by a young deaf girl who had just met Victoria Garcia, a systems engineer at NASA's Marshall Space Flight Center. Garcia, who was born profoundly deaf, said the moment broke her heart.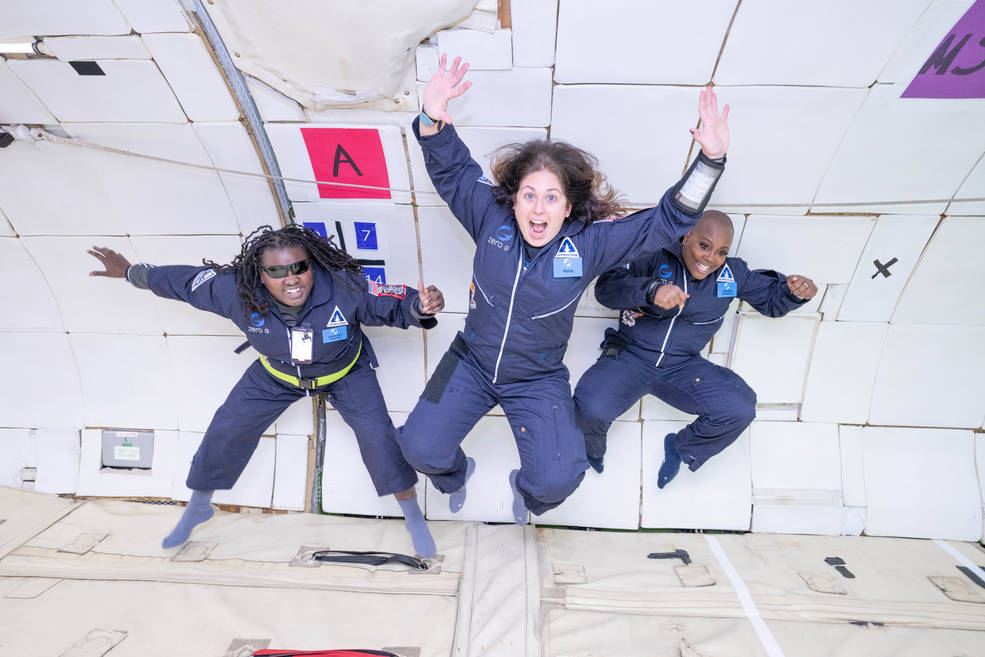 "A hearing kid would never say that," Garcia said. "They may say, 'Oh, I'm not smart enough to work for NASA,' but she already had the assumption that because she's deaf, she can't work for NASA."
Garcia became determined to change that assumption. She started speaking publicly to people of all ages, aiming to prove deaf people really can do anything.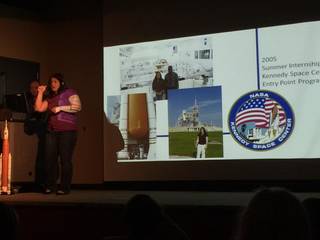 Garcia knows it won't always be easy. That's why she also works to remove some of the invisible barriers they might face – especially if they want a career like hers.
"Our team has talked about putting the first person of color, the first woman (on the Moon). I'm like, 'Well, what's next?'" Garcia said. "A person with a disability, I think that would be good."
To that end, Garcia recently served as an ambassador for AstroAccess, a nonprofit aimed at promoting inclusion in space. This allowed her to work with others who have disabilities to make spaceflight more accessible.
AstroAccess 2 was held in Houston, Texas, in December 2022. The group of 14 crew members underwent months of meetings and preparation before boarding the flight that would take them through 18 parabolic maneuvers. Each maneuver granted them 20 to 30 seconds of simulated weightlessness for conducting experiments.
Those experiments included using American Sign Language (ASL) while upside-down, LEDs for color-coded alerts, and signs that relay information by touch, Garcia said.
She said the results were revealing. Crew members learned the hand signals used in ASL could be understood, but it was more difficult to determine if facial expressions indicated a question or a statement.
There were verbal announcements whenever they would enter or leave zero gravity, but Garcia said the plane was so loud that even those who could hear often looked to the LED display to know what was going on.
The tactile signs, meanwhile, proved a simple way to gain key information. Garcia compared them to informational signs in elevators that use Braille to tell blind or low-vision passengers what floor they're on. She recalled using the signs on the AstroAccess flight to learn in seconds where she was, where the emergency exits were and how to get to them – no eyes or ears needed.
While AstroAccess focuses on disability inclusion, such tools can help astronauts, too.
"We can send (anyone) to space, but that doesn't mean that things aren't going to happen," Garcia said. "… These things could be real-life products that we could implement for future habitats, future spacecraft. That's very exciting to me."
Still, inaccessibility and ableism aren't the only hurdles Garcia faces.
"The fact that I speak makes people think I'm smart – but only as smart as a woman," she said.
It's one of the reasons Garcia is grateful to work at NASA. She applied to several companies after college, but only NASA offered fully accessible interviews. Garcia, who was born and raised in Miami, Florida, is a 2018 graduate of Marshall's System Engineering Leadership Development Program and the 2013 recipient of the NASA Early Career Achievement Medal.
Over her 14-year career, Garcia has seen advancements in diversity and resources throughout the agency, and she works with employee resource groups at Marshall to further improve inclusion.
March is Women's History Month. NASA recognizes women, in all their diversities, and encourages action for injustice and the advancement of women's rights. The agency celebrates the accomplishments and the significant contributions of women in all fields and occupations.
Garcia describes herself as "just an engineer going with the flow," but that flow lets her showcase what can be achieved despite assumptions about gender or disability.
She hopes it will also make it easier for anyone else seeking their place in space.
Barnett, a Media Fusion employee, supports Marshall's Office of Strategic Analysis & Communications.
Liz Hurley Talks Crisis, Cancer at Women's History Month Event
Award-winning journalist and community advocate Liz Hurley shares some of the many crises she has faced in her personal and professional life during a Women's History Month event March 28 at NASA's Marshall Space Flight Center. The hybrid event allowed attendees to listen in person or virtually as Hurley spoke of her childhood in South Florida, losing her mother to breast cancer at a young age, and later, facing the same breast cancer diagnosis as a mother of young children. Hurley said she seized the opportunity to "go rogue," which in turn led to a different way to fight cancer and a chance to help thousands of others through the Liz Hurley Breast Cancer Fund. Since 1999, the fund has raised more than $6 million to support breast health, breast cancer patients, and cancer survivors. Hurley said she also learned the value of sharing one's experience, as you never know who it will impact. The event was sponsored by the Office of Diversity and Equal Opportunity and the Women of Excellence employee resource group. Click here to learn more about ODEO. Marshall team members can click here to learn more about the Women of Excellence ERG. (NASA/Charles Beason)
NASA Rocket Engines Re-engineered, Production Restarted for Next Era of Exploration
As NASA prepares for the first crewed Artemis missions to the Moon, agency propulsion and test teams are setting their sights on future Space Launch System (SLS) flights and working to improve one of the world's most powerful and reliable rocket engines for missions beginning with Artemis V.
A series of hot fire certification tests is in progress at NASA's Stennis Space Center for a redesigned RS-25 engine to support production of additional engines for future SLS flights after NASA's current inventory of the engine is expended.
Originally designed for the space shuttle, the RS-25 was selected to power the SLS rocket because of its high performance and demonstrated reliability over more than a million seconds of ground test and flight time.
"The RS-25 remains one of the most efficient, powerful, tested, and flight-proven first stage engines in the world," said Johnny Heflin, SLS liquid engines manager. "When we made the decision to restart engine production, our main goal for the transition from the space shuttle to SLS was to make it at least 30% more affordable while increasing operational thrust from 109% to 111%. We needed to re-engineer the RS-25 for Artemis missions while retaining the basic design and performance."
Four RS-25 engines power each SLS core stage, producing more than 2 million pounds of combined thrust during the eight-minute climb to orbit. At the end of the Space Shuttle Program, NASA and Aerojet Rocketdyne, the RS-25 lead contractor, had 16 remaining engines. Beginning in 2015 with a series of hot fire tests on a pair of shuttle-era ground test engines, the engine team adapted the existing shuttle inventory to the SLS rocket's unique operating requirements for its initial deep space missions by adding engine nozzle insulation and developing a new controller to replace the obsolete shuttle engine controller.
Beginning with Artemis V, the SLS rocket will feature newly produced RS-25 engines from Aerojet Rocketdyne's restarted production line. These new engines benefit from streamlined production facilities and processes, including new materials.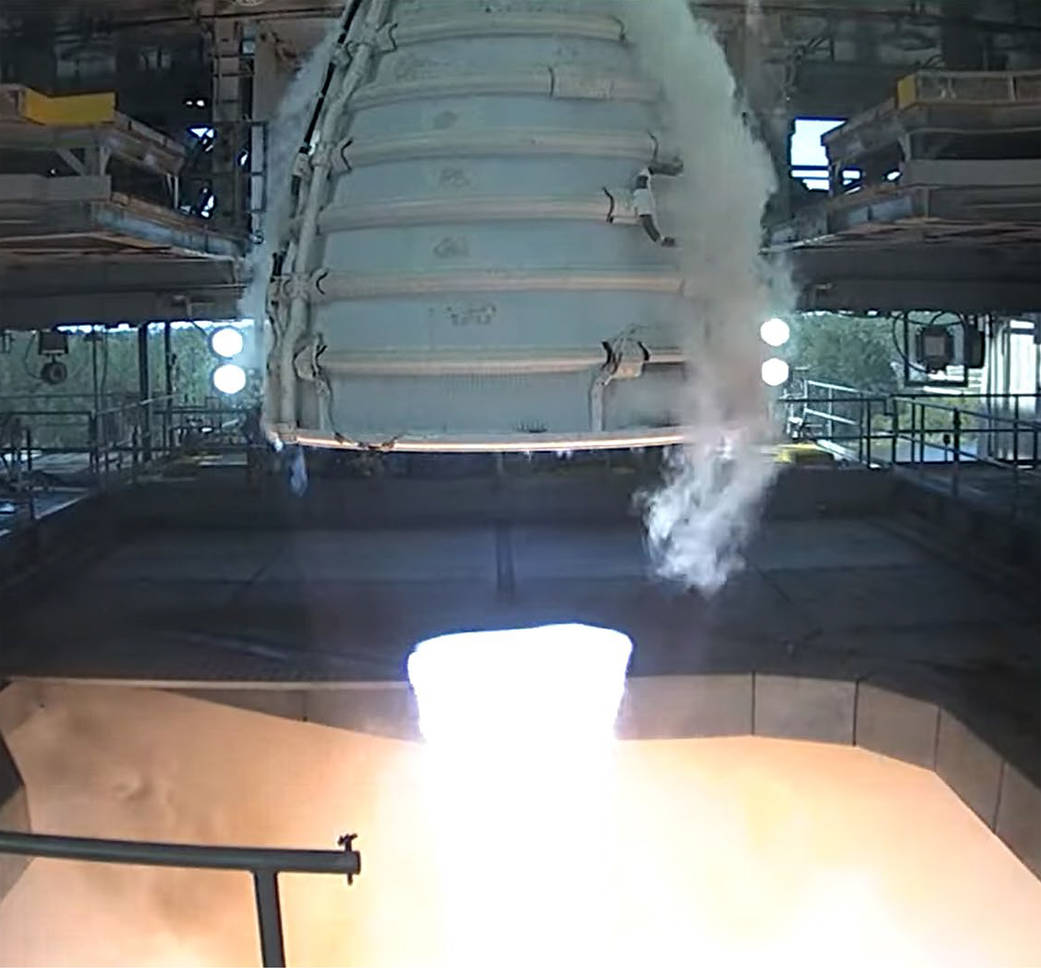 The main combustion chamber for the engine employs a modern bonding process. Flex joints were replaced with easier-to-produce flex hoses. Engineers have simplified parts and manufacturing processes, eliminating more than 700 welds, while state-of-the-art technologies like 3D printing and structured light scanning have saved both time and money. With those changes came the need for hot fire testing.
"The RS-25 has an incredible history of success, but it's important to test fire the re-engineered hardware to validate new designs, manufacturing lines, processes, and materials when they all come together in an engine," said Chip Ellis, R-25 project manager at Stennis.
With production on the new engines in full swing, the new design has one more hurdle: the series of hot fire tests to certify the design for flight. Engineers plan to certify the engine through the series of 12 starts and 6,150 seconds of hot fire time, most of it occurring at the planned 111% power level. They also will be tested at power levels ranging from 80% to 113% power to satisfy engine throttling verification requirements.
"This certification test series is the culmination of years of hard work by hundreds of people across Aerojet Rocketdyne, NASA, and our suppliers," added Doug Bradley, RS-25 program director at Aerojet Rocketdyne. "This certification program has had teams across the nation restart production lines, inaugurate new suppliers, and prove out new manufacturing techniques that reduce both the cost and cycle time for manufacturing each engine."
While a checkout test ended early due to a test stand setting, the first four of 12 formal certification runs have so far collected data from 2,220 seconds of operating time. Each test has met or exceeded the 500 seconds the SLS engines would operate during a typical launch. The remaining tests will continue through June. A follow-on hot fire test series with a second certification engine will begin this summer and continue through the fall to gather additional data.
NASA's Marshall Space Flight Center manages the SLS Program.
With Artemis, NASA will land the first woman and the first person of color on the lunar surface and establish long-term exploration and science capabilities at the Moon in preparation for human missions to Mars. SLS and NASA's Orion spacecraft, along with the human landing system and the Gateway in orbit around the Moon, are NASA's foundation for deep space exploration.
Take 5 with Becky Grimaldi
By Daniel Boyette
Being part of International Space Station operations for three-plus decades has given Becky Grimaldi a front-row view to the evolution of NASA's missions involving humans in low-Earth orbit. To her, the most significant advancement was a technology that most people now take for granted.
"The biggest change I've seen is how the internet is part of everything we do," said Grimaldi, manager of the Exploration Projects and Integration Office at NASA's Marshall Space Flight Center. "It is really hard to imagine that we had no email on the first shuttle mission I supported in 1990. We cannot function today without something as simple as that, but we used to, every day, and it was no big deal. I developed some of the first shuttle missions to use websites to share mission data with operators and investigators around the world, and it was so groundbreaking at the time; folks weren't sure if we could really trust it, and that sounds so peculiar today."
Question: What are your primary responsibilities as manager of the Exploration Projects and Integration Office?Grimaldi: My primary job is developing the valuable members of our team as they advance in their careers; finding opportunities for them and determining the right fit in the right positions. It is very rewarding to see potential in someone and then see them excel/grow in a new role.
Question: What excites you most about the future of human space exploration and your team's role in it?
Grimaldi: In the past few years we have seen our team's roles really expand beyond program support to the International Space Station. It will not be there forever so expanding our project management to new areas, like Gateway, the Human Landing System, and commercial low-Earth orbit destinations is important to help to position the office for things after the space station. Seeing Artemis I launch and execute a great mission shows what we will be doing not too long from now, and we need to be ready. We are really close to that first Moon mission and the Gateway platform. The whole reason we want to go to the Moon is to study and do science, and our team is preparing for that right now. Utilization integration into the various vehicles and environments is critical to achieving the science goals of the agency – and our office is leading the way.
Question: Who or what inspired you to pursue an education/career in engineering?
Grimaldi: My grandparents let me stay up and watch the Moon landing in 1969. I barely remember it, but I know I saw it and that has definitely influenced me. I remember writing a paper in third or fourth grade on the Saturn V, and I had a book from the library that listed the positions that worked the launch. When I watched the launches on TV, I loved when the launch director went around for the final "GOs," and I wanted to know what they were saying. All the call signs and NASA talk – I wanted to speak that language, too. So, coming to Marshall and working shuttle and then station payload console operations was where I learned that language – and I loved it.
Question: What advice do you have for employees early in their NASA career or those in new leadership roles?
Grimaldi: Make sure you are always looking for new areas to grow because you never know when that perfect job will come open. People move around and jobs you may not have thought about can open up. Take time to learn things that you may not need today because you never know when the perfect opportunity may come your way.
Question: What do you enjoy doing with your time while away from work?
Grimaldi: I love cooking and baking – and the challenge to try a new recipe from scratch. Baking bread and pastries is probably my favorite.
Boyette supports Marshall's Office of Strategic Analysis & Communications.
NASA Prime Contractor Jacobs, CODE Plus Inc. Sign Mentor-Protégé Agreement at Marshall
By Rick Smith
Executives from NASA prime contractor Jacobs of Dallas, Texas, and CODE Plus Inc. of Fairfax, Virginia, took part in a NASA Mentor-Protégé Agreement signing ceremony on March 22 – promoting continued growth of the spaceflight industry and mission success for NASA in pursuit of its Artemis-era human spaceflight goals.
Under the two-year agreement, CODE Plus, an 8(a) certified, woman-owned small business, will aid Jacobs Space Exploration Group of Huntsville in delivering engineering and scientific services at NASA's Marshall Space Flight Center. The signing event was overseen by small business leaders from Marshall, marking the 20th such agreement supervised by the NASA center.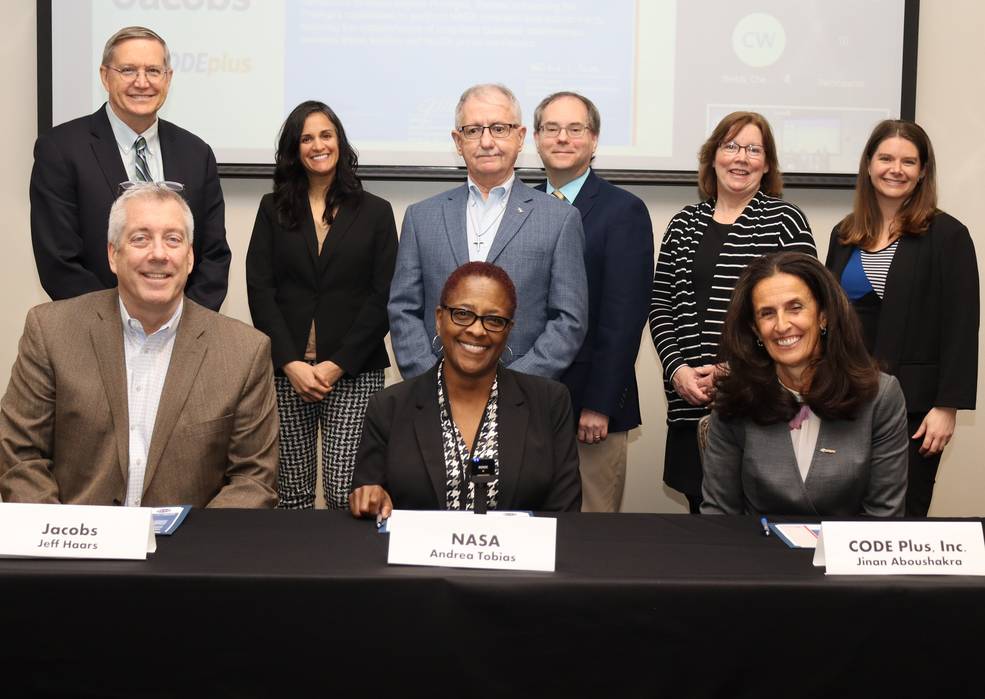 "We're confident this partnership between Jacobs and CODE Plus will directly benefit Marshall and NASA," said David Brock, program manager for NASA's Mentor-Protégé Program. "We also anticipate it will further strengthen the outstanding small business pool here in Huntsville and help the spaceflight industry flourish nationwide."
Launched in 2008 by NASA's Office of Small Business Programs, the Mentor-Protégé Program facilitates agreements between NASA's large contractors and eligible small businesses and academic institutions.
"Each time we participate in a Mentor-Protégé Agreement, we learn as much from the small business as they learn from us," said Jeff Haars, vice president and general manager for Jacobs Space Explorations Group. "It's important to help keep the pipeline of small businesses refreshed – and this is a great way to do it."
"As a small business, we're excited to be part of this program, to become a NASA service provider and expand our capabilities in the space arena, and to increase our contracting presence here in Huntsville," said Jinan Aboushakra, president and CEO of CODE Plus, Inc.
Jacobs, which has entered into five Mentor-Protégé Agreements since 2008, is among some two dozen NASA prime contractors currently qualified to participate as program mentors.
Both mentor firms and prospective protégés go through stringent NASA review processes to qualify. Once signed, the two-year agreements aid prime contractors in meeting agency goals and help small, minority-owned, and geographically disadvantaged businesses make vital government and industry connections, mature their technical skills, and grow their workforce.
Marshall, which six times has been awarded the Small Business Administrator's Cup for NASA's best overall small business program, has managed the Mentor-Protégé Program for the agency since 2019.
Smith, a Manufacturing Technical Solutions employee, supports Marshall's Office of Strategic Analysis & Communications.
Marshall Hosts 35th Small Business Alliance Meeting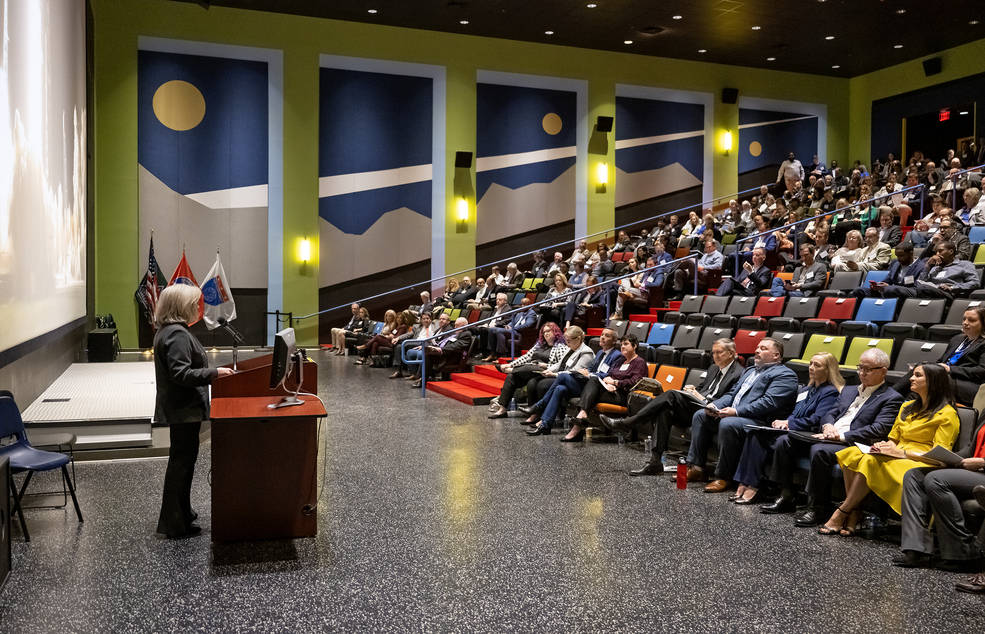 NASA Marshall Space Flight Center Director Jody Singer welcomes participants to the 35th Marshall Small Business Alliance meeting on March 23. The meeting, held at the Davidson Space Center for Space Exploration in Huntsville, featured speakers who provided updates and key information on procurement resources to enable collaboration between small businesses and NASA. Attendees and speakers included employees from small businesses across the country, large and small prime contractors from Marshall, subcontractors, NASA personnel, community leaders, and representatives from multiple government agencies. "I'm always proud to say that in Alabama there are 57 suppliers for the Space Launch System, 42 of which are classified as small businesses," Singer said. "Never underestimate the power of a small business and the impact they make to NASA's mission." Singer also mentioned Marshall achieved or exceeded most of its small business goals in fiscal year 2022. Many of the speakers, including Director of the NASA Procurement Office Jon Cannaday, explained that the Artemis and Human Landing Systems programs continue to create opportunities for small businesses and industry partners to become involved in sustaining a permanent human presence throughout the solar system. The Marshall Small Business Alliance was created to provide industry with maximum exposure to the Marshall marketplace. The meeting was held in conjunction with the NASA Office of Procurement, which oversees the acquisition process to support the successful accomplishments of the agency's current and future missions. "Without the industry, both large and small, NASA would not be able to accomplish our missions," said Glenn Delgado, associate administrator of the NASA office of Small Business Procurement. For more information about doing business with Marshall, visit here. (NASA/Charles Beason)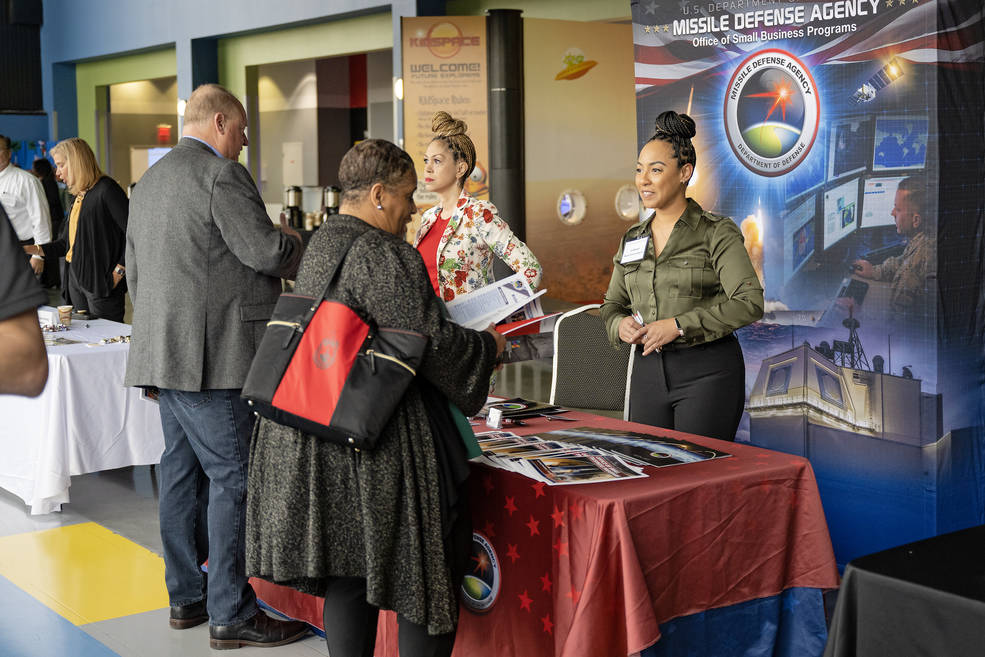 Center Operations: Building Managers First Contact for Submitting Facility Work Requests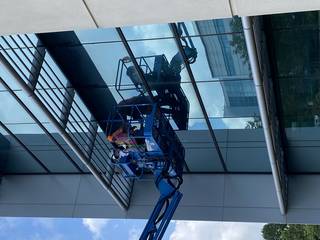 By Wayne Smith
Whether it's getting a light bulb replaced, requesting a white board, or reporting a maintenance concern, team members at NASA's Marshall Space Flight Center have an easy path to connect with the Office of Center Operations and facilities customer support.
The first option toward submitting a work request order is through contacting the building manager for individual Marshall facilities, according to Tammy Knight, customer service representative for Center Operations.
Knight serves as the point of contact between Marshall team members and the Center Operations service provider. And with more employees back on-site following the COVID-19 pandemic, Knight said she is seeing an uptick in requests for facility services.
"We depend on building managers heavily to submit work orders," Knight said. "We want to remind team members that if they see an issue within a building, the preferred method is to tell their building manager."
Any team member can submit a work request order through Inside Marshall. The Around the Center section on the home page of Inside Marshall features a button to submit a facility work request through NISM. However, Knight said contacting the building manager first with a request can help prevent duplicate work orders. Names of building managers are posted inside each Marshall facility.
With Marshall having more than 200 buildings on Redstone Arsenal, Knight said Center Operations strives to keep up with facility work requests. Since November 2018, Knight has served as the primary point of contact for the office, maintaining close communications with Marshall building managers and handling incoming customer issues.
"After the safety culture survey was completed, we got some feedback where employees were asking why this or that in their building has not been fixed," she said. "Most instances we were not aware of, so we want to remind employees, or educate newer employees, that we have to have a work order submitted in order to know about an issue."
The Submit a Facilities Work Request button on Inside Marshall features a number of options, including Trouble Call, Facilities Service Request, Facilities Work Request, Custodial Request, and Grounds Request.
For example, if a team member needs a new white board or janitorial services, they can submit a request through the button shortcut on Inside Marshall, selecting the Facilities Service Request link. To have lights repaired, report plumbing problems, hot and cold issues, or pest control, team members can select the Trouble Call button.
Another common need is how employees obtain new furniture or repair the furniture they already have. For furniture needs, team members can visit the logistics services office's Sharepoint page. From that page, point of contacts can be found for each respective area or they can submit a NISM request under the "Property and Transportation" tab.
Knight said once a work order is requested, service providers have 15 working days to address the issue unless it involves a safety concern.
Smith, a Media Fusion employee and the Marshall Star editor, supports Marshall's Office of Strategic Analysis & Communications.
Technology Transfer Program Presents New Technology Contest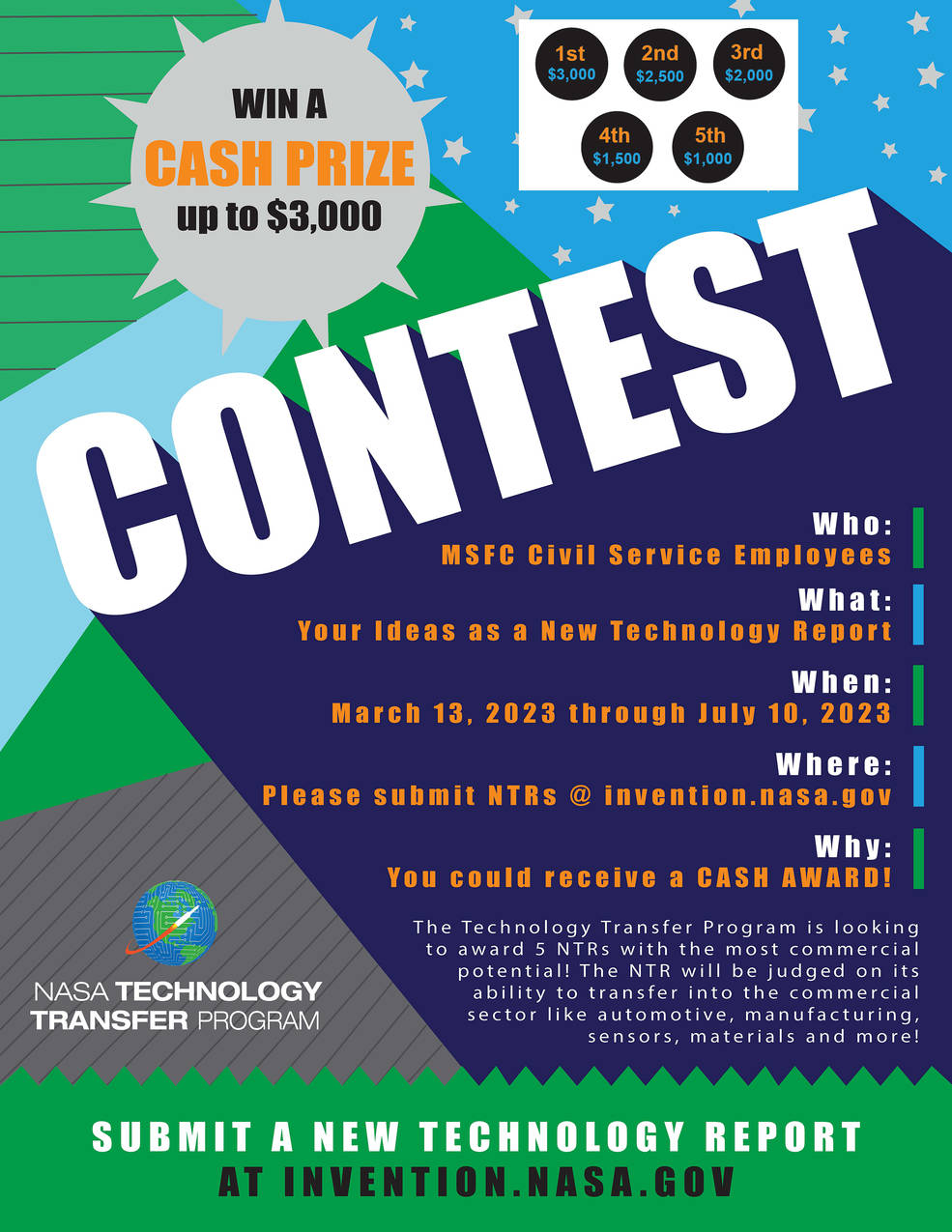 NASA's Technology Transfer Program kicked off its New Technology Contest on March 13. The contest is open to civil service team members at NASA's Marshall Space Flight Center through July 10. The Technology Transfer Program will select five technology submissions with the most commercial potential. Submit a New Technology Report at invention.nasa.gov. Submissions will be judged on their ability to transfer into commercial sectors such as automotive, manufacturing, sensors, materials, and more. A total of $10,000 in cash prizes will be awarded, including $3,000 for first place. For more on the Technology Transfer Program, visit here. For more on the New Technology Reporting System, see frequently asked questions here. (NASA)
National Space Club Recognizes Marshall's Work in Artemis I Launch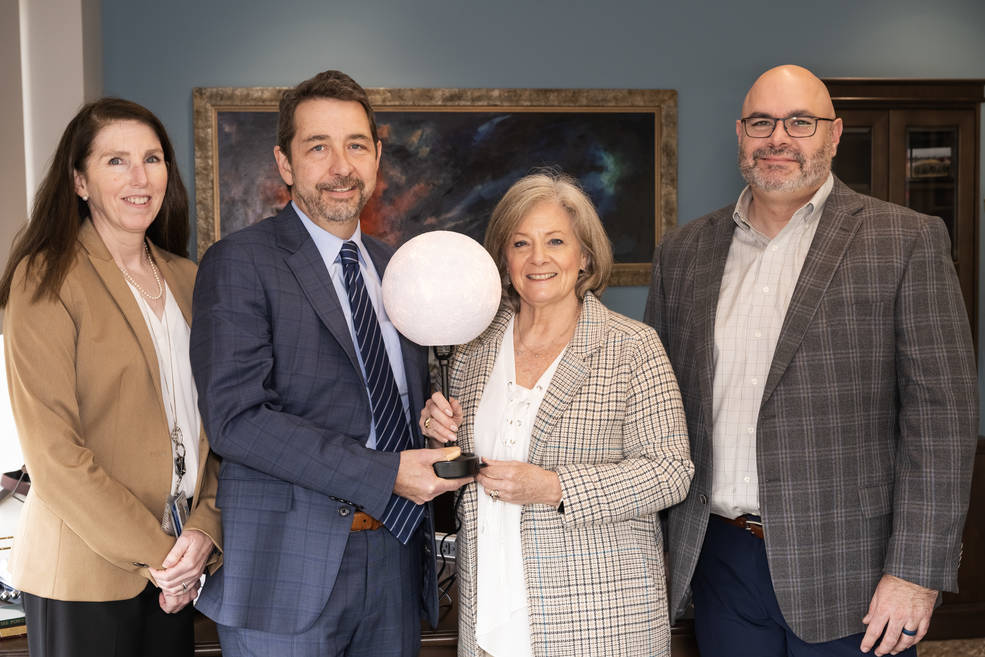 Dan Schumacher, executive board member for the National Space Club, presents Jody Singer, director of NASA's Marshall Space Flight Center, with a 3D-printed Moon lamp as a token of the club's recognition for the successful Artemis I launch. The lamp is one of a kind, showing all the true markings of the celestial surface and featuring three different levels of lighting. Pictured from left are Rae Ann Meyer, associate director of Marshall, Schumacher, Singer, and Joseph Pelfrey, deputy director of Marshall. (NASA/Mick Speer)
Webb Spots Swirling, Gritty Clouds on Remote Planet
Researchers observing with NASA's James Webb Space Telescope have pinpointed silicate cloud features in a distant planet's atmosphere.
The atmosphere is constantly rising, mixing, and moving during its 22-hour day, bringing hotter material up and pushing colder material down. The resulting brightness changes are so dramatic that it is the most variable planetary-mass object known to date. The team, led by Brittany Miles of the University of Arizona, also made extraordinarily clear detections of water, methane, and carbon monoxide with Webb's data, and found evidence of carbon dioxide. This is the largest number of molecules ever identified all at once on a planet outside our solar system.
Cataloged as VHS 1256 b, the planet is about 40 light-years away and orbits not one, but two stars over a 10,000-year period. "VHS 1256 b is about four times farther from its stars than Pluto is from our Sun, which makes it a great target for Webb," Miles said. "That means the planet's light is not mixed with light from its stars." Higher up in its atmosphere, where the silicate clouds are churning, temperatures reach a scorching 1,500 degrees Fahrenheit (830 degrees Celsius).
Within those clouds, Webb detected both larger and smaller silicate dust grains, which are shown on a spectrum. "The finer silicate grains in its atmosphere may be more like tiny particles in smoke," noted co-author Beth Biller of the University of Edinburgh in Scotland. "The larger grains might be more like very hot, very small sand particles."
VHS 1256 b has low gravity compared to more massive brown dwarfs, which means that its silicate clouds can appear and remain higher in its atmosphere where Webb can detect them. Another reason its skies are so turbulent is the planet's age. In astronomical terms, it's quite young. Only 150 million years have passed since it formed – and it will continue to change and cool over billions of years.
In many ways, the team considers these findings to be the first "coins" pulled out of a spectrum that researchers view as a treasure chest of data. In many ways, they've only begun identifying its contents. "We've identified silicates, but better understanding which grain sizes and shapes match specific types of clouds is going to take a lot of additional work," Miles said. "This is not the final word on this planet – it is the beginning of a large-scale modeling effort to fit Webb's complex data."
Although all the features the team observed have been spotted on other planets elsewhere in the Milky Way by other telescopes, other research teams typically identified only one at a time. "No other telescope has identified so many features at once for a single target," said co-author Andrew Skemer of the University of California, Santa Cruz. "We're seeing a lot of molecules in a single spectrum from Webb that detail the planet's dynamic cloud and weather systems."
The team came to these conclusions by analyzing data known as spectra gathered by two instruments aboard Webb, the Near-Infrared Spectrograph (NIRSpec) and the Mid-Infrared Instrument (MIRI). Since the planet orbits at such a great distance from its stars, the researchers were able to observe it directly, rather than using the transit technique or a coronagraph to take this data.
There will be plenty more to learn about VHS 1256 b in the months and years to come as this team – and others – continue to sift through Webb's high-resolution infrared data. "There's a huge return on a very modest amount of telescope time," Biller added. "With only a few hours of observations, we have what feels like unending potential for additional discoveries."
What might become of this planet billions of years from now? Since it's so far from its stars, it will become colder over time, and its skies may transition from cloudy to clear.
The researchers observed VHS 1256 b as part of Webb's Early Release Science program, which is designed to help transform the astronomical community's ability to characterize planets and the disks where they form.
The team's paper, entitled "The JWST Early Release Science Program for Direct Observations of Exoplanetary Systems II: A 1 to 20 Micron Spectrum of the Planetary-Mass Companion VHS 1256-1257 b," will be published in The Astrophysical Journal Letters on March 22.
The James Webb Space Telescope is the world's premier space science observatory. Webb will solve mysteries in our solar system, look beyond to distant worlds around other stars, and probe the mysterious structures and origins of our universe and our place in it. Webb is an international program led by NASA with its partners, ESA (European Space Agency) and the Canadian Space Agency. Several NASA centers contributed to the project, including NASA's Marshall Space Flight Center.
NASA's Dragonfly Team Soars Through Major Design Review
Before it can fly its revolutionary rotorcraft over the organic dunes of Saturn's moon Titan, NASA's Dragonfly mission team needs to navigate a series of independent reviews to demonstrate the flight project is on track.
Led by the Johns Hopkins Applied Physics Laboratory (APL) in Laurel, Maryland, the team recently crossed a major milestone on that path, successfully passing all the technical requirements and standards of the weeklong Preliminary Design Review (PDR) that wrapped up on March 3.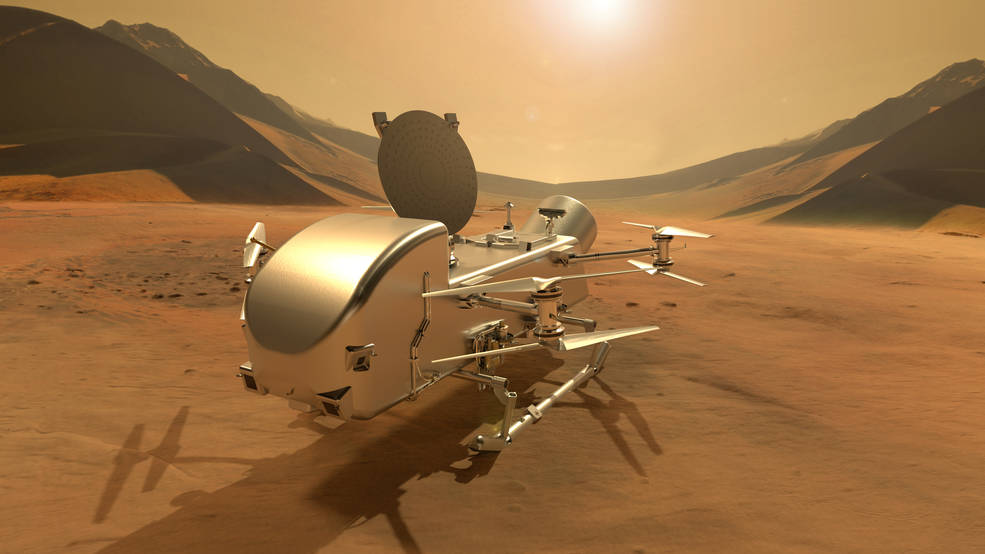 "I am very proud of the entire Dragonfly team," said Bobby Braun, head of APL's Space Exploration Sector. "APL, NASA's Goddard Space Flight Center, Lockheed Martin, and all of our partners really came together to deliver a credible technical baseline. The fidelity and thought that went into each decision was clearly communicated and forms a solid foundation upon which the team can build."
The PDR – a requirement for all NASA missions – covers topics such as spacecraft design, mission requirements, science plans, schedule, cost, and risk. Held at APL, which manages the mission and will build and operate the Dragonfly lander, the PDR included more than 60 presentations to a panel of external experts tasked with evaluating and assessing mission progress for NASA.
"I'm excited to see all of the Dragonfly mission's design components coming together," said Lori Glaze, director of the Planetary Science Division at NASA Headquarters. "This mission team's hard work has resulted in the technical design for a spacecraft that can conduct compelling science to increase our understanding of Titan."
NASA will consider the board's findings in a confirmation review later this year, examining Dragonfly's cost, schedule, and the recommended baseline plan forward.
"The team did a fantastic job," said Dragonfly Principal Investigator Zibi Turtle, also of APL. "Everyone worked so hard to make sure the review board had a clear idea not just of the great progress we've made to close out the design but of our technical challenges, and how we plan to overcome them. We're incredibly excited to have completed this step, and are ready to continue our work on the next phase of Dragonfly development – including testing in the large Titan-environment chamber here at APL over the next year."
Dragonfly centers on a game-changing approach to planetary exploration, employing a rotorcraft-lander to travel between and sample diverse sites on this mysterious world. Dragonfly will characterize the habitability of Titan's environment, investigate the progression of prebiotic chemistry in an environment where carbon-rich material and liquid water may have mixed for an extended period, and even search for chemical indications of whether water-based or hydrocarbon-based life once existed on Titan.
Dragonfly is being designed and built under the direction of the Johns Hopkins Applied Physics Laboratory, which manages the Dragonfly mission for NASA. The team includes key partners at NASA's Goddard Space Flight Center; Lockheed Martin Space in Littleton, Colorado; NASA's Ames Research Center; NASA's Langley Research Center; Penn State University in State College, Pennsylvania; Malin Space Science Systems in San Diego, California; Honeybee Robotics in Pasadena, California; NASA's Jet Propulsion Laboratory; the French space agency in Paris; the German Aerospace Center in Cologne, Germany; and the Japan Aerospace Exploration Agency in Tokyo. Dragonfly is the fourth mission in NASA's New Frontiers Program, managed by NASA's Marshall Space Flight Center for the agency's Science Mission Directorate in Washington.