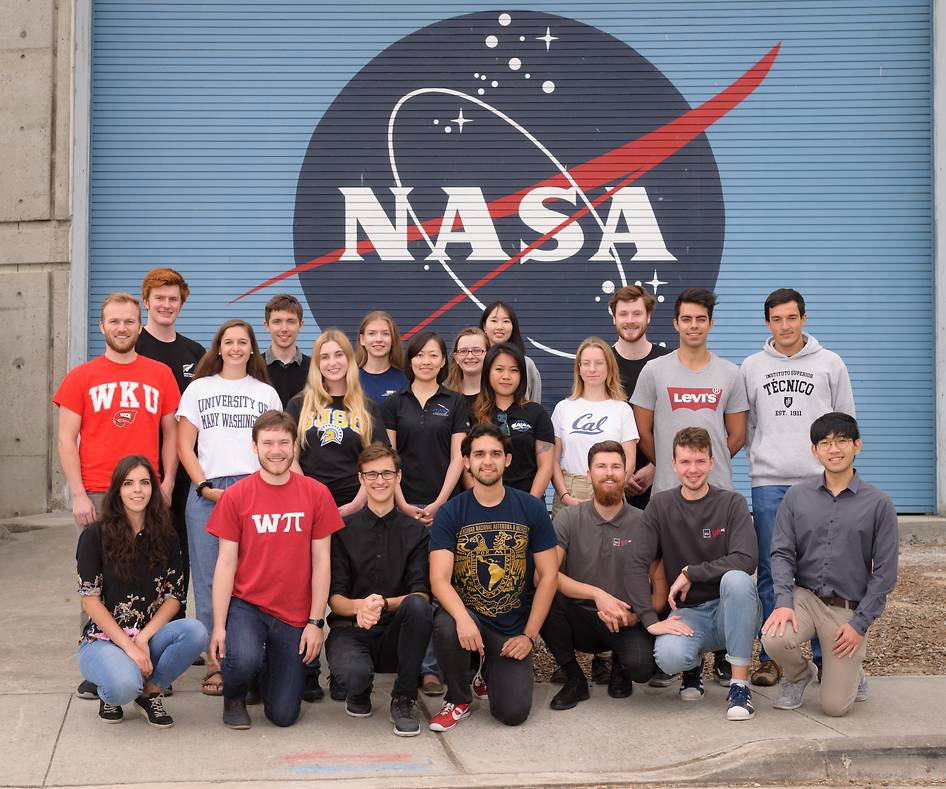 NASA's Goddard Space Flight Center (GSFC) in Greenbelt, Maryland, leads the world in scientific discovery and understanding. Goddard is the home of innovative Earth science, astrophysics, heliophysics and planetary science. The center's diverse and talented team is responsible for each breakthrough emerging from Goddard laboratories.
From high school interns to accomplished Nobel Prize winners, each member of the Goddard team plays a vital role in mission success. If you are interested in applying for employment with NASA's Goddard Space Flight Center and need special assistance or an accommodation to apply for a posted position, contact our Human Resources department at 301-286-7918.
Civil Servant Career Opportunities
NASA's Goddard Space Flight Center has a variety of opportunities for scientists, engineers, technicians and other professionals that range from student to senior career levels. Follow the links below for more information.
Student Career Opportunities
The NASA Pathways Intern Employment Program (IEP) is open to students that are currently enrolled or accepted for enrollment in a qualifying educational program. The Pathways IEP provides opportunities to work and explore careers while still in school. Pathways IEP appointments may be for indefinite periods without not-to-exceed (NTE) dates or appointments with NTE dates of up to one year. If you successfully complete an appointment without an NTE date at NASA, you may be converted to permanent employment or term employment of up to six years. For more information, please visit https://www.nasa.gov/careers/students-and-recent-graduates.
To be eligible for NASA's IEP, you must:
Be a U.S. citizen
Be at least 16 years of age
Be enrolled or accepted for enrollment on at least a half-time basis
Be pursuing a degree or certificate
Currently have and maintain a 2.9 grade point average
Be able to complete at least 640 hours of work prior to completing your degree/certificate requirements
Meet any other requirements described in the announcement (some IEP positions require you to be pursuing specific majors)
To find opportunities:
Federal agencies must post Intern opportunities on USAJOBS. You may go directly to USAJOBS to begin your search.
You may review current NASA IEP vacancies at Pathways Opportunities.
You may also create an account on USAJOBS and sign up to be automatically notified about vacancies meeting your interests.
Non-Civil Servant Career Opportunities
Doing Business With Goddard
Goddard Space Flight Center Procurement
For information on doing business with Goddard, contact the center's Procurement Office by telephone at 301-286-4379, or visit its Web Site: http://code210.gsfc.nasa.gov/procure.htm. This site is part of the NASA Acquisition Internet Service (NAIS). The purpose of this site is to provide Goddard-specific procurement information to the business community. From that site you can get to the NASA Acquisition Internet Service (NAIS). If this is your first time visiting, you may want to look at the NAIS FAQ for answers to frequently asked questions. After you've browsed the NAIS pages, fill out the NAIS Feedback form so they can better serve your needs.

Strategic Partnerships Office
The Strategic Partnerships Office (SPO) fosters technology spin-out and spin-in to benefit both NASA and the Nation. The SPO actively seeks out Goddard research and development that can meet industry and national needs; documents newly developed technologies; patents Goddard-developed inventions; promotes Goddard technologies, facilities, and capabilities to potential partners; and negotiates partnership agreements for technology transfer. Visit the Web site at https://partnerships.gsfc.nasa.gov/ for information about available technologies and important resources for partnerships and licensing.

Technology and Partnership Questions
The mission of NASA's Goddard Space Flight Center is to expand knowledge of Earth and its environment, the solar system and the universe through space-based observations. Goddard is committed to excellence in scientific investigation, in the development and operation of space systems, and in the advancement of essential technologies. To find out more, call the general Technology Line at 301-286-5810 or visit https://partnerships.gsfc.nasa.gov/about-spo/mission-programs.