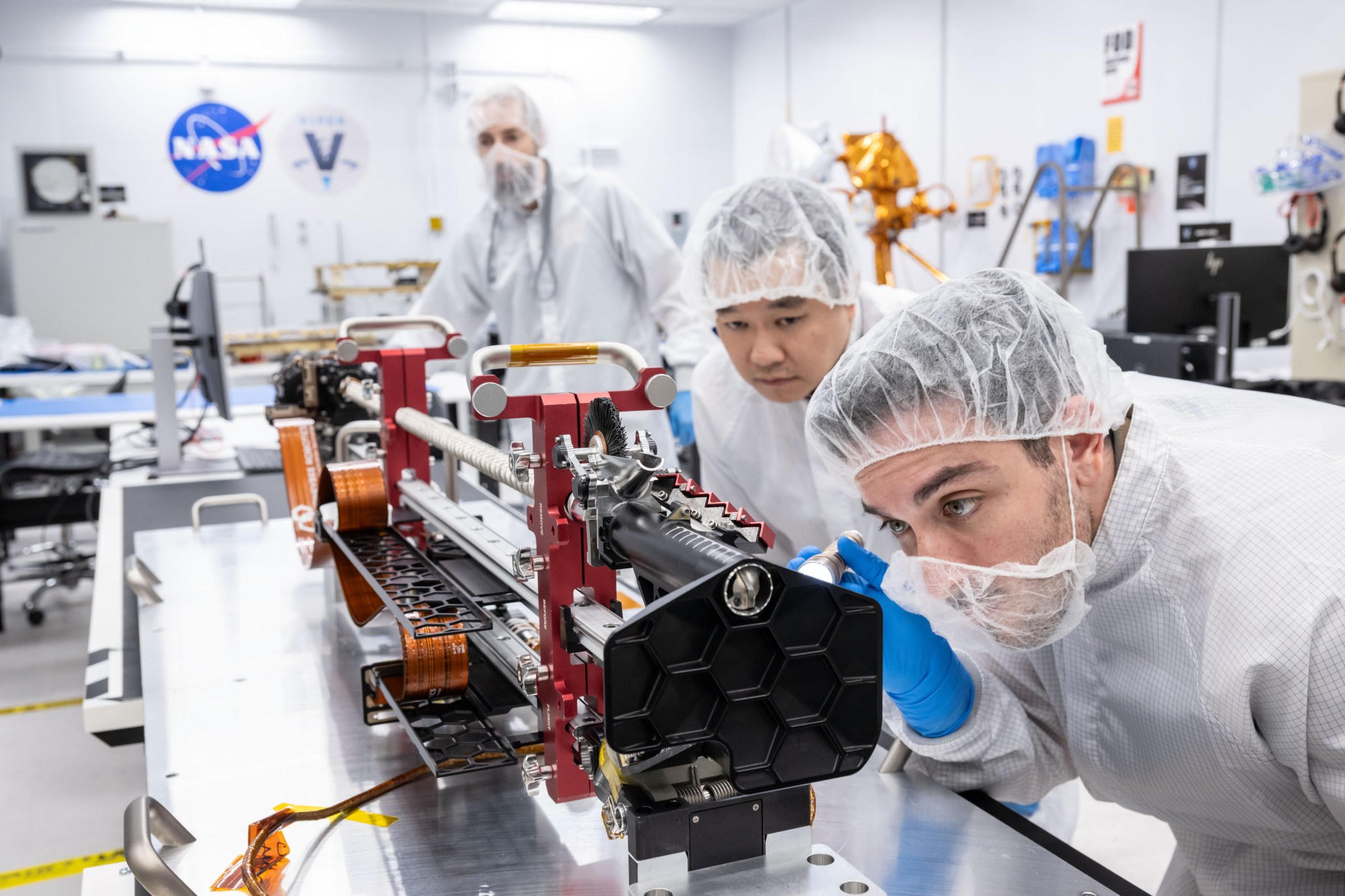 NASA/Robert Markowitz
A team of engineers from NASA's Johnson Space Center in Houston and Honeybee Robotics in Altadena, California, inspect TRIDENT – short for The Regolith Ice Drill for Exploring New Terrain – shortly after its arrival at the integration and test facility. In the coming months, the team will integrate the drill into NASA's first robotic Moon rover, VIPER – short for the Volatiles Investigating Polar Exploration Rover. 
TRIDENT is the fourth and final science instrument for VIPER to arrive at the clean room, where the vehicle is being built. NASA engineers have already successfully integrated VIPER's three other science instruments into the rover. These include: the MSOLO (Mass Spectrometer Observing Lunar Operations), which was integrated in July, and the NSS (Neutron Spectrometer System) and NIRVSS (Near-Infrared Volatiles Spectrometer System) instruments, which were integrated in August.
TRIDENT will dig up soil cuttings from as much as three feet below the lunar surface using a rotary percussive drill – meaning it both spins to cut into the ground and hammers to fragment hard material for more energy-efficient drilling. In addition to being able to measure the strength and compactedness of the lunar soil, the drill features a tip that carries a temperature sensor to take readings below the surface.
MSOLO is a commercial off-the-shelf mass spectrometer modified to withstand the harsh lunar environment by engineers and technicians at the agency's Kennedy Space Center in Florida. MSOLO will help NASA analyze the chemical makeup of the lunar soil and study water on the surface of the Moon.
NIRVSS will detect which types of minerals and ices are present, if any, and identify the composition of the lunar soil.
NSS will help scientists study the distribution of water and other potential resources on the Moon, by targeting its search for hydrogen – the element that's the telltale sign of water, or H2O.
Over the past few months, engineers and technicians from the agency's Johnson, Kennedy, and Ames Research Center, performed pre-integration operations, such as installing external heaters, harnesses, instrumentation sensors, and multi-layer insulation onto the instruments. This critical hardware will help monitor and control how hot or cold the instruments get as the rover encounters different temperature conditions on the Moon; depending on whether the rover is in sunlight or shade, temperatures can vary by as many as 300 degrees Fahrenheit.  
VIPER will launch to the Moon aboard Astrobotic's Griffin lunar lander on a SpaceX Falcon Heavy rocket as part of NASA's Commercial Lunar Payload Services initiative. It will reach its destination at Mons Mouton near the Moon's South Pole in November 2024. During VIPER's approximately 100-day mission, these four instruments will work together to better understand the origin of water and other resources on the Moon, which could support human exploration as part of NASA's Artemis program.