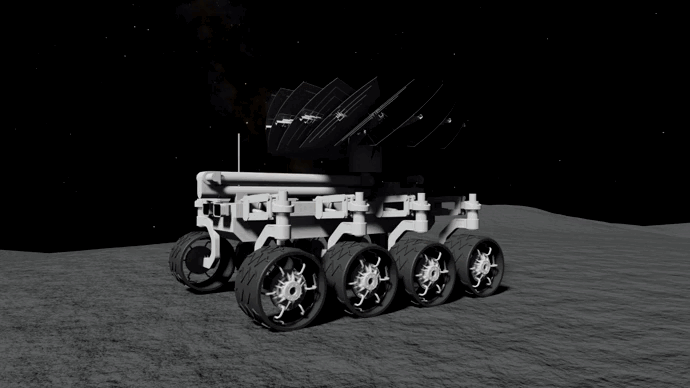 NASA's Artemis mission will return astronauts to the Moon to live, work, and prepare for future crewed missions to Mars. Much like here on Earth, most exploration activities, life-support systems, and daily operations on another planetary body will require a great deal of energy. To help power future lunar operations, NASA challenged the public to design a mobile lunar heliostat, or "Sun reflector," to redirect solar energy to where it is most needed.
Using the power of crowdsourcing, NASA received nearly 190 submissions from around the world for the $7,000 prize, and has selected five solutions as winners in the agency's Lunar TORCH challenge. The competition sought solutions for an innovative, lightweight mobile heliostat design – a device with a movable mirror to direct sunlight in a fixed direction. The ideal design could be tightly packaged on a lander and easily deployed on the lunar surface. Lunar TORCH, or Lunar Tele-Operated Rover-based Configurable Heliostat, would serve as a multi-purpose tool to manipulate sunlight and provide much-needed power to technologies across the lunar surface – particularly in permanently shadowed regions.
A panel of NASA experts evaluated submissions based on overall design, adherence to the technical requirements, and any additional proposed features. The five winning submissions, which were announced on the GrabCad Challenge Homepage, ranked in order, are:
Vulkano Lunar Torch – Vulkano Engineering ($3,000). This design includes tracking and optical analysis, as well as support for a robotic arm and shock absorber. The vertical position of the mirrors during transport would create vibrations and cause dust to fall.
ORIGAS – Ben Cann ($2,000). This idea is based on an origami folding pattern known as the "waterbomb." It also features a self-locking mechanism once it is in position and fully deployed.
Redirector – Giolu Cristian ($1,000). This design utilizes a curved, rigid reflection surface to cast as much light as possible and maximize distance.
NASA Lunar Torch – Anouar Barodi ($750). The proposed idea is an inflatable structure, using silver mylar sheets that are resistant to tearing and puncturing and can reflect up to 98% of light.
PenTRAY – Yohannes Solomon ($250). This design features an octagon-shaped solar reflector and actuation system for increased flexibility in directing sunlight where it is most needed.
GrabCad conducted this challenge to deliver solutions to the government. All participants were welcome as long as they met the eligibility criteria. NASA's Lunar Surface Innovation Initiative within NASA's Space Technology Mission Directorate (STMD), which champions technologies needed to live on and explore the Moon, funded the challenge. NASA Tournament Lab (NTL), part of STMD's Prizes, Challenges, and Crowdsourcing program, managed the challenge. NTL supports the use of public competitions and crowdsourcing as tools to advance NASA research and development and other mission needs.
Learn more about opportunities to participate in your space program through NASA prizes and challenges: