In This Week's Star
Marshall Team Members Meet New NASA Administrator at Aug. 15 Town Hall
By Jonathan Deal
NASA Administrator Jim Bridenstine made his first visit to NASA's Marshall Space Flight Center Aug. 15, where he was briefed on space station science operations, technology development and Space Launch System progress. During his visit, Bridenstine addressed the Marshall workforce and took questions at a town hall meeting.
Bridenstine was joined on the center tour and introduced at the town hall by Jody Singer, Marshall Space Flight Center acting director. The visit to Marshall was part of Bridenstine's multi-center tour in which he is meeting with team members at all NASA centers and facilities.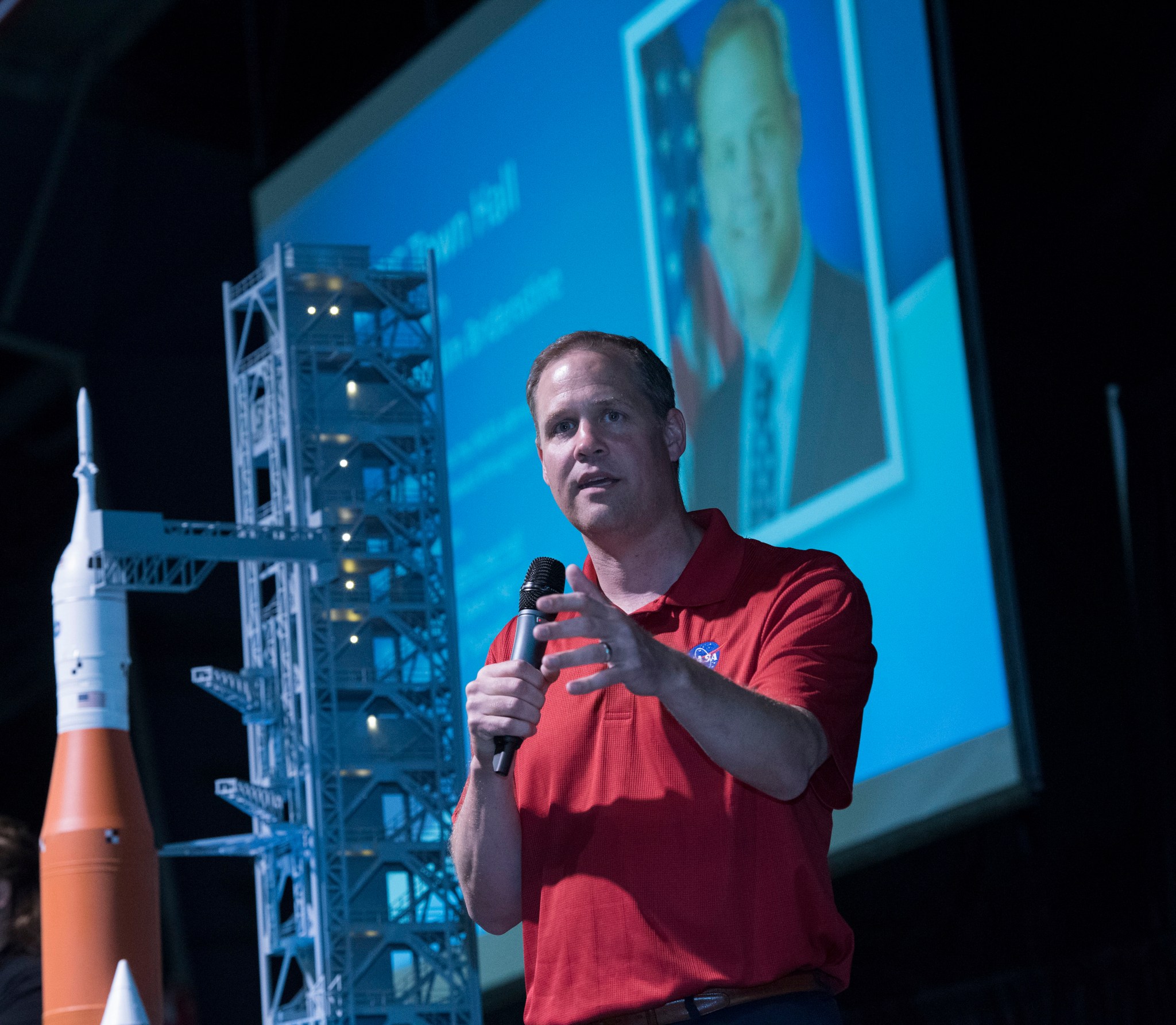 The new NASA administrator took the opportunity to provide Marshall team members with guidance on the three space policy directives signed under President Donald Trump.
"We're going to the Moon and this time we're going to go sustainably. We're going to build an architecture that allows us to go back and forth as much as we need to," Bridenstine said about Space Policy Directive-1, which builds on the work NASA has already been doing on the Space Launch System rocket and Orion spacecraft.
"We want the entire architecture between here and the Moon to be reusable. In order to do all this, we're going to need Marshall Space Flight Center and all our centers to do things in a different way. And in fact, you already are, and I'm here to say I'm grateful."
On Space Policy Directive-2, which helps ease the regulatory environment so entrepreneurs can thrive in space and take into account space traffic management in coordination with other agencies, Bridenstine said, "We want to remain the world's premiere spacefaring nation. We're not trying to create new regulations. What we want is maximum regulatory certainty with minimum regulatory burden."
Space Policy Directive-3, signed on June 18, seeks to reduce the growing threat of orbital debris to the common interest of all nations. It provides guidelines and direction to ensure that the United States is a leader in providing a safe and secure environment as commercial and civil space traffic increases.
"We have to have an agency that can do space situational awareness and space traffic management," said Bridenstine. "We're going to develop the technologies and capabilities and ultimately recommendations to how it should be done."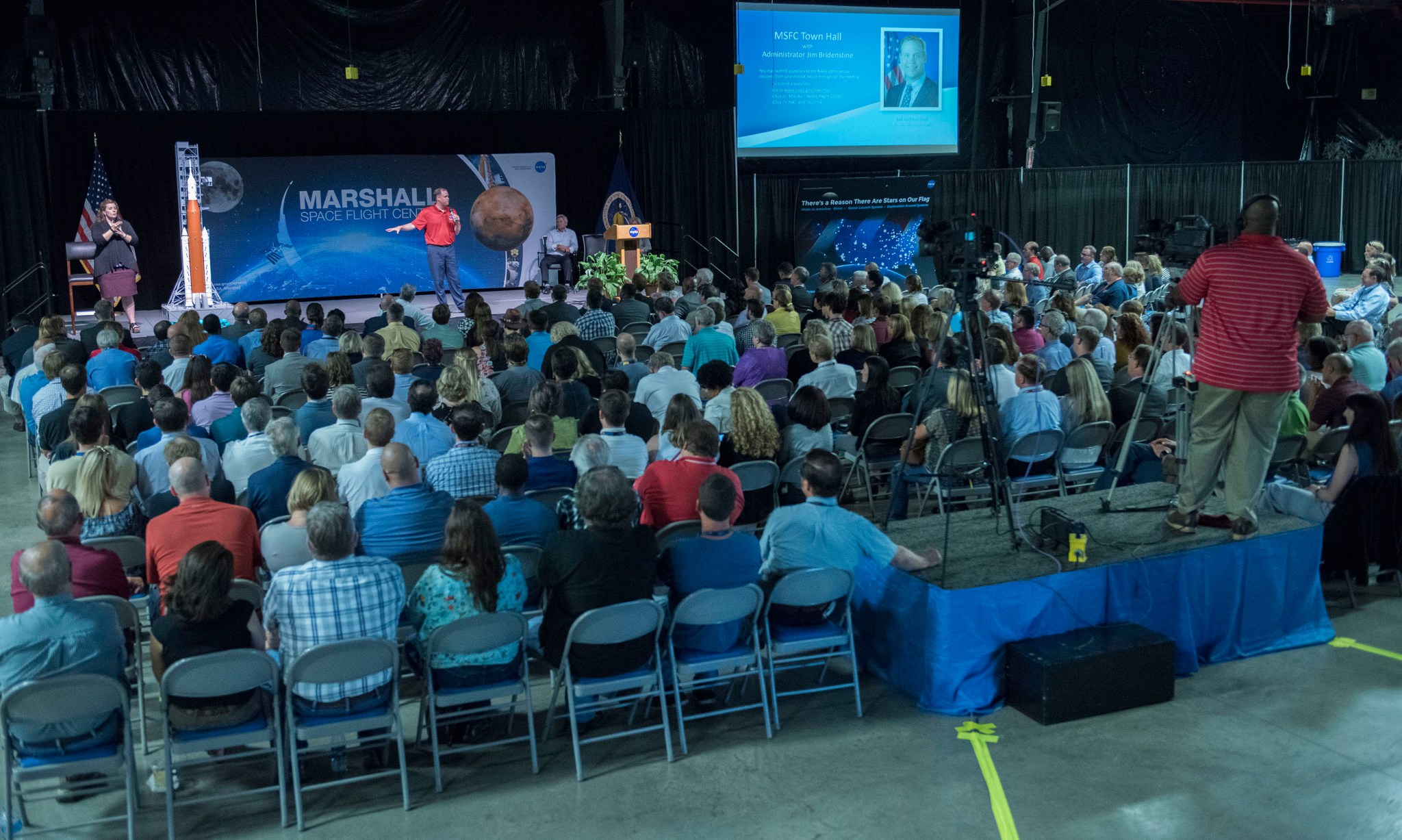 When asked about SLS, Bridenstine made it clear Congress and the administration fully support the program.
"The Space Launch System is going to enable us to do the things that the president has asked us to do," said Bridenstine. "It absolutely has to be successful and it will be successful. What NASA is doing and wants to do are things that have never been done before. We are going to do Exploration Mission-1, Exploration Mission-2 and take SLS and use it to launch a mission to Europa, a moon around Jupiter. This is a critical piece of American infrastructure and it will be for a long time."
As part of his visit to Marshall, the NASA administrator took in the view from atop one of Marshall's newest test stands — Structural Test Stand 4693 — saw the test version of the SLS intertank in the Structural Strength Laboratory and toured the System Integration Lab and the Software Integration and Testing Facility.
"What you are doing here at Marshall is critically important to your country," said Bridenstine. "When we launch SLS and Orion, it's going to be game-changing for our country. It's humbling to see all the incredibly smart people doing really important work, watching hardware being tested and seeing pieces of spacecraft that will be flying to the Moon."
Bridenstine was sworn in as NASA's 13th administrator on April 23. As part of his multi-center tour, he visited NASA's Michoud Assembly Facility Aug. 13 and Stennis Space Center Aug. 14.
Deal, an ASRC Federal/Analytical Services employee and Marshall Star Editor, supports the Office of Strategic Analysis & Communications.
Cement, Crystals and Microgravity: Marshall Researchers, Grad Students Tackle Innovative Materials Science Experiments on Space Station
By Rick Smith
NASA's Marshall Space Flight Center researchers and a pair of graduate students are assessing promising new data from a pair of materials science experiments conducted this summer on the International Space Station.
One study focuses on cement paste — the hardy substance builders have relied on for thousands of years. The other investigates the rapid growth of "chemical gardens," delicate materials as fragile as finely blown glass. Together, these experiments may shed new light on microstructure formations and hydration reactions in the near-weightless environment of microgravity — and offer practical benefits on Earth as well.
"This is landmark, benchmark science only possible on the International Space Station," said NASA materials scientist Dr. Richard Grugel, a co-investigator on both studies at Marshall. "In each case, on Earth, formation of the underlying structures is dependent on gravity-driven phenomena such as buoyancy and induced convection. Microgravity removes these factors from the equation, so we can evaluate material characteristics solely in terms of diffusion-limited growth" — a random growth process by which particles cluster together to form aggregates.
The Microgravity Investigation of Cement Solidification, or MICS, was flown to the station to study the microstructural development of cement paste — a mix of cement and water that binds stone and sand, hardening the mix via chemical hydration. MICS flew in May 2018 from NASA's Wallops Research Center on the OA-9 Orbital ATK Antares rocket.
"Cement paste is the binder for concrete, the most common man-made material on Earth, second in use only to water," said Juliana Neves, a graduate student researcher at Marshall who is pursuing her doctorate in civil engineering at Pennsylvania State University in State College, under the guidance of Dr. Aleksandra Radlińska, MICS principal investigator. "While many people study the mechanics of cement construction, there's a need for more research at the chemical level. Cement systems, with all their crystal growth dynamics, are complicated."
Learning how cement paste binds most effectively, on Earth or in microgravity, could advance all sorts of commercial concrete uses, she said. That includes the promising field of 3D printing, which could aid new space exploration missions with less costly resupply from Earth. Stronger, more durable concrete binder technology enriched by MICS research could contribute to 3D-printed habitats on other worlds, Neves added.
Also now in analysis at Marshall are results of the Understanding the Physics of Nanotube Growth in Chemical Gardens experiment, launched in June via the SpaceX-15 station resupply mission. The study documented microgravity's effects on the growth of colorful "crystal gardens" — likely familiar to generations of children awed by the "Magic Rocks" science kits popular in the 1960s and 1970s and still available today.
When small pieces of water-soluble inorganic metal salts are submersed into a clear anionic silicate solution, a chemical reaction causes the dissolving crystals to form delicate membranes, from which burst buoyant jets of salt solution that then precipitates on contact with the sodium silicate. These hollow, brightly colored tubes, mere fractions of an inch wide, grow quickly as this process repeats itself. On Earth, gravity typically carries the jets upward. In microgravity, their growth can look quite different.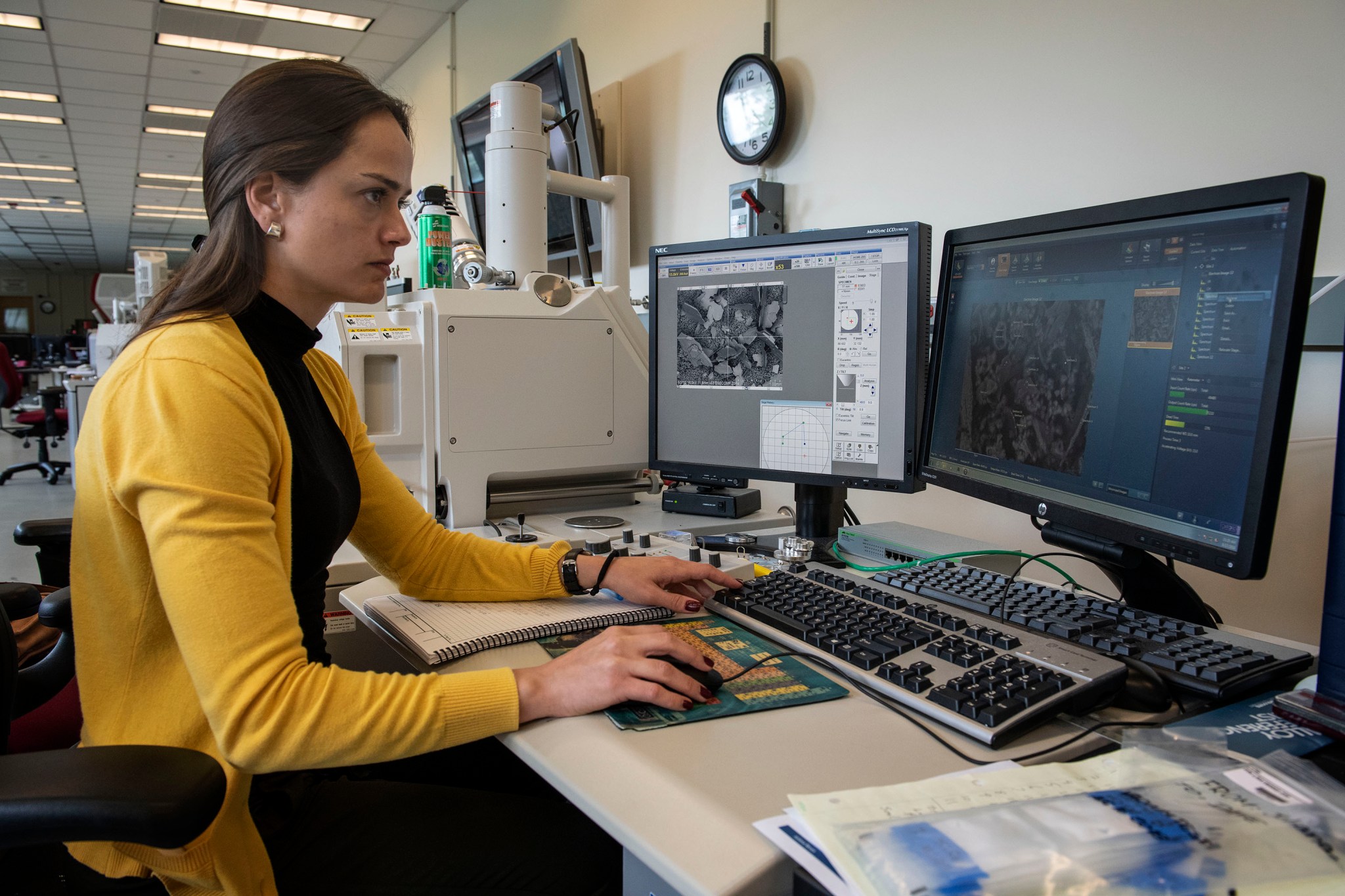 "Understanding the chemistry of these formations could assist bioremediation and biomimicry studies," said Alexander Blanchard, a chemistry doctoral student at Florida State University in Tallahassee, who led experiment analysis at Marshall. Bioremediation is the use of microorganisms to consume environmental pollutants, while biomimicry is the design and production of materials and systems modeled on biological processes.
The study could even contribute to the study of life's origins on Earth and across the cosmos, said Grugel, who oversaw Blanchard's work and leads the experiment with co-investigator Oliver Steinbock, a chemistry professor at Florida State.
"What is perhaps most fascinating about these growths is their chemical similarity to black smokers, or hydrothermal vents found on the sea floor," Grugel said. Studying chemical gardens could aid understanding of these undersea formations, he said, plus and the resilient life forms that call them home. Vent studies, in turn, might inform future journeys to alien biospheres as humanity ventures farther into space than ever before.
All MICS samples and the first of six Chemical Gardens test kits were returned to Earth in August. The rest of the kits are expected to be flown home in January 2019.
Analysis of findings from the studies is being conducted in Marshall's Materials Diagnostics Laboratory. Analysis of all findings is expected to continue into early 2019.
NASA's Microgravity Investigation of Cement Solidification is a joint study by Marshall, Penn State, Leidos, the Center for the Advancement of Science in Space and the National Institute of Standards and Technology, with additional commercial support from concrete manufacturers BASF, IPA Systems Inc. and Sauereisen. NASA's Chemical Gardens study is a joint effort by researchers at Marshall and Florida State University.
Smith, an ASRC Federal/Analytical Services employee, supports the Office of Strategic Analysis & Communications.
Stennis Begins 5th Series of RS-25 Engine Tests
NASA's Stennis Space Center showcased what it does best for new NASA Administrator Jim Bridenstine on Aug. 14, hosting the agency leader for the first in another series of RS-25 rocket engine hot fire tests in support of NASA's Space Launch System Program. Operators conducted a successful test of RS-25 developmental engine No. 0525 — complete with a new flight controller unit — on the A-1 Test Stand as Bridenstine and other agency officials watched. The hot fire was the first RS-25 test at Stennis since February, when operators powered the engine to its highest operating level ever. It also was the first test of developmental engine No. 0525 since August 2015. It marked the first in a series of nine scheduled tests on engine No. 0525 through the rest of the year and into 2019. Each will feature an RS-25 flight controller for use on an actual SLS mission, as well as testing engine components made with innovative manufacturing designed to reduce the cost of future engines. All test objectives were met during the Aug. 14 hot fire, even though the test ended earlier than planned because of a facility issue. (NASA/SSC)
This Week in NASA History: STS-118 Lands – Aug. 21, 2007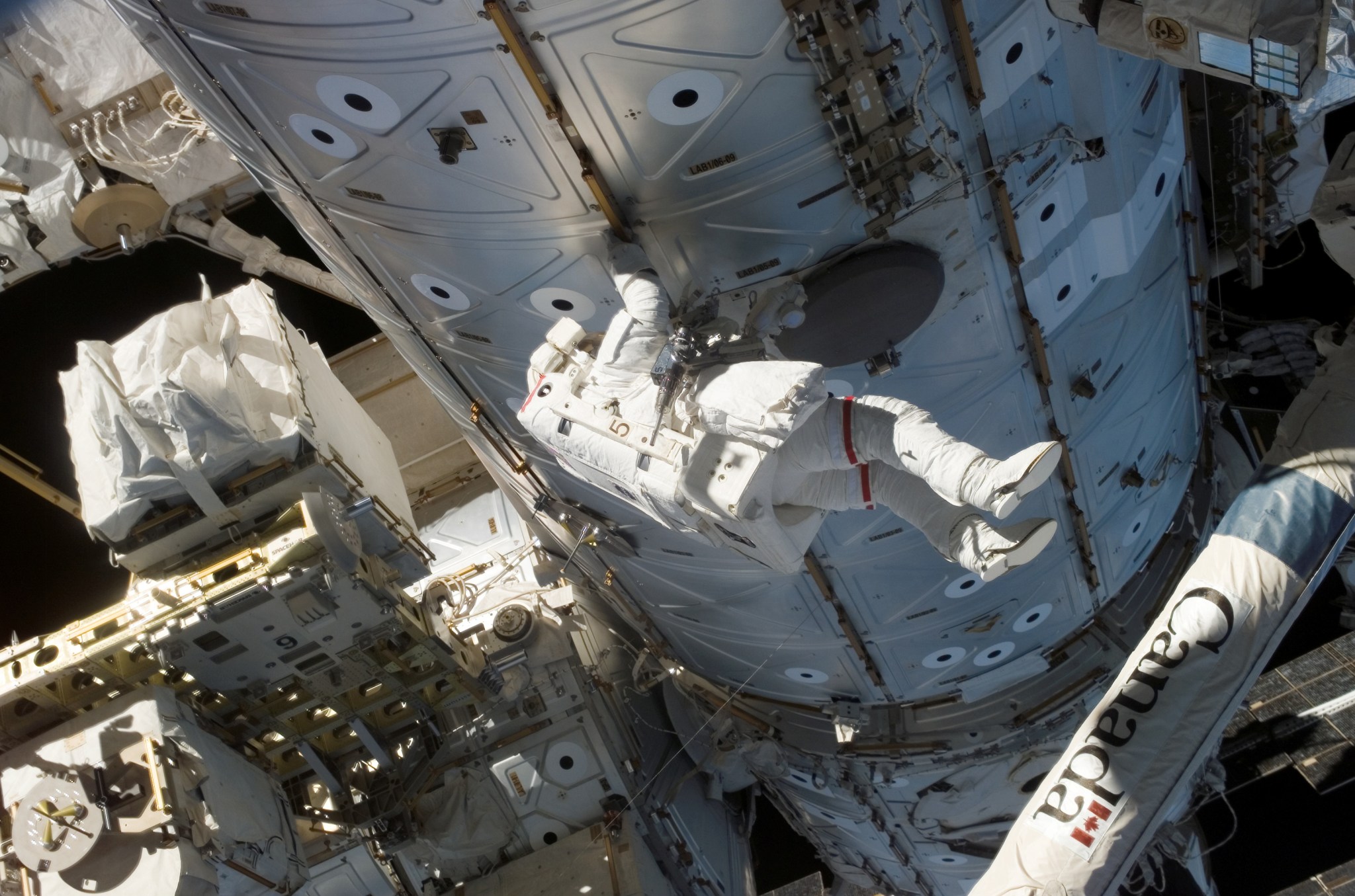 This week in 2007, space shuttle Endeavour, mission STS-118, landed at NASA's Kennedy Space Center following a successful 14-day mission to the International Space Station. Endeavour carried a payload that included a third starboard truss segment — S5 — a SPACEHAB module, and the external stowage platform 3, which was attached to the P3 truss. Here, astronaut Rick Mastracchio participates in the second session of extravehicular activity to perform construction and maintenance on the orbiting laboratory. The NASA History Program is responsible for generating, disseminating, and preserving NASA's remarkable history and providing a comprehensive understanding of the institutional, cultural, social, political, economic, technological and scientific aspects of NASA's activities in aeronautics and space. For more pictures like this one and to connect to NASA's history, visit the Marshall History Program's webpage. (NASA)
Center Visits by NASA Administrator Bridenstine and the Final Approach Phase of OSIRIS-REx Highlighted on 'This Week @NASA'
Visits to NASA's Michoud Assembly Facility, Stennis Space Center and Marshall Space Flight Center by NASA Administrator Jim Bridenstine and the start of the final approach phase for the OSIRIS-REx mission are featured in "This Week @NASA," a weekly video program broadcast nationwide on NASA-TV and posted online.
Completing a three-day tour spanning three states, NASA Administrator Jim Bridenstine made his first visit to the Rocket City as the agency's administrator Aug. 15. Bridenstine spent the day at Marshall, where he was briefed on space station science operations, technology development and Space Launch System progress. On Aug. 13 at Michoud, he viewed progress on SLS flight hardware and the Orion capsule, before travelling to Stennis on Aug. 14 to meet with team members and witness an engine test of the RS-25 engine that will power the core stage of SLS.
NASA's first-ever asteroid sample return mission — OSIRIS-REx — reached an important milestone of its own Aug. 17. According to the University of Arizona — which leads the mission's science team, observation planning and processing, the spacecraft began its final approach phase toward asteroid Bennu. OSIRIS-REx will arrive at Bennu in December 2018 and return a sample from the asteroid in September 2023. Bennu is rich in carbon and composed of primitive material from the beginnings of our solar system.
NASA's Marshall Space Flight Center manages OSIRIS-REx.
View this and previous episodes at "This Week @NASA" on NASA's YouTube page.