NASA, in partnership with Space Center Houston — the official visitor center of NASA Johnson Space Center, and NineSigma, a global innovation consultant organization, has selected the top 20 teams in the Space Robotics Challenge. Eligible teams will be awarded $15,000 and advance to the final Virtual Competition, which will take place in June.
The Space Robotics Challenge, part of NASA's Centennial Challenges program, is a $1 million prize competition to develop the capabilities of humanoid robot dexterity to better enable them to work alongside and independent of astronauts in preparation for future space exploration. The finalists were selected from a pool of 92 teams from 13 countries.
"We are thrilled to have such a huge community of solvers respond to this challenge, and we congratulate the finalists," said Monsi Roman, Centennial Challenges program manager. "The technology they are developing and testing for robotic systems will be essential to helping our human explorers."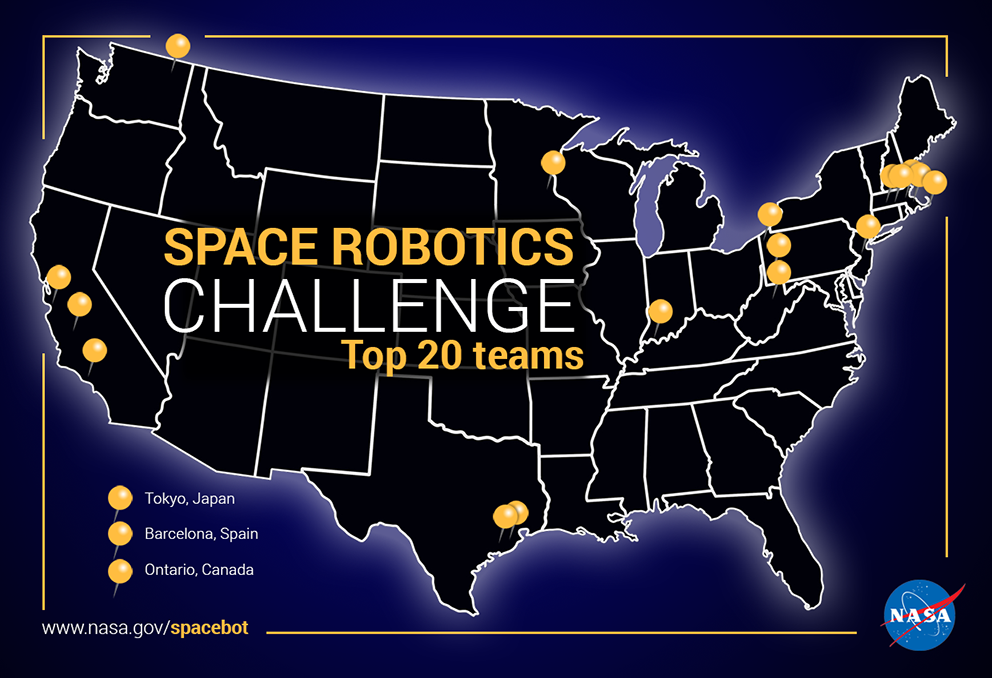 NASA
The Top 20 teams, in alphabetical order, are:
BIT PLEASE – Cypress, Texas
Coordinated Robotics – Newbury Park, California
Mingo Mountain Robotics – Kettle Falls, Washington
MITs – Tokyo, Japan
Mystic – The Woodlands, Texas
Nevermore – Jersey City, New Jersey
Ring of the Nibelungs – Medford, Massachusetts
Sirius – South Hadley, Massachusetts
SpaceBucs – Pittsburgh, Pennsylvania
Space Weavers – San Jose, California
Team AL v.2.0 – Toronto, Ontario, Canada
Team Olympus Mons – Barcelona, Spain
Team Olrun – Evansville, Indiana
THE HUMANZ ARE DEAD – Boston, Massachusetts
Walk Softly – Erie, Pennsylvania
Whalers – Nantucket, Massachusetts
Worcester Polytechnic Institute Humanoid Robotics Lab – Worcester, Massachusetts
WV Robotics Team – Fairmont, West Virginia
Xion Systems – Fresno, California
ZARJ – St. Paul, Minnesota
The final competition will be held in a virtual environment, where teams must program a virtual robot, modeled after NASA's humanoid Robonaut 5 (R5) robot, to complete a series of tasks in a simulation that includes periods of latency to represent the communications delay from Earth to Mars.
Each team's R5 will be challenged with resolving the aftermath of a dust storm that has damaged a Martian habitat. This involves three objectives: aligning a communications dish, repairing a solar array, and fixing a habitat leak.
NASA's Centennial Challenges program is part of the agency's Space Technology Mission Directorate, and is managed at NASA's Marshall Space Flight Center in Huntsville, Alabama. STMD uses challenges to gather the best and brightest minds in academia, industry and government to drive innovation and enable solutions in important technology focus areas.
Space Center Houston is a part of the Manned Space Flight Education Foundation, a nonprofit science and space learning center.
NineSigma, based in Cleveland, Ohio, connects organizations with external innovation resources to accelerate innovation in private, public and social sectors.