NASA is on a mission to inspire young minds to become the next generation of critical thinkers. By engaging students in space exploration at the agency's Marshall Space Flight Center in Huntsville, Alabama, NASA encourages learning in science, technology, engineering and mathematics (STEM) in a way that fosters hands-on learning and discovery.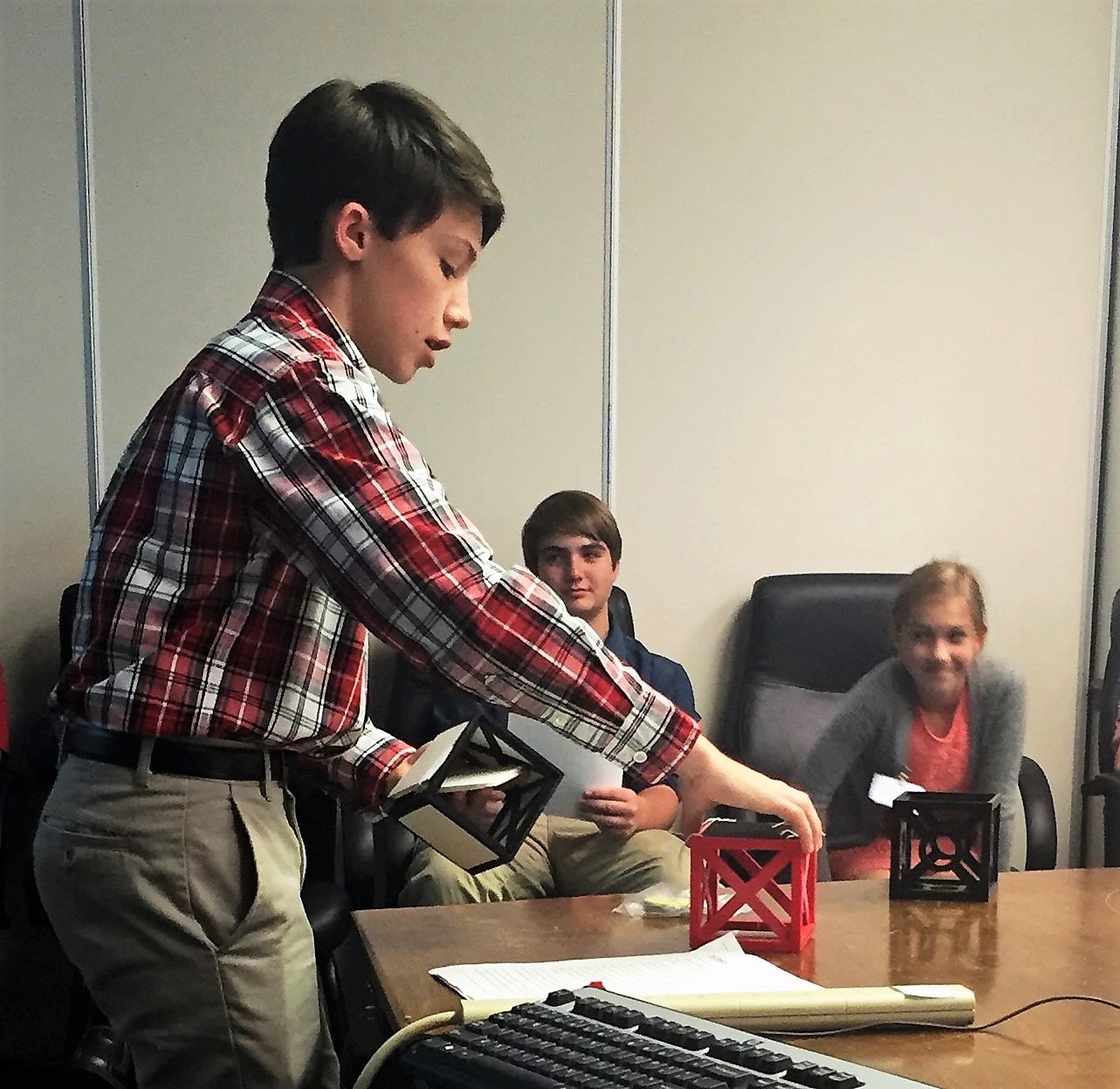 NASA/Oak Ridge City Schools
"As more states incorporate STEM-focused education into their standards, we assist teachers by developing curriculum support materials that help them meet the standards while making learning fun for their students," said Susan Currie, education specialist at Marshall.
One example of how Marshall achieves this goal is through collaboration with the Oak Ridge City School System in Oak Ridge, Tennessee. Marshall staff assisted in curriculum development that incorporated unique NASA resources, and then trained teachers to use the resources for a new elective engineering course called NASA Project-Based Learning. Marshall engineers also serve as mentors to students in the course. Patrick Hull, technical assistant for the Structural and Mechanical Design Branch of the Engineering Directorate at Marshall, assisted with this collaboration in the community where he grew up.
"We sought to invest in our community and influence middle school students by exposing them to exciting STEM careers at NASA" said Hull. At many schools, this type of unique experience in STEM fields was only available in an extracurricular environment.
Hull partnered with Robertsville Middle STEM teacher, Todd Livesay, to create a project that tasked students with designing and 3-D printing a small one-unit cube satellite, or 1U CubeSat. Once completed, the students presented their project at Marshall in front of Hull and a panel of fellow engineers. "To have had an opportunity in junior high to work with a group of engineers from NASA would have been very motivating to me," said Hull.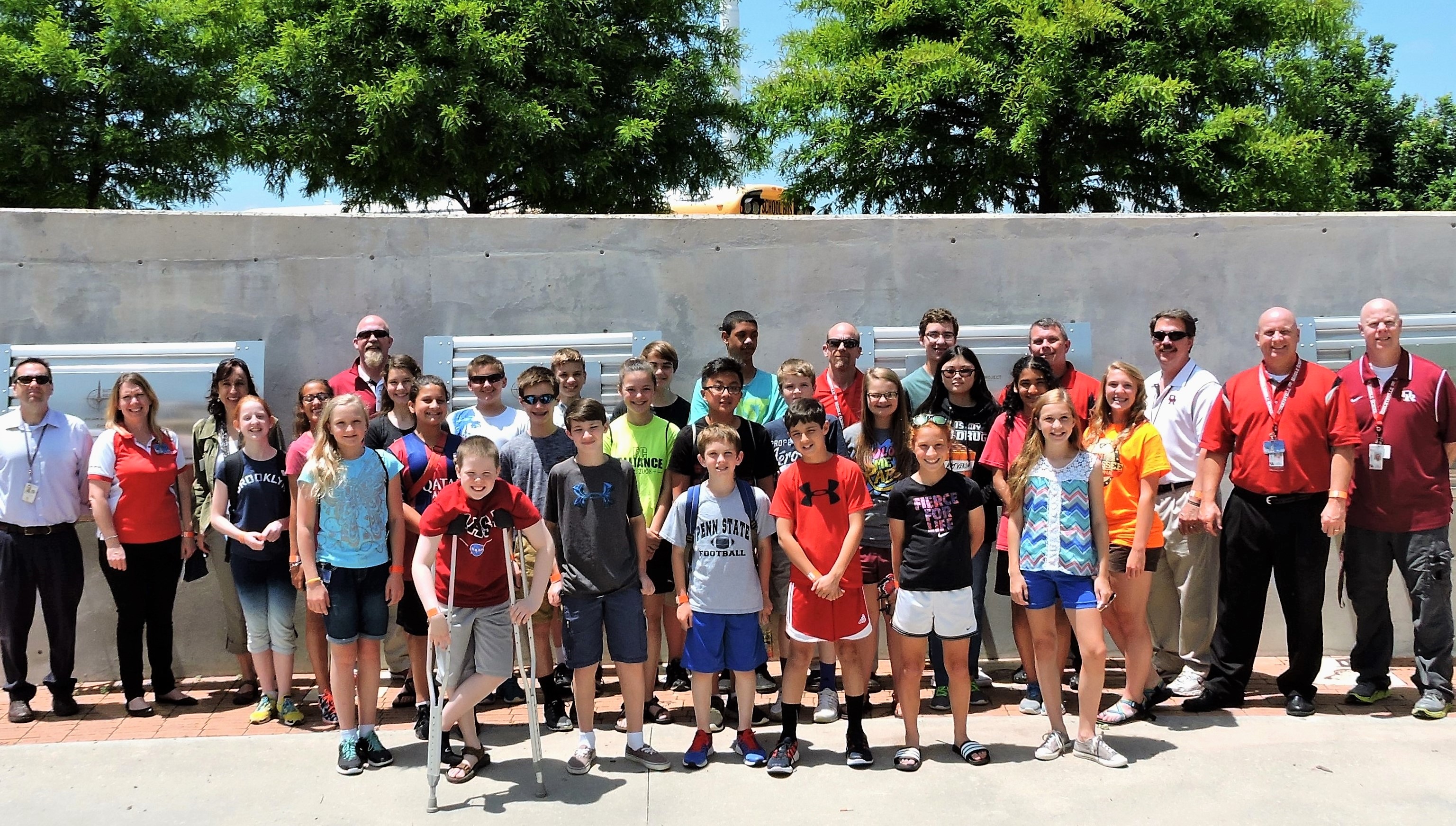 NASA/Oak Ridge City Schools
"The value of skills learned by our students in this program spans more than just STEM disciplines," said Holly Cross, career and technical education supervisor for the Oak Ridge City School System. "The mentors from NASA encouraged our students to talk about their project in a conversational manner rather than memorizing for a presentation. Our English teachers have commented on how their presentation skills have developed and matured as a result of their interaction with the NASA engineers."
For the 2017 class mission, students chose a cause that is near to their hearts. In 2016, wildfires ravaged communities in nearby Gatlinburg, Tennessee, taking the lives of 14 residents and leaving more than 2,500 homes and businesses damaged or destroyed. To assist Gatlinburg and other communities impacted by wildfires, the students set out to develop a CubeSat capable of deploying a camera and radio in space to observe and communicate the regrowth pattern of vegetation after a widespread fire. This information can be used to help communities regrow after destruction.
The students submitted their completed project in proposal form to NASA's CubeSat Launch Initiative to compete for a spot to fly on a future launch. Through the initiative, NASA provides universities, high schools and non-profit organizations access to a low-cost pathway to conduct research in the areas of science, exploration, technology development, education or operations. NASA is planning to make their next round of CubeSat selections in February. Selected experiments will be considered as potential payloads on agency launches or for deployment from the International Space Station beginning in 2018 through 2021.
NASA centers nationwide work with schools by developing and providing engineering and science curriculum resources and training at no cost to teachers through the Educator Professional Development Collaborative. To find a local collaborative, see https://www.txstate-epdc.net/nasa-centers/.
The collaborative is managed by Texas State University as part of the NASA's education offerings. A free service for K-12 educators nationwide, it connects educators with the classroom tools and resources they need to foster students' passion for careers in STEM and produce the next generation of scientists and engineers.