NASA has announced the 70 teams representing 24 states and Puerto Rico selected to compete in the 2024 Student Launch Challenge.
The annual competition – one of NASA's nine Artemis Student Challenges – requires middle/high school and college/university students to design, build, and fly a high-powered amateur rocket and scientific payload.
NASA
The nine-month-long challenge will culminate with on-site events April 10-14, 2024, with final launches April 13 at Bragg Farms in Toney, Alabama, just minutes north of NASA's Marshall Space Flight Center in Huntsville, Alabama. Teams are not required to travel for their final launch, having the option to launch from a qualified location. Details are outlined in the Student Launch Handbook.
Each year NASA implements a new payload challenge to reflect relevant missions. This year's payload challenge is inspired by the Artemis missions, which seek to land the first woman and first person of color on the Moon.
Students will design a SAIL (STEMnaut Atmosphere Independent Lander) payload. It must deploy mid-air, safely return to the ground without using a parachute, and be reusable to launch the same day without repairs or modifications. The payload will contain a crew of four STEMnauts, non-living objects representing astronauts. Students will choose metrics to determine the endurance of the lander, considering acceptable descent and landing parameters.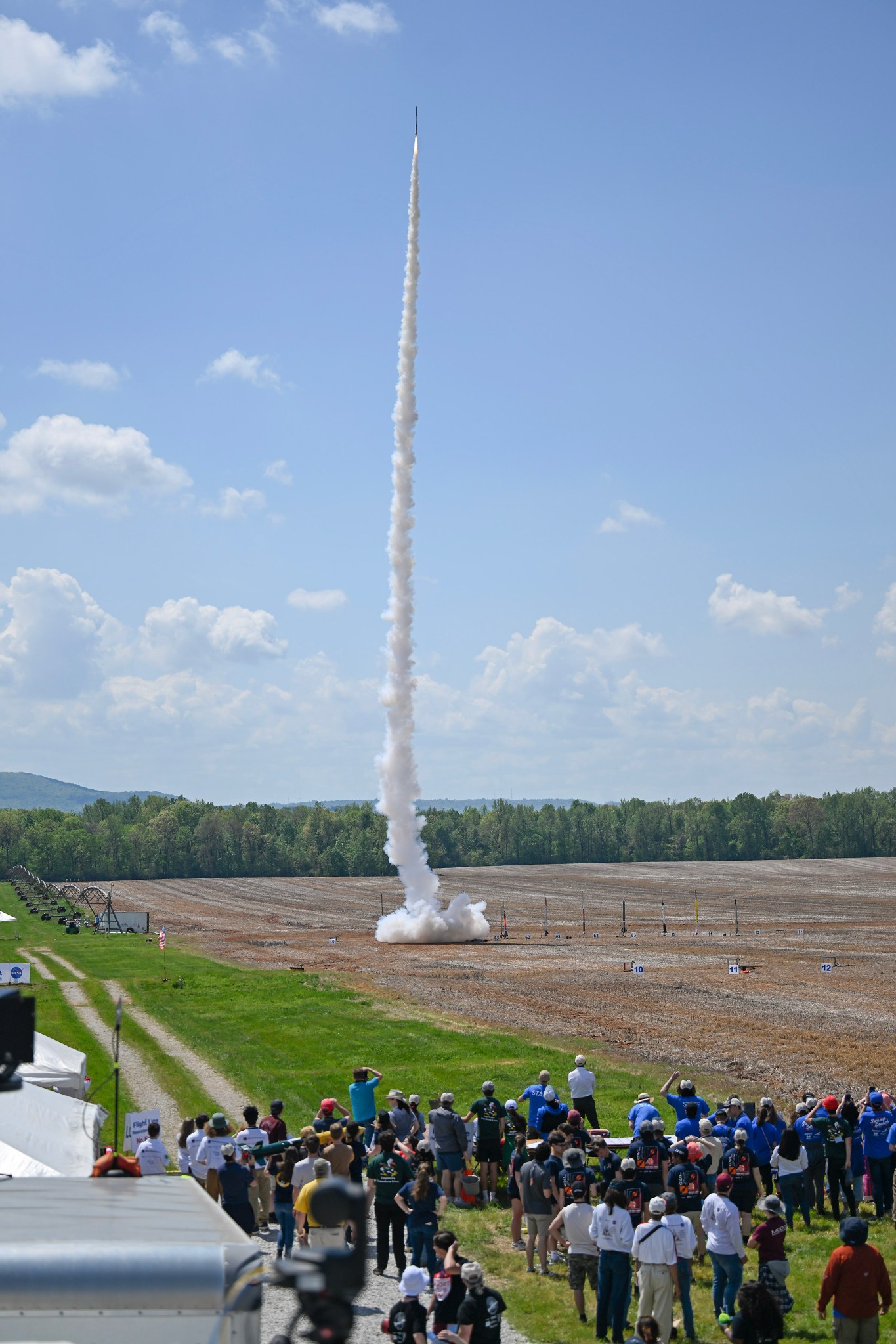 NASA
University/college teams are required to meet the 2024 payload requirements set by NASA, but middle/high school teams have the option to tackle the same challenge or design their own payload experiment.
Student teams will undergo detailed reviews by NASA personnel to ensure the safety and feasibility of their rocket and payload designs. All teams must declare their rocket's targeted altitude for final launch day during a preliminary design review. The team closest to their target will win the Altitude Award, just one of multiple awards presented to deserving teams at the end of the competition. Other awards include overall winner, vehicle design, experiment design, social media presence, and more.
In addition to the engineering and science side of the competition, students must also participate in outreach efforts such as engaging with local schools and maintaining effective social media accounts. Student Launch is an all-encompassing challenge and aims to prepare the next generation for the professional world of space exploration.
The competition is managed by Marshall's Office of STEM Engagement (OSTEM). Additional funding and support are provided by NASA's OSTEM via the Next Gen STEM project, NASA's Space Operations Mission Directorate, Northrup Grumman, National Space Club Huntsville, American Institute of Aeronautics and Astronautics, National Association of Rocketry, Relativity Space, and Bastion Technologies.
For more information about Student Launch, visit:
https://www.nasa.gov/stem/studentlaunch/home/index.html
For more information about other NASA challenges, please visit:
https://stem.nasa.gov/artemis/
Christopher Blair
Marshall Space Flight Center, Huntsville, Ala.
256.544.0034
christopher.e.blair@nasa.gov