Editor's Note: Updated March 28, 2022
For nearly 60 years, NASA personnel in Building 4200, the administrative headquarters of NASA's Marshall Space Flight Center in Huntsville, Alabama, spearheaded some of the nation's most groundbreaking space exploration and discovery missions.
Demolition preparation activities at the historic building began March 28, 2022, making way for state-of-the-art "green" facilities that will make more efficient use of taxpayer dollars and house new generations of engineers, scientists and support teams – the true core of Marshall's esteemed legacy, and the vanguard of future space frontier expansion for untold decades to come.
"Our workers, not our buildings, are the heart of Marshall," said Marshall Director Jody Singer. "Our top priority will always be protecting the health and safety of our team."
Since its opening on Redstone Arsenal in 1963, Building 4200 has been home to Marshall's executive staff, plus civil servants and contract personnel supporting the NASA field center's human relations, legal, communications, and public affairs organizations. It housed the offices of 14 Marshall directors, from Dr. Wernher von Braun – who led rocket development here for the ambitious Mercury and Apollo Moon missions in the 1960s and 1970s – to Singer, the first woman to serve as Marshall's director.
Since then, Marshall has overseen development of propulsion systems for the Space Shuttle Program; designed and built International Space Station hardware and life support systems and managed station science operations; delivered cutting-edge science satellites and instruments to safeguard lives and resources on Earth and observe the distant reaches of the cosmos; and led NASA's development of its newest flagship rocket, the Space Launch System, soon to carry Artemis-era explorers back to the Moon and pave the way for human missions to Mars.
Sixty years on, Marshall facilities engineers had a plan in place to decommission the aging building in 2030. Marshall's facilities master plan is a blueprint for the systematic demolition of old buildings – which can no longer be cost-effectively maintained and may pose potential health and safety issues due to their age or deteriorating condition – to make way for new, more efficient laboratories, test facilities and offices, which cost less to build and maintain than those they will replace.
Ultimately, the plan seeks to cut infrastructure operating costs and reduce the center's overall "footprint" of facilities and structures on Redstone Arsenal by more than 25%.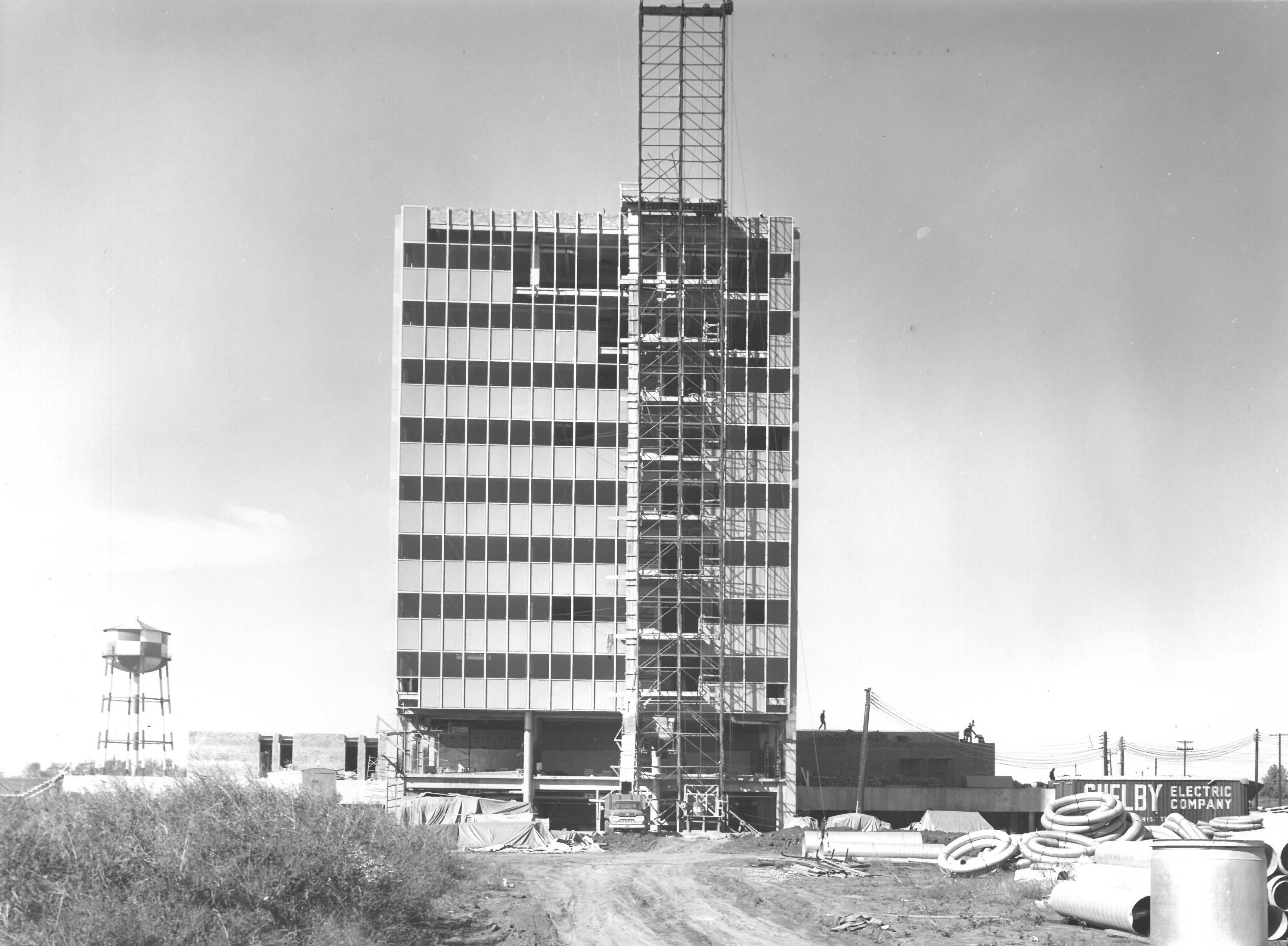 "Decommissioning and replacing 4200 was always part of Marshall's plan to be good stewards of taxpayer dollars," said Jeff Brown, manager of Marshall's Facilities Management Office. But the plan was accelerated in early 2020, when an exterior wall panel came loose from the structure and fell eight stories to the ground. Because the center was closed, with personnel teleworking in keeping with COVID-19 safety protocols – almost no one was on-site at the time. No injuries occurred.
Determining that the falling panel was caused by deterioration of rubber mounting brackets on the exterior panel, Marshall facilities managers reassessed the building's aging utilities, elevators, and amenities and decided to move the structure forward on the scheduled demolition list. The demolition contract was recently awarded and work is expected to take roughly one year.
Once they had identified the rubber brackets as the culprit, Brown's team oversaw the placement of safety netting around Building 4200 to minimize risk from additional falling panels prior to demolition. They also surveyed other buildings across Marshall to ensure the bracket issue would not reoccur elsewhere, Brown said, and shared their findings with other NASA centers and federal agencies – helping protect workers and resources as other aging federal buildings await refurbishment or replacement in coming years.
At the time of its closure, more than 400 people worked in Building 4200. Marshall leadership will move to the top floor of Building 4221, which opened in April 2019 on the north side of the 4200 complex – a previous entry in NASA's plan to measurably improve infrastructure health, safety, and cost benefits. To maximize efficient workflows across Marshall's science, engineering, propulsion, and support organizations, Brown said, hundreds more across campus were reorganized into new spaces to make room for the 4200 transplants.
Even as the plan for Building 4200 is accelerated, other demolition work continues. Building 4201, which sits adjacent to 4200, will undergo demolition this fall. Also set for decommissioning is Building 4487, home to science and avionics research for more than half a century. These structures can no longer be efficiently maintained due to their age and outdated electrical system, plumbing, and other utilities.
Building 4487 will be replaced by a new, cost-effective optics laboratory and a world-class science center housing an astrionics laboratory, devoted to the development of next-generation spacecraft electronics, subsystems, and components capable of withstanding punishing long-term missions in space.
The legacy of invention and ingenuity in Building 4200 will endure, Brown said. His team is working closely with NASA's History Office and the Alabama State Historic Preservation Office to ensure the history of the building is preserved. Many of the high-fidelity Apollo-era, space shuttle, and Space Launch System models and artworks, including those previously displayed in the 4200 lobby, are on display in the Building 4221 lobby or stored in warehouses until new gallery space is designated.
Thousands of photos, videos, documents, drawings, blueprints, artworks, and artifacts, collected from the time of facility construction to its closure, are being archived and will be made available for public access and use. Additional site documentation by the Historical American Building Survey and Historical American Engineering Record is stored in the Library of Congress and is available online to the public.
In the end, Brown echoed Singer's sentiment: Marshall isn't just vintage brick, cement, and glass structures, but an evolving community of committed professionals, pursuing NASA's mission to the benefit of all humankind.
"Part of NASA's mission is to provide the best, most cost-effective facilities to advance the nation's goals in space," he said. "The right facilities make that work happen."
Read more about the construction and history of Building 4200 here:
https://www.nasa.gov/centers/marshall/history/building4200.html