You normally wouldn't associate NASA and small businesses, but they play an important role in keeping the agency running smoothly. Across the ten NASA field centers, private firms populate missions known (science and engineering) and unknown (custodial and security).
Langley Research Center in Hampton, Virginia, has an office dedicated to making matches that align the agency's missions with businesses that can help complete them.
"I meet with small businesses – they'll contact me or I'll contact them at outreach events or they'll call my office," said Small Business Specialist Robert Betts. "I find out what they're trying to do. If they're trying to do business with the government or NASA, then I try to see what they're doing and where they're at in the stage of the process. I try to pick up wherever they're at and go from there."
In his role, Betts acts as a go-between for the businesses and NASA to make sure they are a match. Before his current job, Betts was a contracting officer, which helps with negotiation, award and administration of the contracts in support of agency or center missions.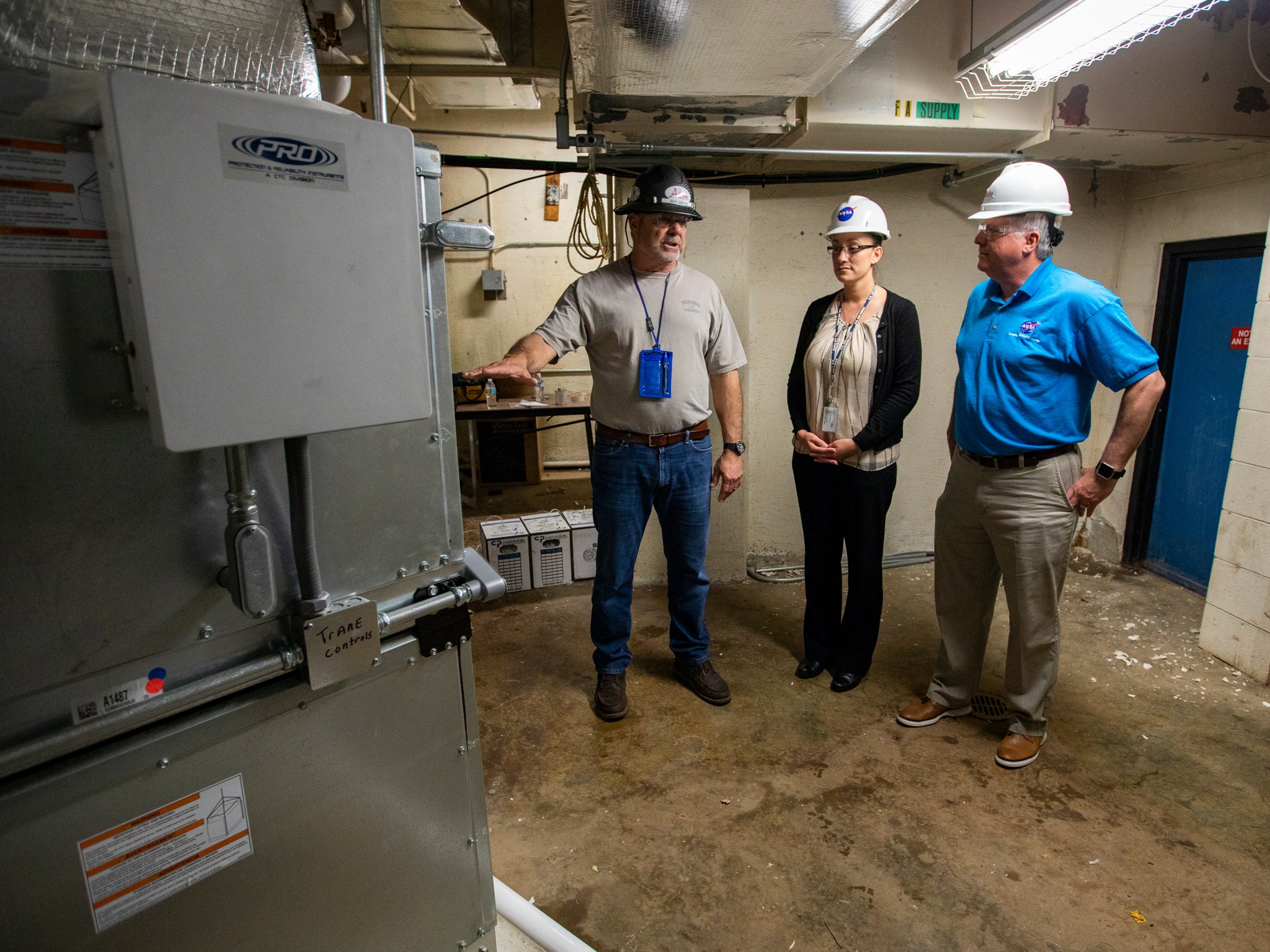 "I'm able to bridge that gap better," he said. "It helps me understand both sides."
Making a beneficial connection between NASA and small businesses is at the forefront during the 2019 National Small Business Week, May 5-11. Since NASA's inception more than 60 years ago, small businesses have been at the core of the agency's innovation and ability to achieve tremendous things on behalf of the American people and the world.
In fiscal year 2018, NASA awarded nearly $5.9 billion to small businesses between prime and subcontracting awards. In FY2018, Langley awarded $190.7 million (46.6 percent of total dollars obligated) on prime contracts with small businesses. Langley contracts with these small businesses to perform some of the most important work on center, such as technology, engineering, public affairs, grounds maintenance, custodial services and aerospace mission support.
Betts's office is part of NASA's Office of Small Business Programs (OSBP). Its vision is to promote and integrate all small businesses into the competitive base of contractors that pioneer the future of space exploration, scientific discovery and aeronautics research.
Notable local success stories include Pancopia, a small business in Hampton, who developed an innovative water recycling process that leverages novel microorganisms to provide cost-effective, closed-loop water purification on the International Space Station (ISS) and on Earth using the Small Business Innovation Research (SBIR) program. Another Hampton-based business, Tao Systems Inc., developed the constant voltage anemometer (CVA) under SBIR contracts. CVAs provide highly accurate wind velocity and temperature readings.
The successes don't stop there. Another local small business that has benefited is Hampton-based ViGYAN, which provides engineering analyses, wind tunnel services and computer support to Langley. ViGYAN has been a partner with Langley for all of its 40 years as a company, said company Vice President Richard White.
"It has been an overall positive experience in being a part of Langley programs," he said.
ViGYAN has played a role in Langley and NASA's mission thanks to its low-speed wind tunnel. For example, there have been multiple tests of various Mars spacecraft such as the InSight lander for their entry, descent and landing characteristics.
White believes his company is a good partner for Langley and its missions based on their longstanding relationship and previous successful tests.
"Aside from its physical proximity, our technical expertise is closely aligned with the capabilities of NASA Langley," he said.
Since NASA's inception more than 60 years ago, small businesses have been at the core of the agency's innovation and ability to achieve tremendous things on behalf of the American people and the world.
Langley is undergoing a revitalization project, tearing down old buildings and either building new facilities or renovating old ones. One small business, Tallahassee, Florida-based Advon Corporation, is contributing its expertise in rehabbing one of Langley's labs.
The firm is renovating the center's Acoustic Research Facility, as they are upgrading the building environmental systems, replacing antiquated equipment and installing and upgrading to more energy efficient smart systems.
"Advon's experience working with NASA Langley has been very positive," said Senior Project Manager Jeff Gibson. "We have interfaced with many different people and departments and have found all extremely easy to work with."
This is not Advon's first time working for a federal agency, Gibson added.
"Our experience working with other government entities like NASA at Johnson Space Center or Stennis Space Center, the Veterans Administration or similar customers has given us a good starting knowledge of what to expect from NASA and what NASA expects from us," he said. "By reducing the upfront learning curve, we are more able to hit the ground running and be more productive in achieving our joint ultimate goals."
Small business is truly a center-wide effort at Langley. In 2017, Langley personnel were recognized by OSBP by winning these awards: Agency-Level Procurement Team of the Year (Environmental Support Services Procurement Team), Program/Science/Research and Development Team of the Year (Advanced Composites Project Team), Agency-Level Small Business Technical Advisor/Coordinator of the Year (Kimberly Cannon), Agency-Level Small Business Subcontractor of the Year (Metis Technology Solutions, Inc.), and Agency-Level Large Business Prime Contractor of the Year (Science Application International Corporation). Working together is the key to any successful partnership, an axiom that is not lost on Betts.
"As a small-business person, I'm touching a lot more areas," he said. "I'm trying to find out what everyone's doing on center so I can match them up."
For more information on the NASA Office of Small Business Programs, click here.
To read about other small business success stories, click here.
Eric Gillard
NASA Langley Research Center