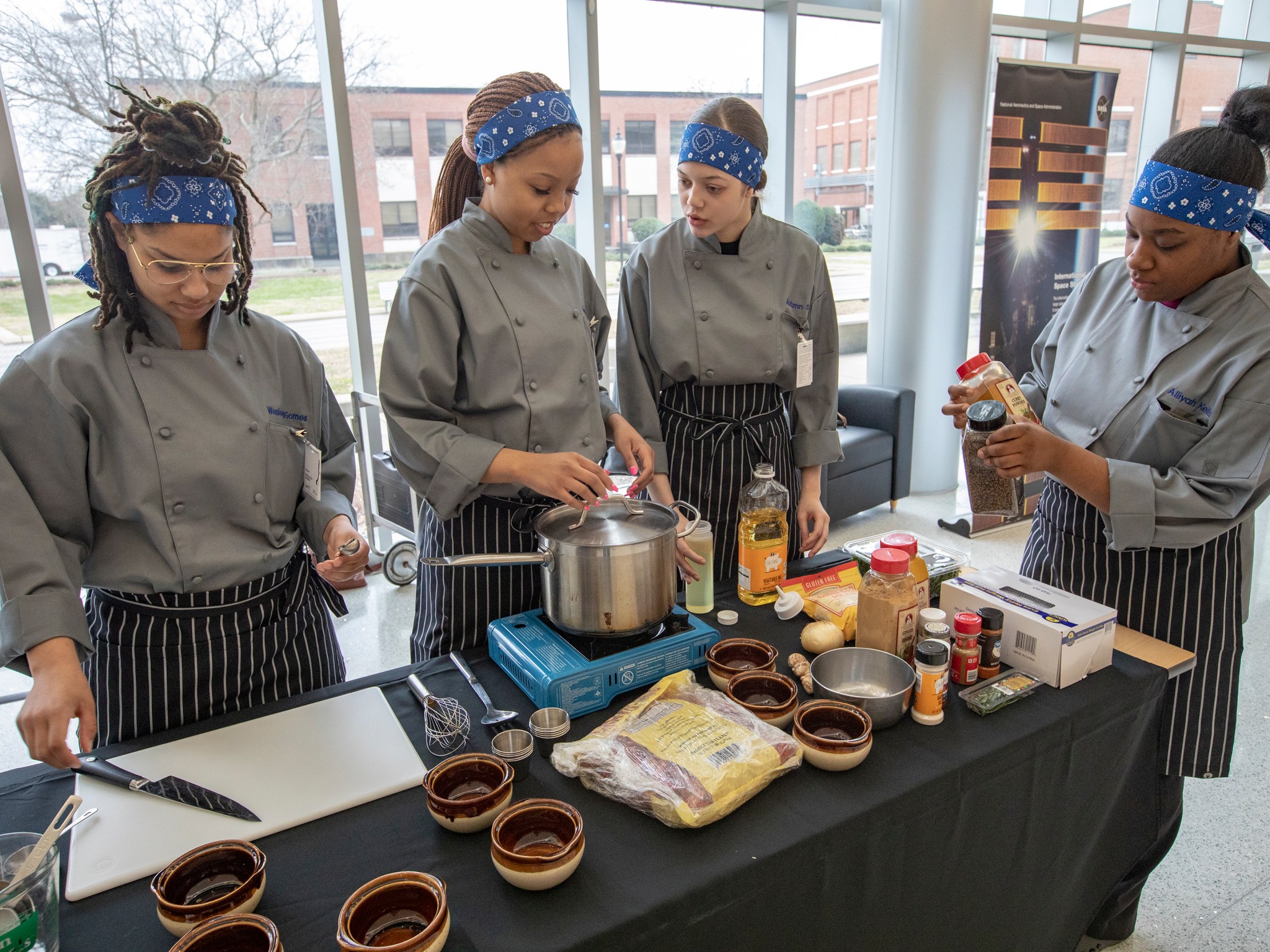 Credit: NASA
The International Space Station is celebrating 20 years in space. Within that time, many items such as food and hardware have traveled to the ISS that were born from the minds of high school students.
Teams of high school students, including several from local high schools competing at NASA's Langley Research Center in Hampton, Virginia, took part in a nationwide program Feb. 24-25 to put their best entrée and technologies forward as part of NASA's HUNCH program.
HUNCH, or High school students United with NASA to Create Hardware, develops high school students in many ways by highlighting their talents in order to contribute to NASA's missions. The program provides students hands-on experience with the space agency — such as building NASA-designed parts for use by agency personnel, or food for astronauts to enjoy.
A Spicy Dish Made for Space
If you were among those who walked by the tables staged at Langley's Integrated Engineering Services Building, you would think you were walking by an episode of the Food Network's "Chopped." It wasn't, but it had the feel of an elimination-style event where only the best dish would not be on the chopping block.
Credit: NASA
An eight-person judging panel at Langley sampled four entrées — a pineapple chicken stir-fry from Bridging Communities Regional Career and Technical Center in New Kent, Virginia; a spicy jambalaya with vegan sausage from Goochland High School in Goochland, Virginia; a spicy red curry paste chicken wrap from New Horizons Woodside Technical Education Center in Newport News, Virginia; and an Indian lamb curry with polenta from Phoebus High School in Hampton, Virginia.
Credit: NASA
"A lot of the teams went with spice because being in space diminishes your taste buds," said Travis Walker, Phoebus High School culinary teacher. "We wanted to use a little heat – or a lot of heat in our dish."
Credit: NASA
The four teams vied to make it to the final 10 teams that will compete at NASA's Johnson Space Center in Houston April 16, where their work will be judged by Johnson Food Lab personnel, industry professionals, the ISS Program Office, and astronauts for quality and taste. They'll also be rated on a required research paper and presentation video. The winning entrée, to be announced in May, will be created by the Johnson Space Food Lab and sent up to the space station for astronauts to enjoy.
Walker and his team are no stranger to the HUNCH culinary competition, as the school won it all in 2015 and 2019. He hopes his returning students from last year's team would have back-to-back wins under their belt.
"That would be really great for them," he said.
A new member of the team, Soul Stegall, said she learned much from her senior counterparts. The junior said it was a collaborative effort in crafting their entrée.
"In the end, we pulled together," she said. "It turned out pretty well."
Two of the teams who competed at Langley, Phoebus High and Bridging Communities Regional Career and Technical Center, will move on to have their dishes judged in the finals at Johnson.
Building Better Hardware for ISS
The center also hosted a Critical Design Review on Feb. 25 for six teams of high school students who fabricated real-world products to tackle problems — both large and small — faced by the men and women who make space their home.
During a mid-year project review session at Langley, the students received guidance from Glenn Johnson, NASA HUNCH design engineer, George Kessler, NASA HUNCH project manager, Carlos Valencia, NASA HUNCH flight hardware assembly specialist, all from Johnson Space Center, as well as two Langley engineers, who served as reviewers.
"Some of the ideas we see here today turn into a machine project, and then it becomes an assembly product, and then it flies up to the Space Station," Johnson said.
Many of the projects are items personally requested by ISS crew to help ease living conditions aboard the station, giving students the opportunity to really make an impact on the lives of astronauts. Other projects come from flight crew systems and operational groups at NASA that need additional idea development. The final design and prototyping review will be April 15 at Johnson.
"We have a lot of exciting things happening," Johnson said. "The thing that makes HUNCH great is not just that we have students doing work, but they get exposure directly with the people that may hire them later."
The six teams — Denbigh Aviation Academy and Woodside High School in Newport News, Virginia; Poquoson High School in Poquoson, Virginia; Warhill High School in Williamsburg, Virginia; Tabb High School and York High School in York County, Virginia — had to explain their projects to reviewers.
One project aimed at not only helping the astronauts and researchers aboard the ISS, but the mice who live up there as well. The Warhill team put the zero-G mouse feeder up for review, which works like an automated Pez dispenser for mouse food.
"There was a lot of work, but it was awesome," said Chase Manns, a Warhill High sophomore.
Chase took part in last year's HUNCH competition, crafting a spare tools pouch. This year's creation was much more difficult to make, he said.
"This one is more involved," he said. "You have to think about more possible scenarios and you have to get through the problems you encounter."
Chase was not alone this year, as he had a fellow sophomore help out on the project.
"It was challenging," said Timothy Dacier. He added the project was interesting and novel to the needs of those aboard the ISS.
Timothy, who took part in HUNCH for the first time this this year, said the program was beneficial in ways other than technological.
"It's pretty cool and it helps me make connections with other people," he said.
The Warhill High team made it through and will compete in the final HUNCH Critical Design Review at Johnson.
Eric Gillard
NASA Langley Research Center