Candice Lee, an 11th-grade student from Granada Hills Charter High School in Los Angeles, California, was named the grand-prize winner of NASA Langley Research Center's Annual Student Art Contest. She said she keeps her expectations low when she enters contests. So when she and her family found out she won a nationwide art contest, she was understandably surprised and elated.
"Upon hearing the news, I was in complete shock because it seemed unbelievable to me," she said. "Nonetheless, I felt extremely grateful and proud for the recognition!"
Heather Kim, Candice's mother, beamed with pride over her daughter's win, saying she always praises Candice for how she expresses herself creatively.
"I was extremely happy for Candice and I was so proud of her that she made it," Kim said.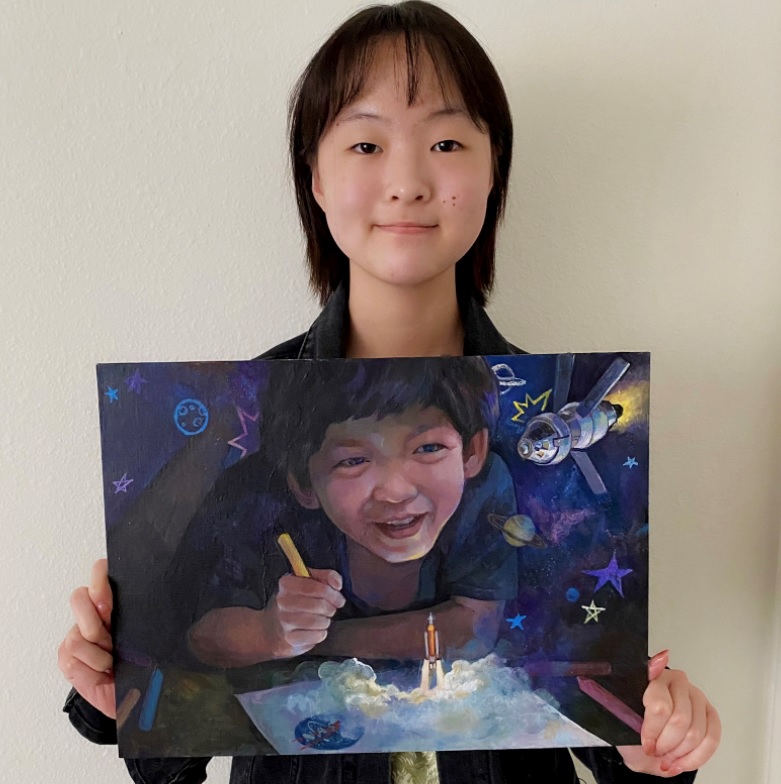 This year's theme was "Drawn to Explore," which asked students in grades K-12 to creatively visualize NASA's science, technology, aeronautical and human exploration activities. The contest was open to all children in grades K-12 who are residents of the United States of America or children of military members serving overseas.
"The caliber of the artwork we received this year was outstanding, maybe the best ever," said Kristina Cors, art contest coordinator.
The contest had 845 entries, a 25-percent increase over last year, and students from 36 different states participated. To make the entry process easier for students this year, NASA Langley partnered with the National Institute of Aerospace (NIA) to host the contest. The NIA was created to support Langley's mission to do cutting-edge aerospace and atmospheric research, develop new technologies for the nation, and help train the next generation of scientists and engineers.
"We couldn't have done it without them," Cors said regarding the NIA. "They have been a great partner in this endeavor."
Candice's entry, "Drawing to Explore," was created with acrylic paint on a canvas panel, using separate sketches she had as a reference.
"My main inspiration for this piece was the name of the contest itself," she said. "I interpreted the theme in a literal sense that 'drawn to explore' would be defined as the physical act of drawing on paper, to express our desire for exploration."
Candice was also drawn to enter the contest based on her affinity for NASA.
"I appreciate how iconic NASA as a whole has become," she said. "The name NASA itself has become synonymous with some of the greatest accomplishments humankind has created."
Candice said her interest in art began when she was younger but she didn't take it seriously until recently. Now, art is a defining feature in her life.
"I recognized that I was attracted to art and saw that I wanted to pursue a future career that was in the same realm," she said. "Moreover, art has always been a major inspiration in my life. I've come to appreciate art in various media, whether that's fashion, films, shows or books."
Candice hopes this notable win will be an important step toward her future artistic goals.
"It would be ideal if I could find a career that allows me to express myself creatively," she said.
To visit the Art Contest website, see a list of winners and get more information on this year's contest, click here.
To view a gallery of this year's entries, click here.
Eric Gillard
NASA Langley Research Center