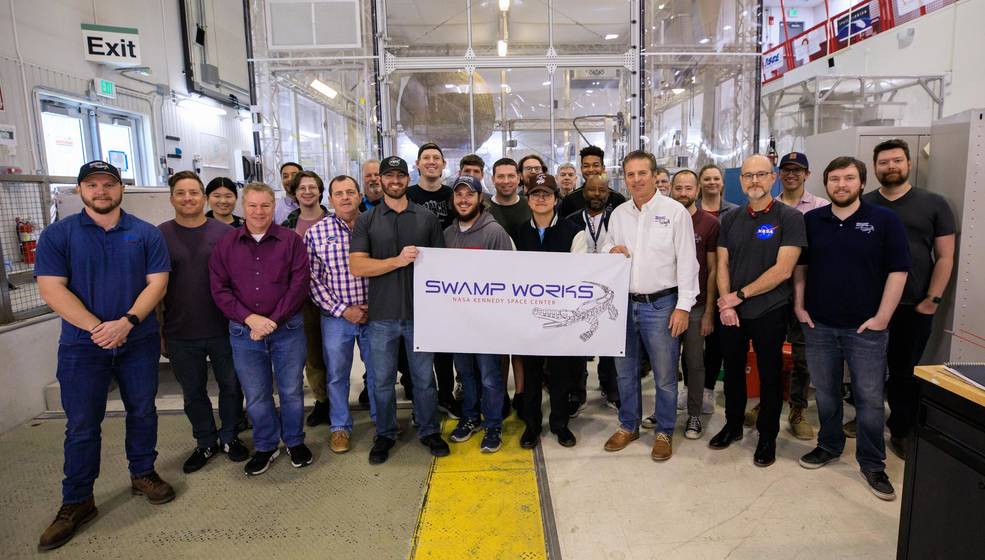 NASA/Isaac Watson
As NASA prepares to return to the Moon – this time with an eye toward Mars – developing new technologies for living and working on other planetary bodies is a critical focus. This requires turning innovative concepts into reality, something the agency's Kennedy Space Center's Swamp Works has been doing since its inception 10 years ago.
"We are at a unique point in history where we're closer to our goal of exploring Mars than ever before," said Burt Summerfield, Kennedy's associate director of management. "I'm proud of everything this team has done, and I am even more excited to see what they come up with in the next 10 years."
Back in 2013, Swamp Works co-founder Rob Mueller and a few colleagues drew inspiration from Lockheed Martin's Skunk Works in California, proposing a facility devoted to innovation and leveraging skills and capabilities across Kennedy. Today, Swamp Works focuses on granular mechanics and regolith operations (GMRO), applied chemistry, electrostatics and surface physics, advanced materials and systems, applied physics, and corrosion technology.
NASA/Frank Michaux
"Rather than the transportation of getting into space, Swamp Works is mainly concerned with what you do when you get there," Mueller said. "That requires innovation of new technologies, and Swamp Works encourages that innovation."
Swamp Works uses a "lean management" approach, and collaboration is key.
"We're working off-planet challenges that have never been solved before," said David Miranda, chief of the Spaceport Technologies Office and manager of the research team in the Electrostatics and Surface Physics Lab.
These labs encourage researchers to think outside of the box and use a hands-on approach to continuously build and test technology concepts. Tests are performed in the early stages of technology development, where failure is an allowable and important component necessary for driving design improvements.
"Not every idea gets selected for maturation and infusion – in fact, most do not," said Exploration Systems and Development Office Manager Greg Clements. "The ideas that show promise and have a customer advocate can be advanced and tested to see how they could address a capability gap. We have an exceptionally talented team with the drive, determination, and commitment to work a problem until they arrive at a solution."
NASA/Ben Smegelsky
The agency's Polar Resources Ice Mining Experiment-1 (PRIME-1) lunar delivery will send the Regolith and Ice Drill for Exploring New Terrain (TRIDENT) and the Mass Spectrometer Observing Lunar Operations (MSOLO). MSOLO, developed and tested within a lab at Swamp Works, is a commercial-off-the-shelf mass spectrometer which will analyze TRIDENT's drill cuttings for water and other chemical compounds. Kennedy is leading the PRIME-1 lunar delivery, which will be the first lunar in-situ resource utilization (ISRU) mission – demonstrating the ability to generate useful products with local materials.
Other Swamp Works technology demonstrations were selected to fly to the lunar surface as part of NASA's Commercial Lunar Payload Services (CLPS) initiative. Also on a CLPS flight is the Electrodynamic Dust Shield (EDS), which has been in development for over 20 years as a way to repel dust from vehicles and equipment on the Moon. The ISRU Pilot Excavator, a lightweight robot that will demonstrate digging up to 10 metric tons of regolith on the Moon, is planned to launch on a commercial lander in the future.
"We can't replicate the lunar environment here on Earth, so we're forced to solve problems in new ways," said Charles Buhler, lead scientist in the Electrostatics and Surface Physics Lab at Swamp Works and EDS principal investigator. "It's nice to innovate with electrostatics in mind, because it's absolutely going to be necessary in space."
NASA/Cory Huston
Just as NASA's Commercial Crew Program and commercial resupply services missions rely on commercial companies to provide transportation to and from the International Space Station, Mueller envisions a future where technologies developed at Swamp Works are handed off to private industry once they've matured, leaving room for Swamp Works to begin innovating again.
"That's really the new operating model, the new trend, in the space industry, and Swamp Works is very well positioned because we can take risks on some technologies that private industry can't," he said.
In addition to using the resources and expertise of the government, Swamp Works partners with and learns from private industry through initiatives such as the agency's Small Business Innovation Research (SBIR) Program, as well as academia. As a result, a mixed team of government employees, small and large companies, and educational professionals innovate together to help shape the future of space exploration.
"Being a part of the amazing work that occurs at Swamp Works is such an honor," said Kathy Loftin, Kennedy's chief technologist. "It's inspiring to be working at the cusp of emerging technologies that will help us learn to live sustainably in space."
To learn more about Swamp Works and its capabilities, click here.