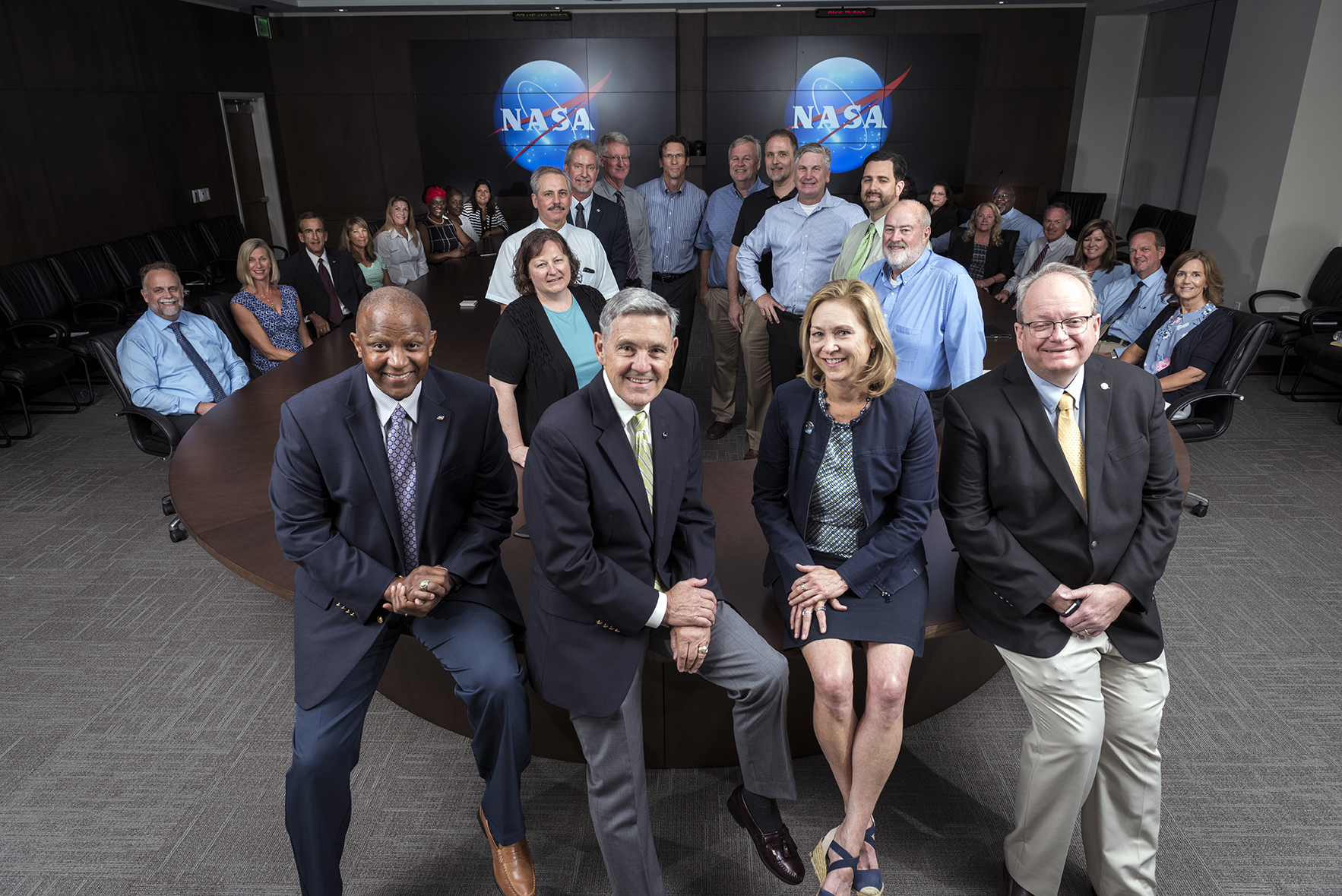 NASA
By Danielle Sempsrott
NASA's Kennedy Space Center
With 270 active agreements in place and counting, among more than 90 private-sector partners, NASA's Kennedy Space Center Director Bob Cabana and Kennedy's senior management team have truly transformed the space center into the multi-user spaceport it is today. The team's forward-facing vision has led them to receiving one of six Samuel J. Heyman Service to America medals for ushering in a new era of space exploration by opening Kennedy up to both government and commercial organizations.
Named after the Partnership for Public Service's late founder, Samuel J. Heyman, the "Sammies" awards gala took place Oct. 16, 2019, in Washington, D.C., honoring six of our nation's career civil servants and showcasing their remarkable achievements in tackling America's most pressing challenges. Cabana and senior leaders were recognized for the transformation of Kennedy following the end of the Space Shuttle Program and presented with the Management Excellence Medal.
"There are very few times in your life where you have the opportunity to truly make change, to define what you want your future to be, and we had that opportunity," said Cabana. "If we're going to be successful as a nation, we need government and commercial integrated together as one, and we're going to continue to lead. As great as our last 50 years were, I believe our next 50 years are going to be even better."
NASA
Kennedy senior leaders who accepted the award at the gala included Cabana; Kelvin Manning, associate director, technical; Janet Petro, deputy director; Shawn Quinn, director of engineering; Mike Bolger, NASA's Exploration Ground Systems manager; Jennifer Kunz, director of Safety and Mission Assurance; Scott Colloredo, deputy director of Engineering; and Josie Burnett, director of Exploration Research and Technology Programs.
This year's award recipients were chosen from a group of 26 finalists – narrowed down from more than 300 nominations – by a selection committee comprising leaders from government, business, foundations, academia, entertainment and the media. Cabana and Kennedy's senior leaders also were chosen as a crowd favorite, winning the Service to America Medals People's Choice award in July – voted on by the public once the 26 finalists were selected.
The Sammies is recognized as the premier awards program in the federal government, celebrating the accomplishments of individuals that have a positive impact throughout the nation and around the world.
"Our nation's health and safety depend in significant measure on the work of career civil servants, who are largely unknown to the American people," said Max Stier, president and CEO of the Partnership for Public Service. "We are working to change that with our Service to America Medals, which are designed to showcase the remarkable work taking place every day on behalf of all of us.
"When we have a great workforce, we get big problems fixed. Tonight's recipients embody the very best in government, and we remain committed to ensuring America knows their stories, applauds their work and appreciates their service."