By Danielle Sempsrott
NASA's Kennedy Space Center
On June 24, 2022, Kennedy Space Center Director Janet Petro became one of only 32 people to receive the Dr. Kurt H. Debus Award for her contributions to America's aerospace efforts within the state of Florida. During a ceremony held at the spaceport's visitor complex, surrounded by friends, family, and colleagues, the National Space Club Florida Committee presented Petro with the prestigious award.
"When I look at the qualifications to receive this honor, it's easy to see why the committee selected you," said NASA Associate Administrator and former Kennedy Director Bob Cabana during a video testimonial played at the ceremony. "Your contributions to the space industry – not only in Florida but for our nation – have been exceptional. I couldn't have asked for a better partner during my tenure as center director, and I am so happy to see KSC continue to excel and lead the way for America's space program under your leadership."
Gwynne Shotwell, president and chief operating officer of SpaceX, also provided a video testimonial, where she praised Petro's efforts in securing commercial partnerships at Kennedy and the role she is playing in our nation's return to the Moon.
"Your work bringing real commercial operations to Florida is instrumental and foundational to bringing the first woman and the first person of color to the Moon. So, you need to take that, and own that, and be proud of yourself," she said.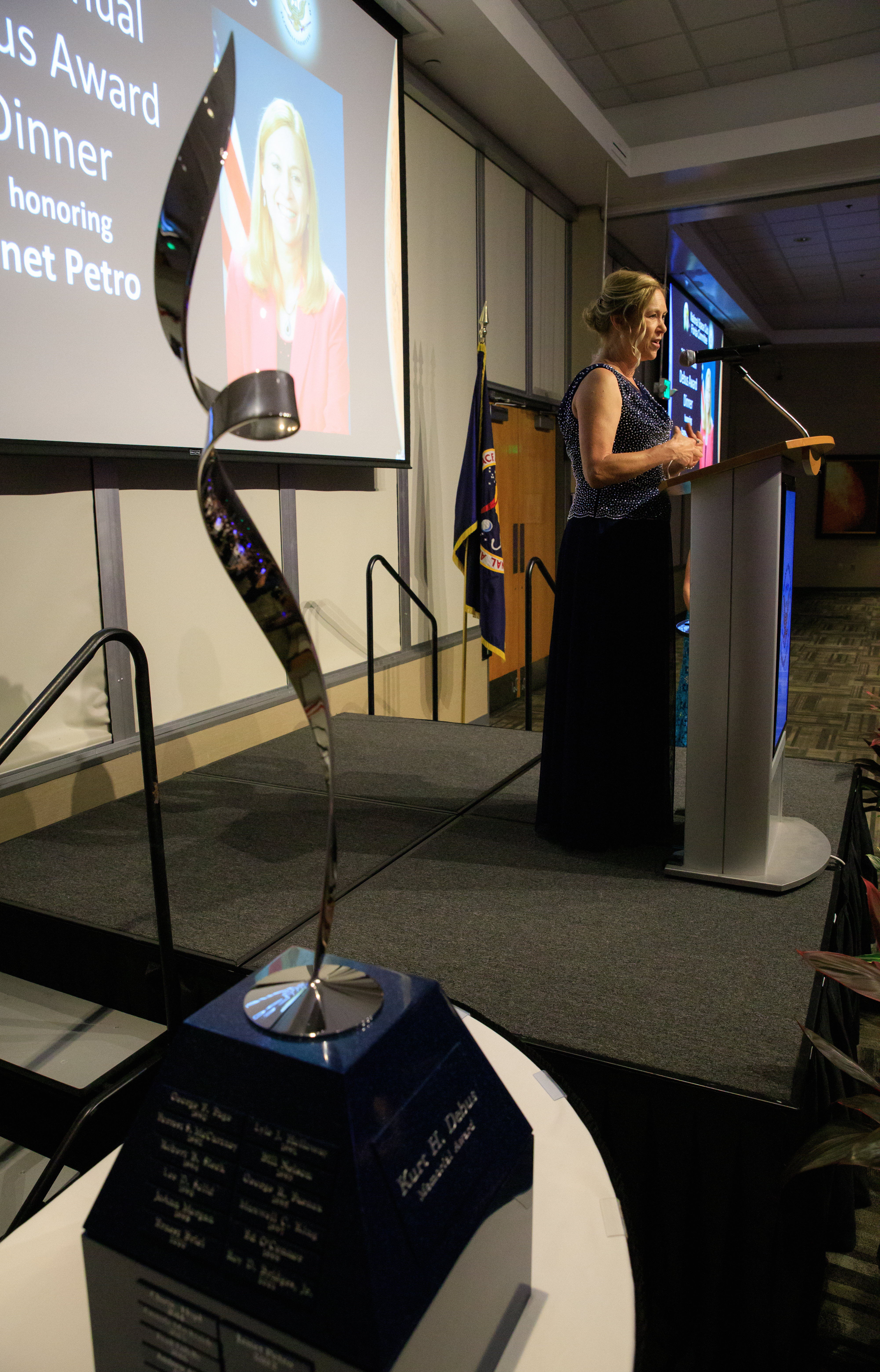 Originating in 1990, the Debus Award is named after Kennedy's first director, Kurt Debus, who oversaw the design and build of NASA's Apollo/Saturn facilities at Cape Canaveral and Kennedy. Under Debus' leadership, NASA successfully launched multiple flights under the Apollo Program – including the first manned lunar landing.
Speakers at this year's ceremony included Bill Parsons, vice president of Human Space Programs, Peraton; Scott Henderson, vice president of Test and Operations, Blue Origin; and Brigadier General Stephen Purdy, commander, Space Launch Delta 45.
Following her award acceptance, Petro reflected on her life journey and her time spent at NASA.
"I've had an amazing and fulfilling life, and I am so blessed and grateful for all the dear Lord has bestowed on me and the journey he has led me on," she said. "I have had so many amazing experiences, met so many interesting and influential people who mentored, guided, inspired, and helped me on my journey. Every day is exciting for me working at NASA, and I'm excited to see what every day will bring."
Petro graduated from the U.S. Military Academy at West Point, New York, with a Bachelor of Science in engineering in 1981, as part of just the second at West Point to include women. She began her professional career as a commissioned officer in the U.S. Army and held a variety of management positions at Science Applications International Corp. and McDonnell Douglas Aerospace Corp. She joined NASA in 2007, following in the footsteps of her father, who worked at Kennedy in the early days of the space program.
"Doing nothing – just existing and living in status quo was not in my DNA. I could never be inspired in a job or a life without 'standing in the arena' and at least trying to do something," Petro said. "NASA has allowed me to do that. My tagline as center director is this call to stand in the arena and embrace the challenge."
Before being named center director in 2021, Petro served as deputy director since April 2007. During her time at Kennedy, Petro has received numerous service and performance awards, including the 2019 Samuel J. Heyman Service to America Sammies Management Excellence Medal, the President's Distinguished Executive Award, and the astronaut-selected Silver Snoopy award for her contributions to flight safety and mission success. In 2018, she was inducted into the Florida Women's Hall of Fame.
To this day, Petro credits much of her success to the work ethic her parents instilled in her, discipline she learned through the military, and the ability to look at scenarios in more than one way after working in both the private and government industry. At the close of the ceremony, Petro paid homage to those around her.
"I stand on the shoulders of many giants. My personal family, my NASA family, and my extended friends and colleagues family has made my life and my career an incredible journey," she said. "In the end, it really is all about the people. Make the most of your time and spend it with the ones you love the most."