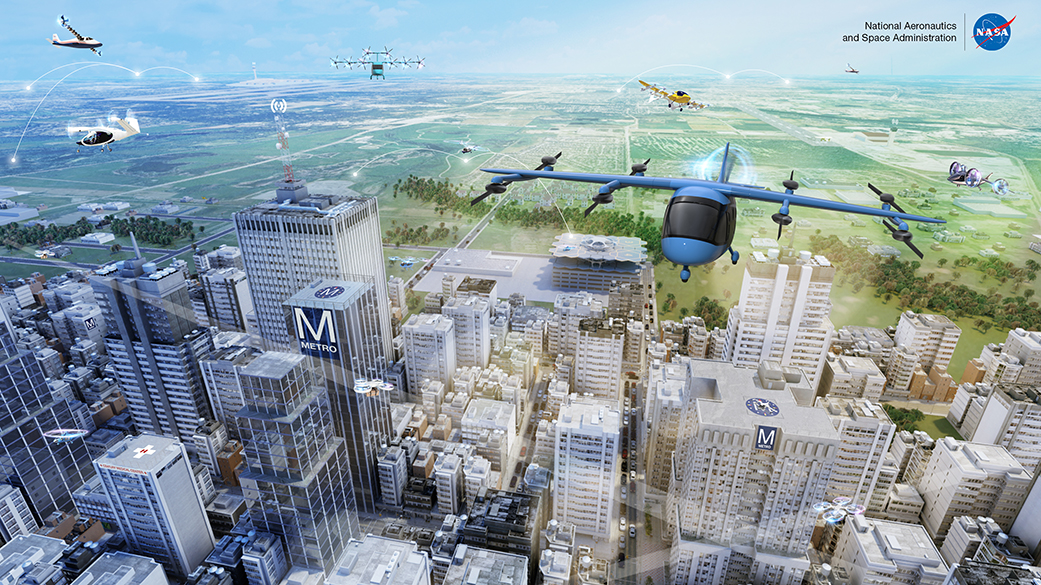 NASA Illustration
NASA's Advanced Air Mobility (AAM) National Campaign has signed agreements with four new organizations to exchange information related to the development and testing of vehicles, systems, and technology. The AAM National Campaign will transform our lives through the development of systems to integrate air taxis, cargo delivery, and other advanced aircraft concepts into the National Airspace System.
The following industry partners have signed Space Act Agreements with NASA for the next phase of the National Campaign:
Electra Aero, based in Manassas, Virginia
OverAir, based in Santa Ana, California
Supernal based in Washington, DC
Ellis & Associates, a consulting arm of Lacuna Technologies, based in Palo Alto, California
The new partners join more than 30 other vehicle developers, infrastructure providers, and airspace managers participating in the National Campaign on an ongoing basis. Partners are drawn from across industry, government, and academia. Housed in NASA's Aeronautics Research Mission Directorate (ARMD), the National Campaign has worked with these partners over the past few years to establish a flight test infrastructure, explore future flight path designs, and help move technologies such as electric vertical take-off and landing (eVTOL) vehicles toward certification and use.
"The National Campaign team is making strides in understanding how the vehicles, infrastructure and airspace will operate in urban, suburban, rural, and intraregional environments, and we are excited to welcome these new partners to the research ecosystem," said Al Capps, AAM National Campaign project acting lead. "Each additional research partner and operational flight demonstration helps inform approaches by our partners at the FAA and the future concept of operations."
The National Campaign's ongoing first phase, NC-1, is a series of testing focused on operational safety that integrates efforts in several areas essential to the future of AAM: eVTOL vehicles, automation, airspace, acoustics modeling, concepts of operations, contingencies at all phases of flight, and mobile landing surfaces.
The new agreements were made under the National Campaign – 2 Information Exchange Annex, which offered AAM entities an opportunity to begin information exchange with NASA for early preparation for the next phase of National Campaign flight activities, NC-2, planned to occur when NC-1 concludes. NC-2, which is focused on demonstrating integrated automation capabilities and architectures supporting safe and scalable AAM operations, will consist of integrated scenarios through flight test demonstrations and simulations, as well as systems and operations analysis at test sites around the country.
The partners will participate in NC-2 by sharing information about their vehicles, processes, traffic management systems, infrastructure, and capabilities, giving NASA early insights into each partner's capability maturity level and facilitating design, build, and test reviews.
By lending NASA's decades of expertise in aeronautical research and development as well as integrating efforts across the AAM ecosystem, the National Campaign plans to produce data that will assist the Federal Aviation Administration in defining regulatory compliance, prepare both vehicles and airspace for effective and safe commercial operations, and ensure American leadership in this growing industry.