FAA Mike Monroney Aeronautical Center/Laura Shepherd-Madsen
What's it like to escape from an aircraft underwater? NASA research pilots Wayne Ringelberg, and Scott Howe recently found out when they completed pilot dunker training at the FAA (Federal Aviation Administration) Mike Monroney Aeronautical Center Civil Aerospace Medical Institute in Oklahoma. This training certifies the pilots to fly helicopters over bodies of water for upcoming automated systems flight testing for NASA's Advanced Air Mobility research with Sikorsky and DARPA (Defense Advanced Research Project Agency).
The upcoming over-water flight tests with Sikorsky and DARPA will use two fully autonomous Sikorsky helicopters operating as surrogate air taxis. NASA researchers will use the SARA (Sikorsky Autonomy Research Aircraft), a modified S-76B™ helicopter, and the OPV (Optionally Piloted Vehicle) Black Hawk® helicopter to evaluate NASA-designed automation software and flight control tablets. With NASA and Sikorsky safety pilots on board each aircraft, the two aircraft will autonomously fly a series of test scenarios to capture the data from instrument flight path procedures, detect and avoid dangerous situations, vehicle-to-vehicle communication, and takeoff and landing patterns. During some scenarios, the pilots will interact with the navigation tablet selecting flight path options to avoid in-flight hazards or utilize the test inceptor stick as guided by the tablet, and some will be fully autonomous with the pilot monitoring to ensure the helicopter flies the maneuver safely.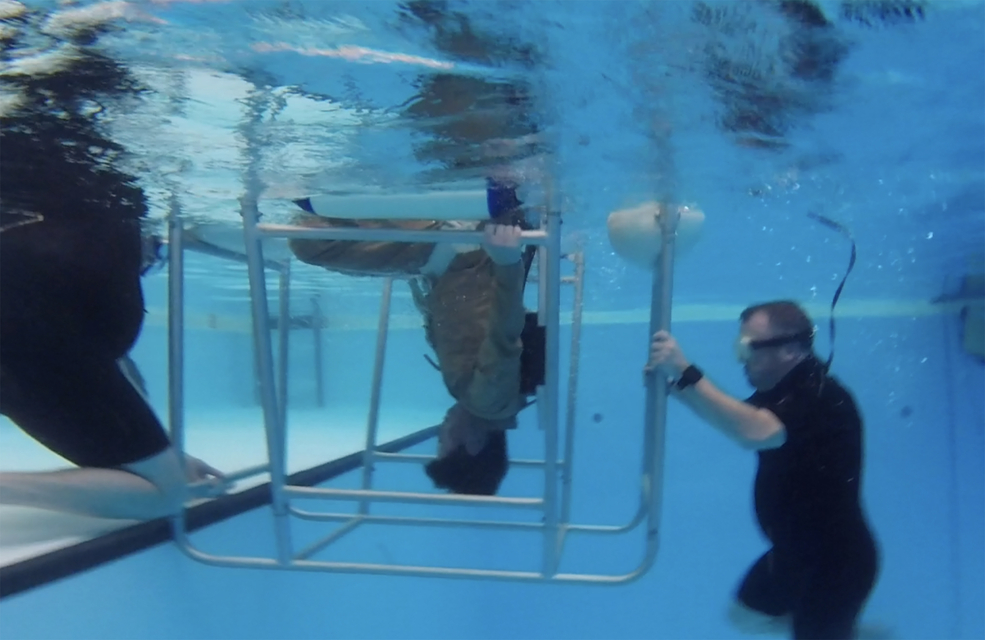 FAA Mike Monroney Aeronautical Center
The dunker training consists of water survival techniques, including boarding a life raft, exiting a helicopter, and escaping an aircraft submerged in shallow water. These skills are essential for pilots who fly over bodies of water to keep themselves safe and assist others in the event of a water landing or crash.
"The Shallow Water Egress Trainer is basically a small, enclosed chair on buoys. It is designed to simulate a generic cockpit. Students, while in the seat, are flipped upside down in the water, allowing them to practice escaping by following predetermined reference points which physically lead the student to the aircraft exit," said FAA Aviation Physiology and Survival Course Instructor Roger Storey. "The idea is to encourage crewmembers to be ready for all types of aircraft egresses and be prepared with a plan to find the exit of their aircraft in extreme conditions."
FAA Mike Monroney Aeronautical Center/Katy Williams
NASA pilot Scott Howe called the FAA's water survival training "exceptionally professional and thorough. Through this training, I think we aircrew benefit in two ways: We build confidence in ourselves and in our equipment by being prepared and trained for unplanned situations, and that peace of mind helps us completely focus on the main mission of flight testing."
Inter-agency collaboration between NASA and the FAA in advanced air mobility research has been key to furthering this flight technology in the United States. From software development to writing flight procedures and dunking pilots, these efforts all contribute to the advancement of this portfolio of work.