U.S. Congresswomen Anna Eshoo and Zoe Lofgren Visit Hangar One
by Rachel Hoover
Members of Congress are seeing first-hand the work to restore and preserve a historic Bay Area landmark and reminder of the region's importance to early aviation – Hangar One.
On May 6, U.S. Congresswomen Anna G. Eshoo and Zoe Lofgren joined NASA's Ames Research Center Director Eugene Tu, Javier González, head of External Affairs in California at Google on behalf of Planetary Ventures, and Alex Saleh, director of project management at CBRE Group Inc., to mark the start of a new beginning for the iconic structure. Visiting Hangar One gave them an opportunity to see the scaffolding and other preparations already underway for the massive undertaking of restoration project that's expected to take three years. Once complete, Hangar One will continue to endure for decades of future use as a hub for innovative research and development.
Credits: NASA/Dominic Hart
"Having worked on this issue since 2003, I'm thrilled that restoration of Hangar One will finally begin," said Eshoo. "Our community has worked for years to save this historic landmark that defines the landscape of the South Bay region and Silicon Valley. I'm so proud we were able to preserve this iconic piece of history for generations to come."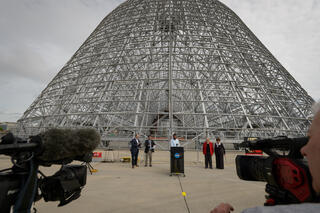 Credits: NASA photo by Dominic Hart
The hangar as it stands today – a towering structural frame – already represents years of work. About a decade ago, the U.S. Navy removed the hangar's roof, siding, windows, doors, and other materials, which were found to be contaminated with toxic chemicals. The Navy then sealed the hangar's frame with epoxy to ensure the chemicals would not pose a health risk, leaving it intact until further work could be completed.
That work begins in earnest now. Through a lease agreement with NASA, Planetary Ventures will start to carefully clean and remove any remaining contaminants. This lease provides a mutually beneficial public-private partnership that invests in capital improvements to the property Hangar One sits on as well as several undertakings that will benefit the public upon completion.
Once the clean-up is complete, Planetary Ventures will leverage the scaffolding to perform structural upgrades and rebuild the hangar's expansive exterior.
"It has been many years coming and will be many years until the restoration can be completed, but it is promising to see each milestone as we work together to preserve this Bay Area icon," said Lofgren. "We are certain the hangar will again play a role in the cutting-edge work of the present-day Silicon Valley."
From Liftoff to Landing, NASA Ames Works to Support Commercial Crew
by Rachel Hoover
Engineers and scientists at NASA know about getting humans to space and home again safely.
Long before the Boeing CST-100 Starliner spacecraft's uncrewed Orbital Flight Test-2, or OFT-2, lifts off toward the International Space Station, engineers at NASA's Ames Research Center in California's Silicon Valley subjected specialized test models of the spacecraft to super-fast air in some of the world's most unique wind tunnel facilities to better understand how it will perform.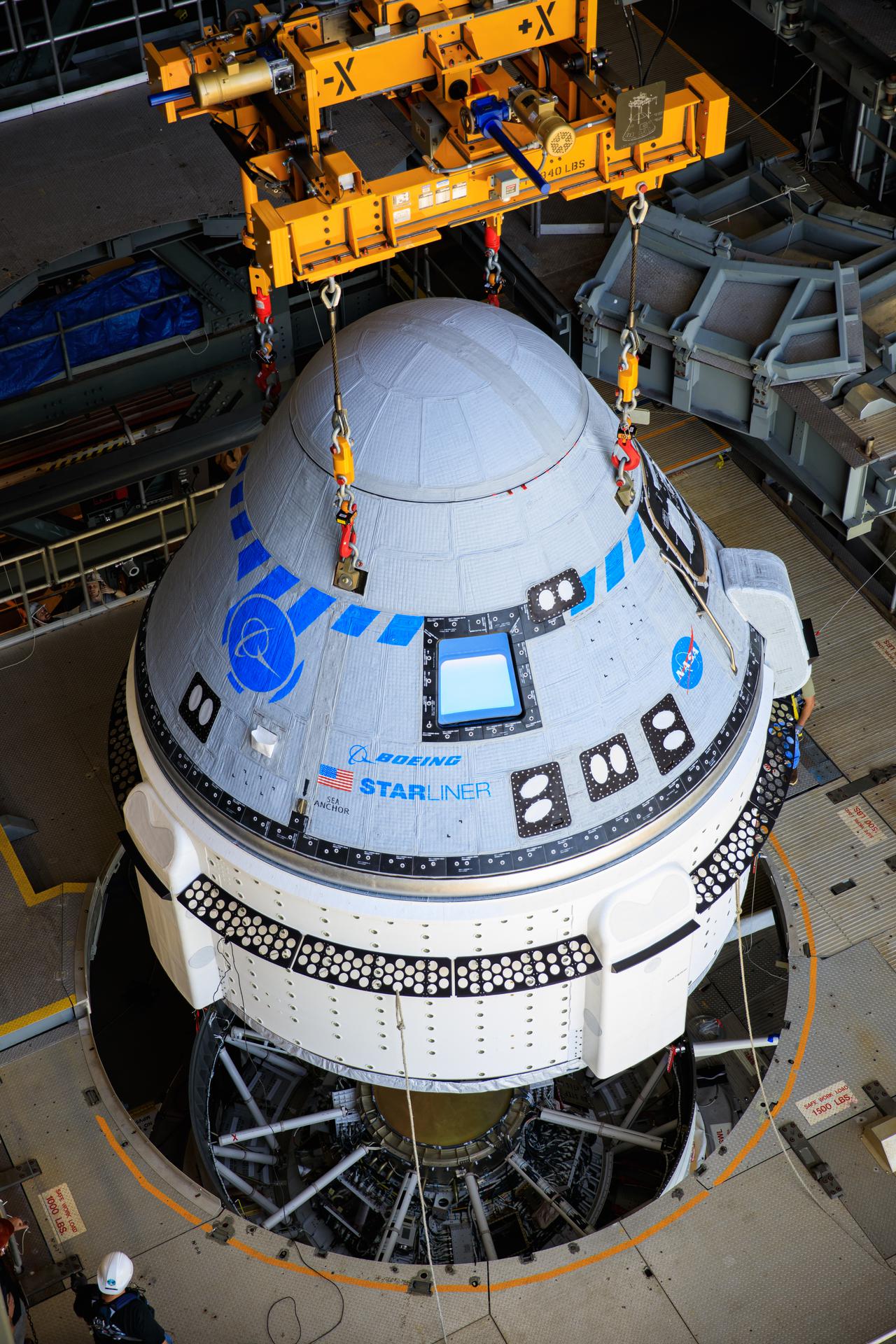 Credits: NASA/Frank Michaux
Ames has gained decades of experience testing and evaluating spacecraft during launch, a potential launch abort, flight, and re-entry including most recently the development of NASA's Orion crew vehicle and Space Launch System, or SLS, rocket. Orion and SLS are part of NASA's Artemis program that will take astronauts to Gateway and send the first woman and person of color to the Moon.
Companies like Boeing work closely with experts at NASA to gather critical performance data on their spacecraft designs before flight.
To help test Starliner's brand new heat shield technology, called the Boeing Lightweight Ablator, Ames' engineers used the Arc Jet Complex to simulate the heat the Starliner spacecraft must endure as it re-enters our atmosphere. Whether commercial partners like Boeing develop their own heat shield materials or use NASA's designs, testing their performance at temperatures up to 3,000 degrees Fahrenheit helps ensure a spacecraft can return safely to Earth.
Credits: Boeing
Engineers also simulated re-entry conditions using NASA's fastest supercomputer to supplement and strengthen the wind tunnel and arc jet tests.
OFT-2 is scheduled to launch at 6:54 p.m. EDT on Thursday, May 19, from Space Launch Complex-41 on Cape Canaveral Space Force Station in Florida. The uncrewed flight test will serve as an end-to-end demonstration to prove Boeing's Starliner is ready for crewed flights to and from the space station as part of NASA's Commercial Crew Program.
CAPSTONE Charts a New Path for NASA's Moon-Orbiting Space Station
by Rachel Hoover
It will have equilibrium. Poise. Balance. This pathfinding CubeSat will practically be able to kick back and rest in a gravitational sweet spot in space – where the pull of gravity from Earth and the Moon interact to allow for a nearly-stable orbit – allowing physics to do most of the work of keeping it in orbit around the Moon.
Credits: Credit: Advanced Space
Sounds like a heavenly work-life balance, right? Funnily enough – the orbit is formally known in orbital mechanics as a "near rectilinear halo orbit" (NRHO). Which means, if you were able to trace the shape of the orbit, it would look like an elongated oval with sides so long they're nearly straight.
The Cislunar Autonomous Positioning System Technology Operations and Navigation Experiment (CAPSTONE) CubeSat owned and operated by Advanced Space in Westminster, Colorado, will be the first spacecraft to test this orbit. Researchers want to show the orbit requires less fuel and allows constant direct communications contact with Earth as the spacecraft passes by the Moon.
And NASA has big plans for this unique type of orbit. Engineers expect it will allow them to park bigger spacecraft – including the lunar-orbiting space station Gateway – in orbit around the Moon for about 15 years.
Credits: Illustration by NASA/Daniel Rutter
About six days after launch, CAPSTONE will deploy from the Rocket Lab Photon spacecraft bus and begin its four-month transfer to its NRHO, firing its thrusters to power its journey. After a couple of additional "clean-up" maneuvers, and a critical maneuver that will insert the spacecraft into the NRHO, the spacecraft will occasionally and sparingly fire its thrusters to stay on course, allowing NASA to understand the orbit dynamics for at least six months.
"CAPSTONE will be precisely controlled and maintained and will benefit tremendously from the nearly-stable physics of its near rectilinear halo orbit," said Elwood Agasid, deputy program manager of Small Spacecraft Technology at NASA's Ames Research Center in California's Silicon Valley. "The burns will be timed to give the spacecraft an extra boost as it naturally builds momentum – this requires a lot less fuel than a more circular orbit would require."
If viewed from Earth, CAPSTONE's orbit would repeatedly trace a consistent oval around the Moon as the spacecraft moves from the lunar North Pole to the lunar South Pole. It will take nearly a week to complete a full lunar orbit. While it's over the South Pole, the spacecraft will be traveling at its slowest and farthest away from the lunar surface – approximately 47,000 miles (76,000 kilometers) above the Moon. Then, as it builds momentum, the spacecraft will travel at its fastest and closest height above the Moon and cross over the North Pole, at only approximately 2,100 miles (3,400 kilometers) high.
"This orbit has an added bonus of allowing Gateway to have optimal communications with future Artemis missions operating on the lunar surface as well as back to Earth," said Agasid. "This could unlock new opportunities for future lunar science and exploration efforts."
Learn more, see: What is CAPSTONE?​
CAPSTONE is commercially owned and operated by Advanced Space in Westminster, Colorado. It represents an innovative collaboration between NASA and industry to provide rapid results and feedback to inform future exploration and science missions. 
NASA's Small Spacecraft Technology program within the agency's Space Technology Mission Directorate (STMD) funds the demonstration mission. The program is based at NASA's Ames Research Center in California's Silicon Valley. The development of CAPSTONE's navigation technology is supported by NASA's Small Business Innovation Research and Small Business Technology Transfer (SBIR/STTR) program, also within STMD. The Artemis Campaign Development Division within NASA's Exploration Systems Development Mission Directorate funds the launch and supports mission operations. The Launch Services Program at NASA's Kennedy Space Center in Florida manages the launch.
CAPSTONE Uses Gravity on Unusual, Efficient Route to the Moon
by Gianine Figliozzi
A microwave oven-sized CubeSat dubbed CAPSTONE will blaze an untested, unusual yet efficient deep space route to the Moon that NASA is greatly interested in and future spacecraft may want to imitate.
The destination for CAPSTONE – short for the Cislunar Autonomous Positioning System Technology Operations and Navigation Experiment – is a unique lunar orbit intended for NASA's Gateway, a multipurpose outpost that will provide essential support for long-term astronaut lunar missions as part of the Artemis program. This special orbit, called a near rectilinear halo orbit, or NRHO, enables stability that translates to energy efficiency for Gateway's minimum 15-year lifespan orbiting the Moon. CAPSTONE will be the first spacecraft to test the dynamics of NRHO once it arrives at the Moon following a four-month transit period. And while this gravity-driven track takes longer to reach the Moon, it will dramatically reduce the amount of fuel this pathfinder CubeSat will need to fly there.
The CAPSTONE team has virtually flown the CubeSat to NRHO through repeated tests in high fidelity computer simulations.
"Advanced Space used mature, flight-proven, NASA-derived simulation tools to develop, implement, and verify CAPSTONE's mission trajectory and navigation approach," said Tom Gardner, CAPSTONE program manager at Advanced Space of Westminster, Colorado.
Launch and Earth Escape
CAPSTONE is planned to launch no earlier than May 31 aboard Rocket Lab's Electron rocket from the company's Launch Complex 1 in Mahia, New Zealand. The CubeSat will start its mission joined with the Lunar Photon, an interplanetary third stage developed by Rocket Lab.
About 20 minutes after launch, the Lunar Photon – carrying CAPSTONE as a payload – will separate from Electron's second stage at an altitude of 155 miles. After a short coast, Photon's HyperCurie engine will then periodically ignite to increase its velocity and raise the highest point of its orbit to about 37,000 miles.
About six days after launch, a final ignition will accelerate Photon to 24,500 miles per hour to escape low-Earth orbit on a trajectory into deep space. Within 20 minutes of its final burn completion, Photon will release CAPSTONE into space for the first leg of the CubeSat's solo flight to the Moon.
Fly Me to the Moon, as Efficiently as Possible
The CubeSat will rack up serious mileage hurtling through deep space on its traverse from Earth to the Moon. Assisted by the Sun's gravity, it will reach a distance of 963,000 miles from Earth – more than three times the distance between Earth and the Moon – before being pulled back towards the Earth-Moon system.
This sinuous track – called a ballistic lunar transfer, or BLT – follows dynamic gravitational contours in deep space. CAPSTONE's team will calculate the BLT trajectory based on the ever-changing positions of Earth, the Moon, and the Sun.
Expending little energy, CAPSTONE will cruise along these contours punctuated by a series of planned trajectory correction maneuvers. At critical junctures, CAPSTONE's team at Advanced Space's mission operations center will command the spacecraft to fire its thrusters to adjust course. Terran Orbital Corporation in Irvine, California, designed and built CAPSTONE and developed novel technology that allows the spacecraft to execute maneuvers while maintaining control of the spacecraft on thrusters only.
When CAPSTONE catches up to the Moon, its approach will be perfectly aligned for NRHO insertion, the crux of its route. While going 3,800 miles per hour, it will perform its delicate, precisely timed propulsive maneuver to enter orbit, like a flying trapeze artist who jumps from one arc to another with a decisive, acrobatic motion.
"We studied tens of thousands of computer simulations of the spacecraft's transfer to the Moon," said Ethan Kayser, CAPSTONE mission design lead at Advanced Space. CAPSTONE's team used these simulations to optimally place the propulsive firings – used for course correction – to minimize the CubeSat's fuel use and orbit insertion errors. "We also developed a unique, two-burn sequence to clean up errors after this sensitive insertion."
BLT and orbit simulations also have allowed the team at Terran Orbital to prepare the spacecraft for any potential hiccups.
"The CAPSTONE spacecraft features a robust autonomous software design that allows it to recover from a variety of anomalies if one should occur," said Marc Bell, co-founder, chairman, and CEO of Terran Orbital.
As no spacecraft has ever been placed in this type of orbit, CAPSTONE will lead the way for Gateway. Additionally, CAPSTONE's mission will demonstrate multiple technologies that will lay a foundation for commercial support of future lunar operations.
Credits: NASA
Visualize CAPSTONE's Flight in Real Time
NASA invites the public to follow CAPSTONE's journey live using NASA's Eyes on the Solar System interactive real-time 3D data visualization. Starting about one week after launch, you can virtually ride along with the CubeSat with a simulated view of our solar system. NASA will post updates about when you can expect to see CAPSTONE in the visualization on NASA's Ames Research Center's home page as well as Twitter and Facebook.
CAPSTONE is commercially owned and operated by Advanced Space in Westminster, Colorado. It represents an innovative collaboration between NASA and industry to provide rapid results and feedback to inform future exploration and science missions. 
NASA's Small Spacecraft Technology program within the agency's Space Technology Mission Directorate (STMD) funds the demonstration mission. The program is based at NASA's Ames Research Center in California's Silicon Valley. The development of CAPSTONE's navigation technology is supported by NASA's Small Business Innovation Research and Small Business Technology Transfer (SBIR/STTR) program, also within STMD. The Artemis Campaign Development Division within NASA's Exploration Systems Development Mission Directorate funds the launch and supports mission operations. The Launch Services Program at NASA's Kennedy Space Center in Florida manages the launch.
Celebrating NASA's Partnerships for National Small Business Week
by Frank Tavares
NASA's goals stretch to the stars, and feats of that scale can never be undertaken alone. The partnerships NASA forges with other nations, businesses, academia, innovators, and students all are a part of the agency's success. At NASA's Ames Research Center in California's Silicon Valley, forging those partnerships in a hub of global innovation is a key part of the center's mission.
To celebrate National Small Business Week, let's look at a handful of stories about partnerships that are helping NASA reach even greater heights.
Credits: NASA/Dominic Hart
From Hat Bands to Thermal Protection Systems
Since the dawn of spaceflight, one of the toughest engineering challenges has been figuring out how to protect astronauts or sensitive science experiments upon return to Earth, when the temperatures raised by piercing back through our atmosphere are dangerously high. The development of thermal protection systems is an iterative process, and one of today's most novel designs comes from a partnership in the textile industry – with Bally Ribbon Mills, in Bally, Pennsylvania.
Founded in 1923 to weave silk hat bands, the family-owned company now weaves materials for Formula One race cars as well as spacecraft that have gone to Mars. Bally Ribbon Mills developed and wove the materials that could be used for the Orion Crew Capsule as part of the NASA's Artemis missions, and even developed a unique loom to develop materials for NASA's Heatshield for Extreme Entry Environment Technology (HEEET) project. Since 2017, Bally Ribbon Mills has worked with NASA to develop a new woven fabric called Spiderweave for the Adaptable, Deployable, Entry and Placement Technology (ADEPT) project. The technology development is supported by NASA's Small Business Innovation Research and Small Business Technology Transfer (SBIR/STTR) program, which provides funding and resources to companies like Bally Ribbon Mills that could be longstanding partners for NASA missions. Bally Ribbon Mills received additional NASA SBIR/STTR program funding in 2020 to develop a diagnostic tool to measure and monitor the operation of 3D weaving equipment to help detect variations and problems early in the weaving process.
Credits: European Space Agency
Could Proteins Clean Up Wastewater in Space?
NASA's working with the Danish company Aquaporin A/S on a spinoff technology that would use the proteins that transfer water through the membranes of living cells to clean up wastewater. NASA helped test this tech on the ground and worked with the European Space Agency to test it in space. Now, it's being tried out at Ames' Sustainability Base. The tech could be used for wastewater treatment, as well as dehydrating foods and beverages to prepare snacks for long space voyages.
Software to Simulate Other Worlds and Alien Oceans
A major way NASA makes its tools accessible is by releasing software for the public to freely use in their own work; from students and researchers to innovators and small businesses. Two software releases – Synthetic Moon and OceanWATERS – create simulations of otherworldly environments. Synthetic Moon simulates the terrain and elevation of Earth's Moon using 3D models in high resolution. Though it's not designed for mission planning and operations, it's perfect for outreach and education as well as mission simulations and robotic research. Currently, the software is released to NASA's Jet Propulsion Laboratory in Southern California for use. OceanWATERS is open source and can be requested by anyone. That software focuses on simulating the environments of the ocean moons of the outer solar system, like Europa, Enceladus, and Titan. It's designed to help develop onboard systems for future spacecraft that could land on those worlds. The eighth and latest update came out earlier this year.
These are just two of the hundreds of software packages available at software.nasa.gov. Take a look – maybe you'll find a tool to inspire your next project!
Transferring Tech to the Next Generation
Often, the most innovative ideas come from students and recent graduates, not established companies or organizations that make up more traditional partnerships. NASA's Technology Transfer University connects university students with technology developed at Ames, giving them access to NASA's patent portfolio and the tools to start up their own projects and companies.
For innovators seeking to build their own companies but missing the right technology to propel their business plans, NASA has partnered with the Founder Institute, a pre-seed startup accelerator, to help startup founders access NASA software and technologies they can license and commercialize – transferring NASA tech directly into the commercial sector.
By providing a robust global network of startup resources for future innovators during the most critical stages of development – whether that's access to NASA technologies, publicly available software, seed funding through NASA's SBIR/STTR program, subject matter experts, or a partnership – NASA's committed to bringing its technologies down to Earth. Whether you're just starting to build an organization in the space sector, or already an established business, there's a place for you to partner with NASA.
NASA's SBIR/STTR and Technology Transfer programs are part of the Space Technology Mission Directorate
Celebrating NASA Milestones "NASA on the Air" (NOTA) Spreads Enthusiasm Globally Through Amateur Radio
by Bob Granath, NASA Kennedy Space Center, Florida and Desiree Baccus, NASA Ames
Credits: Ames Research Center – Ames Amateur Radio Club (AARC)
Communicating to and from space is challenging, but NASA has proven its experience and expertise using primarily radio waves to speak with astronauts on the International Space Station (ISS), rovers on Mars, and with the crew on the upcoming Artemis Moon Missions.
NASA is well known for communicating with astronauts on space missions, but regular citizens can use amateur radio waves to contact NASA centers around the world. Now until the end of this year, NASA will mark several past and present-day key milestones where the NASA amateur radio clubs at the agency centers and support facilities across the United States plan to celebrate these occasions with "NASA on the Air" special event stations.

Credits: Ames Research Center – Ames Amateur Radio Club (AARC)
Amateur (ham) radio operators use internationally allocated frequency spectrum for communicating noncommercial and private messages. One of the most important uses of ham radio operations is providing emergency messaging following disasters, such as in the Camp Fire in Paradise, California and in Hurricane Maria in Puerto Rico. Both of which destroyed most typical avenues of communication.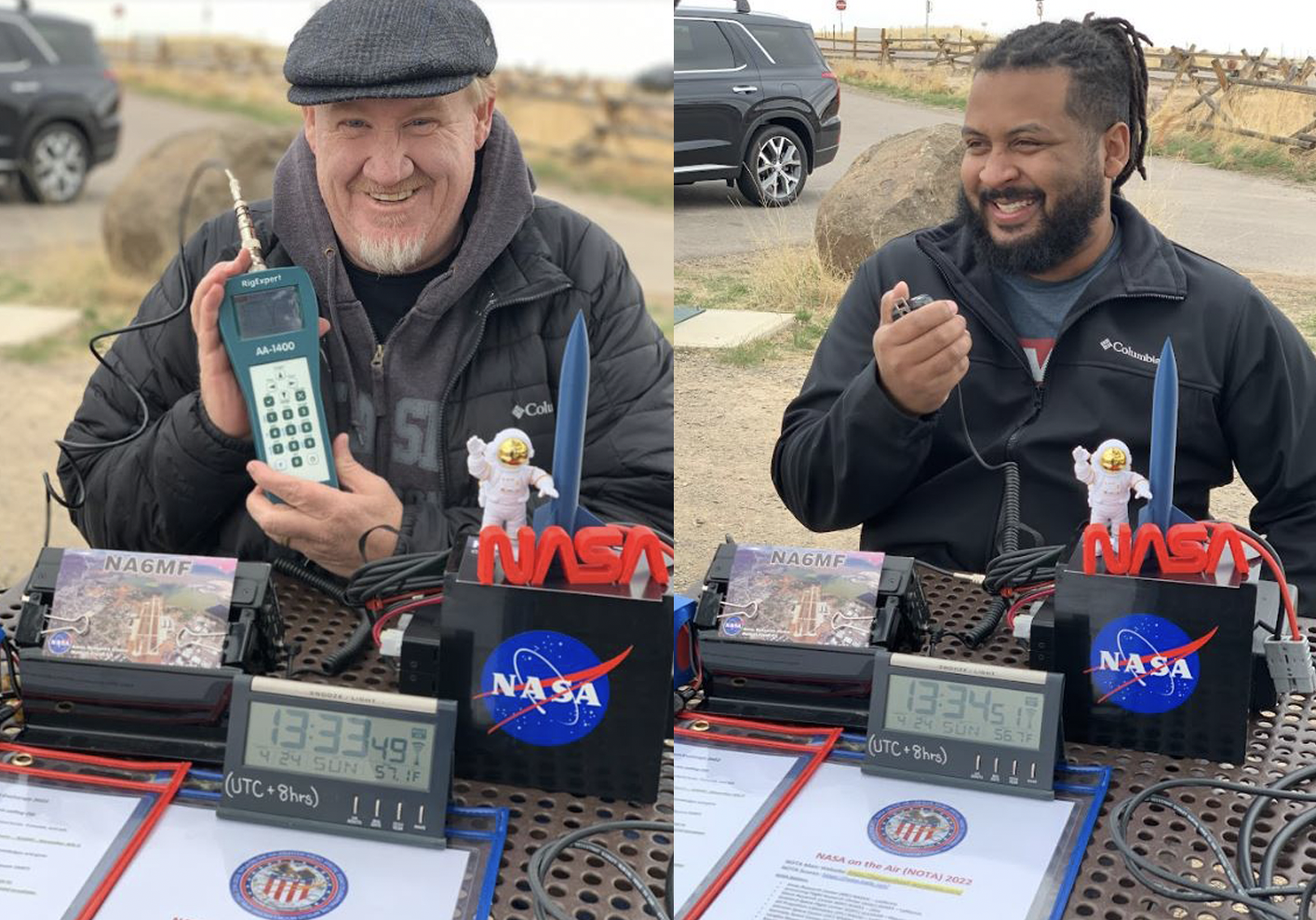 Credits: Ames Research Center – Ames Amateur Radio Club (AARC)
"The amateur radio clubs at NASA centers are made up of civil servants, contractors, and tenants who participate on their own time.," said Kevin Zari, who has been at Kennedy Space Center since 1990 and is the associate director for ISS Exploration Research and Technology Programs. "We all have a common goal to show our support for NASA and highlight some of the agency's amazing accomplishments."
Zari added that he hopes, if time permits, the astronauts on the ISS can participate using ham radio equipment aboard the orbiting laboratory 225 miles above the Earth, made possible by the Amateur Radio on International Space Station (ARISS) Program. Amateur radio has been a part of NASA space flights since Shuttle Amateur Radio operations started in 1983.
"The plan is to talk about these anniversaries and their place in the history of NASA," explains Rob Suggs, who is a member of the Marshall Amateur Radio Club in Huntsville, Alabama. "We also want people to know what we are doing now and what's coming up in the near future," he said.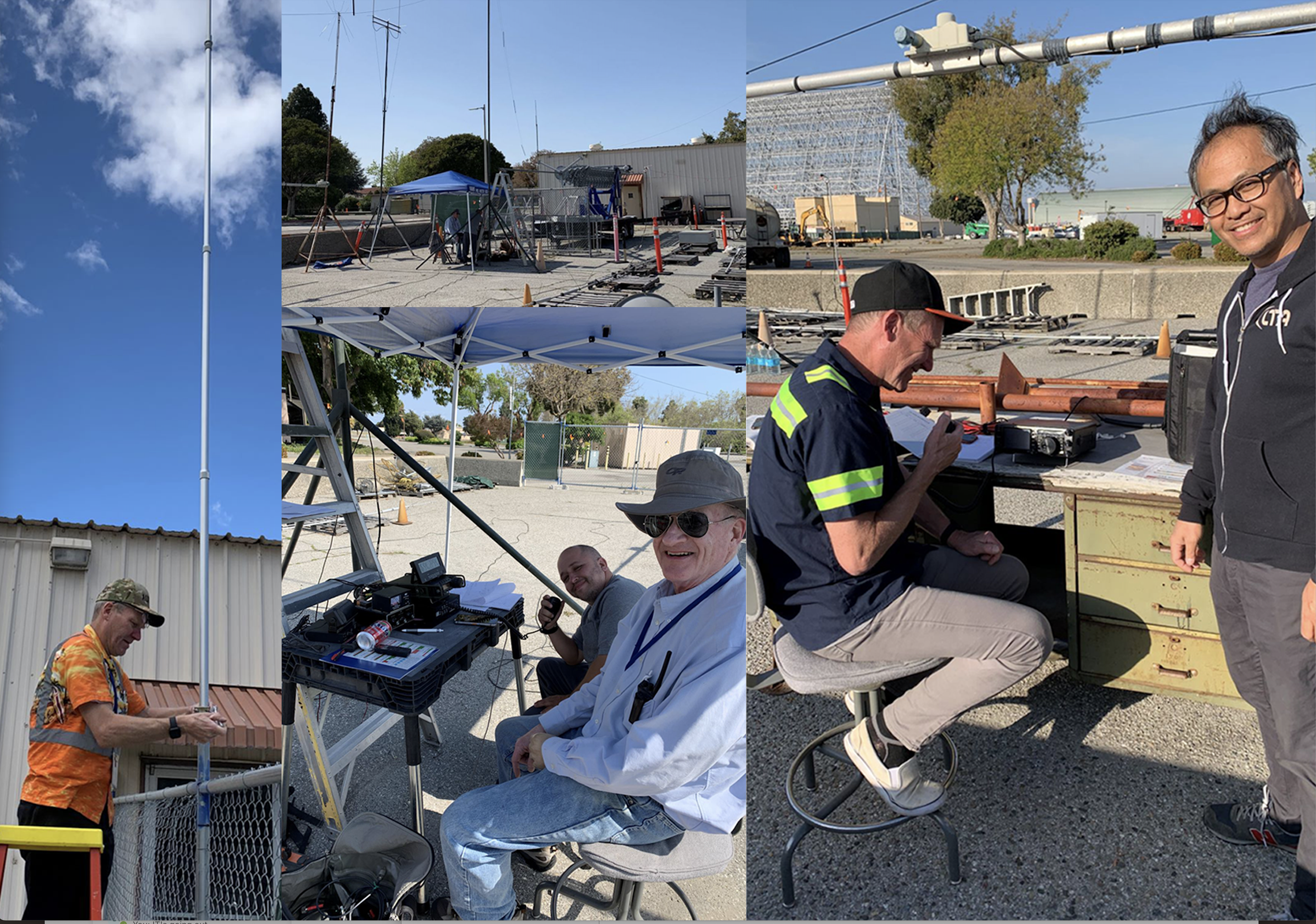 Credits: Ames Research Center – Ames Amateur Radio Club (AARC)
"We plan to publicize the "NASA on the Air" events in amateur radio magazines, on our Facebook site, and web pages," said Suggs who has worked for NASA since 1994 and is supporting Natural Environments for the Human Landing System Program.
"NASA on the Air" uses the hashtag #NOTA when announcing events on social media sites such as Twitter, LinkedIn, and Instagram.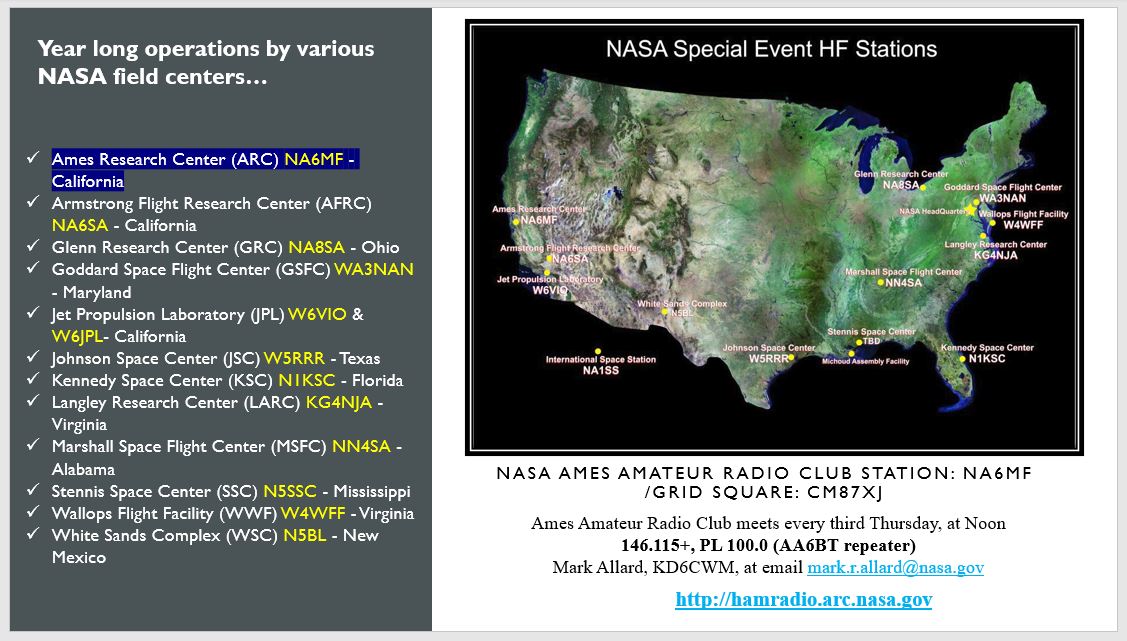 Ham radio enthusiasts usually exchange QSL cards. When a contact is made with someone, you exchange a postcard noting the contact was made. For this yearlong event, some clubs at NASA centers are offering commemorative QSL cards and a special certificate indicating how many centers a participant contacted on various frequency bands.
QSL cards serve as written confirmation of communication between amateur radio stations. QSL derived its name from the Q, or question, code message: "QSL?" It simply means, "Do you confirm receipt of my transmission?"
Points will be awarded to each center's amateur radio club based on the number of contacts made during the yearlong event.
NOTA's Contact Tracking System is run by Matt McDougal, KA0S out of Marshall Amateur Radio Club, NN4SA. It is a web-based system for participants to check their points total and download a printable certificate at the end of the event. Points will be awarded for each center's contacts.
To learn more about the "NASA on the Air" events, please visit: http://nasaontheair.wordpress.com
Upcoming "NASA on the Air" Events/Milestones coming up this year, will include:
June 18 – 24: Commemorating STS-7 & Sally Ride – In honor of 2022 American Women's Quarter Release
TBD – ARTEMIS launch
TBD – James Webb Space Telescope
December 7 – 19: In honor of the 50th Anniversary of the Apollo 17 mission
Please check the NOTA website regularly as Special Event dates are always being added:
https://nasaontheair.wordpress.com

If you would like to be an Ames Amateur Radio Club (AARC) Operator and good will ambassador for "NASA on the Air "(NOTA) Special Events:
you are an already licensed Amateur Radio Operator
or are non-licensed, but interested in, or curious about learning more about amateur radio and want to assist with this year's NOTA events, please contact:
Mark Allard, KD6CWM, AARC President at mark.r.allard@nasa.gov
Desiree Baccus, N3DEZ, NASA on the Air (NOTA) Co-Chair at desiree.m.baccus@nasa.gov
Stephen Kuryla, KK6FKD, AARC Weekly Net Control at stephen.kuryla@kzsu.stanford.edu
Credits: Ames Research Center – Ames Amateur Radio Club (AARC)
In Memoriam …
Former Innovative Aeronautical Engineer and Scientist, Michel Bader, Passes Away
Michel Bader passed away peacefully at home on Oct. 30, 2021. Michel was born in Paris, France, in 1930, where he lived with his parents, Marc and Lydia (Lily), and younger sister, Maryse, until they left for Southern France during the German occupation of WWII. At age 11, he and his family sailed on one of the last refugee boats to leave Spain. After a couple of years in Cuba and Mexico, the family settled in Carmel Valley, California.
Credits: NASA
Michel earned his Ph.D. in physics at 24 from Cal Tech. In 1955, he joined NASA when it was initially NACA (National Advisory Committee for Aeronautics), and began a 25-year career at NASA's Ames Research Center. Michel was instrumental in initiating several significant programs and research departments. One of his greatest accomplishments was the idea to send an aircraft up into the stratosphere and open the side up to put a telescope through the opening. At the time, he was told it couldn't be done. He persisted, at the risk of losing his position, and the program he pursued materialized after he initiated the design study for the open-port airborne large aperture infrared telescope.
This program eventually became SOFIA, the Stratospheric Observatory for Infrared Astronomy.
Michel also created the first ion accelerator, which he developed as a way to help predict the life span of Earth satellites. The accelerator would help with studies of how very tiny gas pressure particles affected space satellites when they collided with them at speeds of more than 15,000 miles per hour. He used the accelerator to study pressures one-millionth of one-millionth of a pound. Michel also began the study of interplanetary physics, publishing a paper for the need for and preliminary design of a plasma probe, which became Ames' first space experiment.
In addition to his scientific contributions, Michel was a leader in administration, heading the Physics Branch, the Airborne Science Office and the Space Science Division. In these roles, he set up the entire Airborne Science Program, and completely reorganized the Space Science Division, several branches of which exist today. Michel finished his civil service career as special assistant to the director of Ames. He retired early from NASA in 1980, moved to Magalia, California, and spent the rest of his career developing and refining a commodities trading system, which he continued up until his passing.
In the mid-1950s, Michel met Maryann Wittliff while folkdancing. They married, had two children, Annette and Daniel, and parted ways a few years later. Although he would later say that NASA became his "family," he very much enjoyed his five grandchildren, Ahren, Jhamil, Riley, Camille, and Lena. Their summer visits were an annual highlight for all.
Michel had a droll sense of humor, which came out even when addressing high-level scientists and diplomats. He was very private, but he extended kindness to those with whom he connected. He was a vocal champion for personal responsibility and individual freedom. He was confident with speaking his views, which were not necessarily popular. He was interested in philosophy and politics, physics and metaphysics, and those who had the chance to sit and speak with him were often impressed with his depth of knowledge and scholarly brilliance. And who could forget his peering over two or even three pairs of reading glasses as he spoke with you?
Michel was preceded in death by his dear friend Bob (Robert) Smith, and his sister, Maryse Bader, both also of Magalia. A virtual memorial will be held at a later date.
Statistical Summary of Activities of the Protective Service Division's Security/Law Enforcement and Fire Protection Services Units for Period Ending April 2022