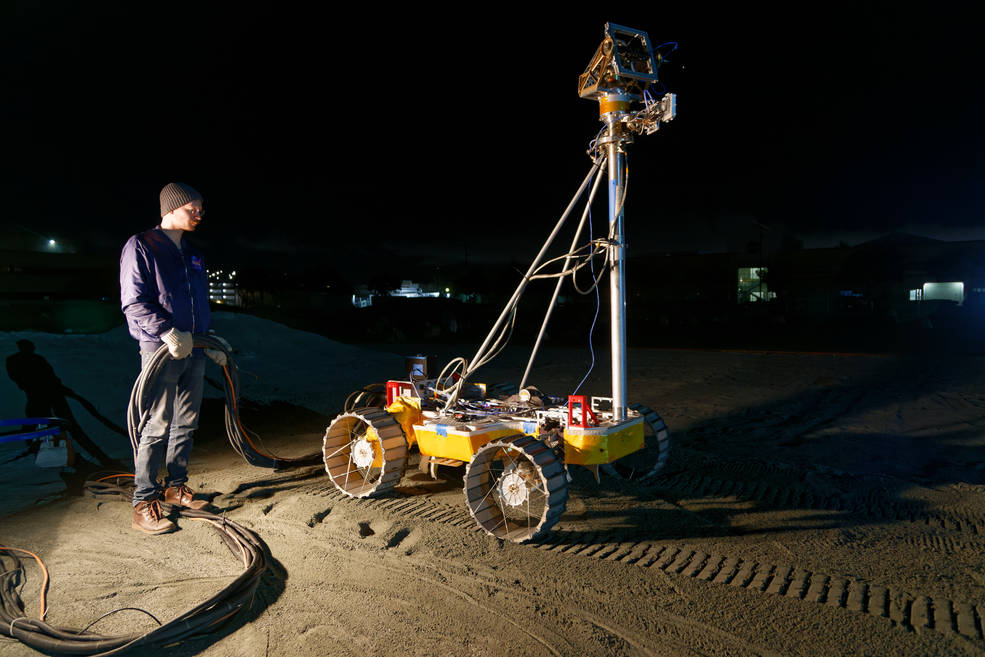 Credits: NASA/Matthew Machlis
As VIPER, NASA's next Moon rover, wheels about atop Mons Mouton – a large flat-topped mountain on the Moon's South Pole – one small but mighty piece of hardware will be critical for the team of rover drivers and scientists to send it commands, know where it is going, and receive valuable science data: a gimbal-pointed high-gain antenna.
VIPER has both a low-gain and high-gain antenna to transmit data to and receive data from the Deep Space Network (DSN) antennas on Earth. Its low-gain antenna sends radio waves at a low data rate, while its high-gain antenna transfers much more information (over 100 times more). Data is then transferred from the DSN to the Multi-Mission Operations and Control Center at NASA's Ames Research Center in California's Silicon Valley, where rover operations are based.
"Pointing VIPER's high-gain antenna in the correct orientation is one of the most critical functions the rover has," said Arno Rogg, rover systems engineer at Ames. "Without its antenna, the rover cannot receive commands while in motion on the Moon and cannot transmit any of its data back to Earth for scientists to achieve their mission goals."
Credits: NASA/Arno Rogg
Why it Matters
VIPER is designed to use distributed computing, which allows engineers to download images and other data from the rover for fast processing, rather than having to rely only on the rover's slower on-board computing. 
"This opens up a process for off-planet science operations that enables us to be super responsive to the situation on the Moon as it is revealed," said Dr. Zara Mirmalek, VIPER deputy science operations and integration lead at Ames. "The science team can react in near real time and influence where the rover moves to meet the mission's science objectives."
In order to transmit large amounts of data across the 240,000 miles that separate Earth and the Moon, VIPER will be equipped with an antenna that can send information along a very focused, narrow beam. With the exception of planned stops to take panoramas of its lunar surroundings, to use its drill, wait out occasional communication blackouts or periods of shadow at safe havens, VIPER will constantly be on the move. The rover will spend most of its time driving and using its suite of spectrometers and cameras to map the location and concentration of lunar water and other volatiles at the surface of areas of scientific interest –– which means it is essential for the rover to be able to constantly and precisely point its antenna while it moves.
"The rover is equipped with different sensors that work together and allow it to know where to point and tell the gimbal to adjust the antenna's direction as many as 10 times every second, even while the rover might be bouncing over boulders and crater slopes," said Rogg. "But knowing where to point is extremely complex."
VIPER uses its onboard computer and a few different sensors to accurately and very frequently calculate its position on the Moon. One sensor is its star tracker – a sensitive camera that takes pictures of the star field above VIPER. By comparing the pictures to its built-in map of stars, the star tracker can determine which way VIPER is oriented. VIPER also uses a set of gyroscopes to track how quickly the rover is turning. Using the combined data, the rover commands the gimbal to make fine adjustments to compensate for the rover's motion in order to keep the antenna always pointed at the Earth.
Flipping the Problem Around
But engineers were faced with a problem: How can such a system be tested on Earth? Their solution? Flip the problem around – and drive a prototype rover in California with an antenna pointed at the Moon. They recently completed the nighttime tests at the Roverscape at Ames using the latest prototype of the rover, known as Moon Gravitation Representative Unit 3 (MGRU3), and found both antenna and gimbal performed well.
"We found that the Moon stayed dead center even while the prototype performed a sprint drive over the largest rock in our Roverscape, which is one of the most challenging cases," said Terry Fong, deputy manager of the VIPER rover. "We're now even more confident the system will work on the Moon."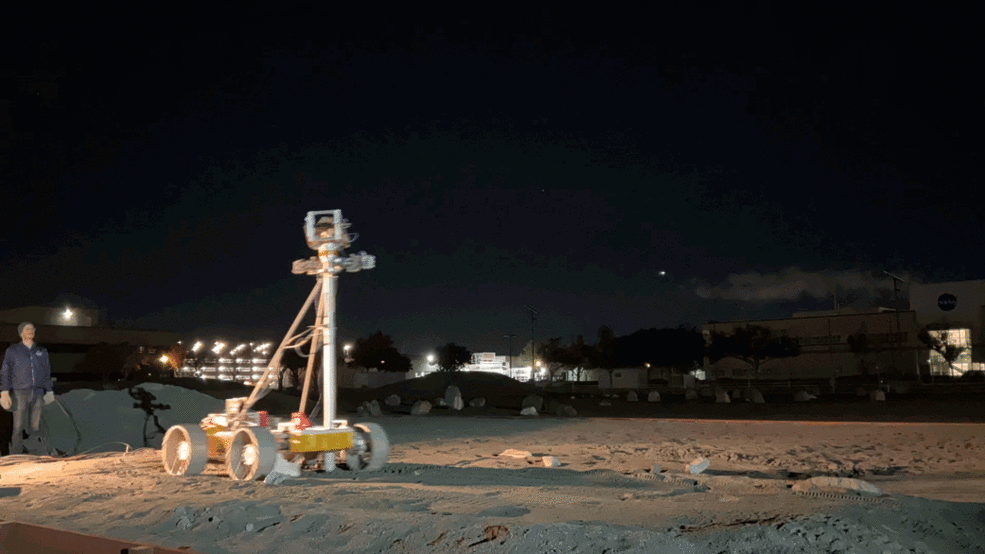 Credits: NASA/Arno Rogg