The first Urban Air Mobility (UAM) human-in-the-loop (HITL) simulation successfully completed data collection on September 14, 2018. NASA's definition for UAM is a safe and efficient system for air passenger and cargo transportation within an urban area, inclusive of small package delivery and other urban Unmanned Aerial Systems (UAS) services, which supports a mix of onboard/ground-piloted and increasingly autonomous operations.
This simulation objective was to study candidate procedures and routes for flying UAM traffic in Class B and D airspace in the Texas Dallas-Fort Worth airport (DFW) terminal area, as well as to evaluate the corresponding impact of UAM traffic level on controller workload.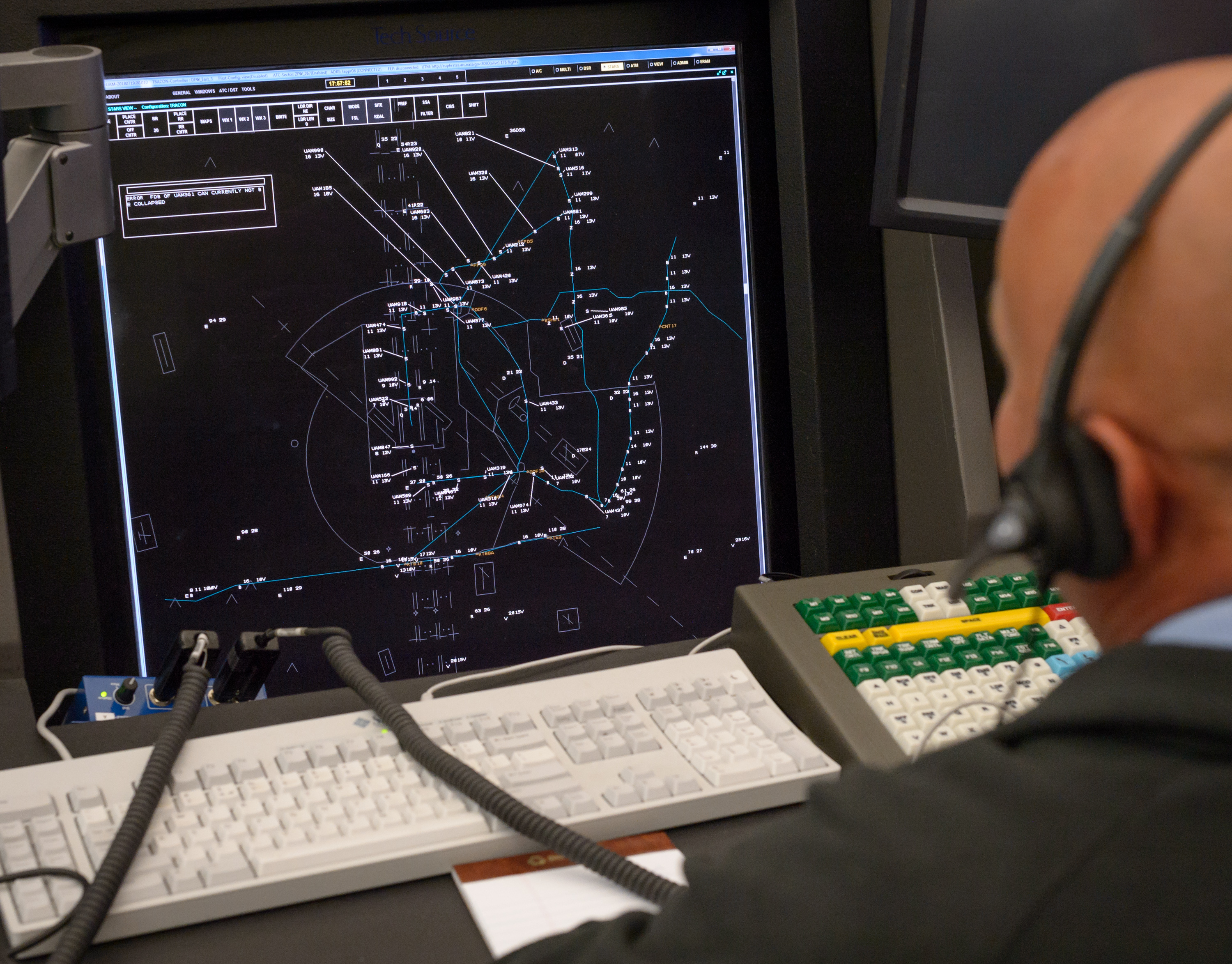 NASA / Dominic Hart
Three levels of UAM traffic density (high, medium, and low) were represented by vehicles temporally separated en route by 45 seconds, 60 seconds and 90 seconds respectively, on average.
Three different procedures/conditions were also tested, using helicopter routes in the DFW Area: 1) current helicopter routes, 2) current routes with Letters of Agreement (LOA) that vertically separated the routes and codified the routes with reduced verbal communications, and 3) Modified routes with LOA. The simulation, at NASA Ames Research Center's Air Traffic Control simulation laboratory, included the participation of seven controllers and thirteen pseudo-pilot stations from DFW Local East-3 Tower, Addison Airport (ADS) Tower, and the Dallas Love Field Airport (DAL) helicopter controller position.
NASA / Dominic
Participants managed UAM traffic as well as conventional Instrument Flight Rules (IFR) and Visual Flight Rules (VFR) traffic around DFW, DAL, and ADS airspace. Data collected included actual separations between flights, throughput, workload, and usability. Data analysis is underway and the feedback received will be used to inform future UAM research. (POC: Savvy Verma)
NASA and a community of government, industry and academic partners are working together on the goal of UAM. Interested in more information on partnering opportunities with SimLabs? Contact Us today!