Environmental Monitoring of the International Space Station (Environmental_Monitoring)
OpNom:
Overview | Description | Applications | Operations | Results | Publications | Imagery
Experiment Overview
This content was provided by , and is maintained in a database by the ISS Program Science Office.
Brief Summary
Early evaluation of the internal environment from air, water and surface samples of International Space Station (ISS) provided a baseline of the contaminant characterization onboard the ISS. The data obtained from Environmental Monitoring provides insight into the environmental contamination during the stages of construction and habitation of ISS.
Principal Investigator(s)
Information Pending
Co-Investigator(s)/Collaborator(s)
Information Pending
Developer(s)

Kennedy Space Center, , FL, United States

Sponsoring Space Agency
National Aeronautics and Space Administration (NASA)
Sponsoring Organization
Human Exploration and Operations Mission Directorate (HEOMD)
ISS Expedition Duration:
November 2000 - March 2010
Expeditions Assigned
1,2,3,4,5,6,7,8,9,10,11,12,13,14,15,16,17,18,19/20,21/22
Previous ISS Missions
Environmental monitoring investigations have been conducted since the beginning of the space program.
---
Experiment Description
Research Overview
The closed environment of the International Space Station must be monitored for contamination to ensure the health of the crew living and working on ISS.



Contamination of the ISS environment can be caused by off-gassing of vapors from items (plastics, tape, etc.), as well as microbes (bacteria and fungi) growth inadvertently carried to ISS on the crew and supplies.



Testing of the air, water and surface of ISS for contaminants will alert the crew of a significant increase in contaminant particles on ISS. The crew can change out the air filters, clean surfaces and treat the water on ISS to prevent illness from the increased contaminants.



Experience in monitoring the ISS environment provides a new understanding of the closed environment and will be applied to operations of future spacecraft.
Description
To successfully live and work in the environment of space the ISS environment must be monitored to ensure the health of the crew living and working there. Astronauts can be more sensitive to air pollutants because of the closed environment. Pollutants in this environment are magnified in ISS because the exposure is continuous.

Sources of physical, chemical, and microbiological contaminants include humans and other organisms, food, cabin surface materials and experiment devices. One hazard is the off-gassing of vapors from plastics and other items on ISS; although this is a small hazard, the accumulation of these contaminants in the air can prove dangerous to crew health. The air sampling systems on ISS periodically checks the air for potential hazards. Advanced high efficiency particulate air (HEPA) filters and periodic filter cleanings have been successful in keeping harmful vapors out of the air. Other significant contaminants that pose hazards to the crew are microbial growth, both bacterial and fungal; air, water and surface sampling by the crew in conjunction with periodic cleaning keep the microbial levels on ISS in check.

The volatile organic analyzer (VOA) is an atmospheric analysis device on ISS that uses a gas chromatograph and ion mobility spectrometer to detect, identify, and quantify a selected list of volatile organic compounds (i.e., ethanol, methanol and 2-propanol) that are harmful to humans at high levels in a closed environment, such as ISS.

To monitor microbial levels on ISS crew members use devices called grab sample containers, dual absorbent tubes and swabs to collect station air, water and surface samples and send them to Earth for detailed analysis and identification every 6 months. This data provides controllers on Earth detailed information about the type of microbial contaminants on board ISS. The controllers can then give direction to the crew on sanitation if increased microbial growth is identified. The crew keeps microbes under control on ISS through periodic scheduled sanitation of the ISS.

Missions to the Moon and Mars will increase the length of time that astronauts live and work in closed environments. To complete future long duration missions the crews must remain healthy in closed environments, hence future spacecraft must provide sensors to monitor environmental health and accurately determine and control the physical, chemical and biological environment of the crew living areas and their environmental control systems.
---
Applications
Space Applications
Environmental Monitoring is vital to ensuring crew and spacecraft health during space flight. The results are being used to identify specific effects of a closed space environment on astronauts. This knowledge will allow scientists to develop systems to enable the crew to remain health on future long duration missions to the Moon and Mars.
Earth Applications
Increased understanding of the affects of a closed space environment on humans will increase the knowledge of living in extreme conditions such as submarines or the artic.
---
Operations
Operational Requirements
Numerous air, water and surface samples are collected by ISS crews on a regular basis. Many of these samples are cultured on board ISS while others are preserved and returned to Earth for later analysis. These samples are analyzed using the following methods on board ISS:
Archival - The crew collects a sample and returns it to Earth for analysis. To complete this type of analysis the following tools are used:

grab-sample canisters that capture about a fist-sized volume of air

formaldehyde badges that trap the formaldehyde in a matrix

dual sorbent tubes that trap many pollutants in a matrix
Real-Time - The crew collects and analyzes the sample on ISS. To complete this type of analysis the following tools are used:

Compound Specific Combustion Product Analyzer - looks at potential toxic products of combustion, such as a fire, onboard the spacecraft and analyzes carbon monoxide, hydrogen cyanide, hydrogen chloride, and oxygen particles in the air

Volatile Organic Analyzer (VOA) - uses gas chromatography/ion mobility spectrometry to isolate volatile compounds in the ISS atmosphere daily

Major Constituent Analyzer - monitors the ISS atmosphere continuously for oxygen, nitrogen, carbon dioxide, hydrogen, methane, and water vapor levels.
Operational Protocols
The crew utilizes handheld equipment to monitor the air, water and surfaces of ISS on a daily, weekly and monthly basis. The samples can be returned to Earth for analysis by scientists. Other automated equipment, including the Compound Specific Combustion Product Analyzer, VOA and Major Constituent Analyzer monitors the atmosphere of ISS daily for potential harmful contaminants. The crew also performs weekly housekeeping duties on board ISS, which includes disinfecting surfaces and cleaning air filters which contributes to environmental monitoring.
---
Results/More Information
During one study of the ISS atmosphere, 12 bacterial strains were isolated and fingerprinted from the ISS water system. These bacteria consisted of common strains and were encountered at levels below 10,000 colony-forming units/10 cm2, which is well below the minimum of bacteria needed to cause illness. These data represent the beginning of ISS habitation and indicate that the lessons learned from previous Mir and Skylab missions were implemented and have been effective in keeping station a safe place in which to live and work (Castro et al. 2004).

Other studies performed an in-depth microbial examination of the drinking water in various stages (from the NASA Kennedy Space Center, Cape Canaveral, FL to the ISS ports). These studies have revealed that NASA policy for biocide treatment has effectively removed pathogenic microbes traveling to space (La Duc et al. 2004; Plumlee et al. 2002; Plumlee et al. 2003). Studies on station air quality found that the active (volatile organics analyzer) and passive (HEPA filters) controls in place on ISS are effective in controlling trace contaminants of volatile organic compounds on space station (James 2003; Perry 2003). (Evans et al. 2009)
---
Results Publications
James JT, Limero TF, Beck S, Martin M, Covington P, Boyd J, Peters R. Toxicological Assessment of the International Space Station Atmosphere with Emphasis on Metox Canister Regeneration. 33rd International Conference on Environmental Systems SAE; 2003; Vancouver, Canada.


La Duc MT, Summer R, Venkateswaren KJ, Pierson DL, Venkat P. Evidence of pathogenic microbes in the International Space Station drinking water: reason for concern?. Habitation. 2004; 10: 39-48.


Perry JL, Peterson BV. Cabin air quality Dynamics on Board the International Space Station. 33rd International Conference on Environmental Systems; 2003; Vancouver, Canada.


Plumlee DK, Mudgett PD, Schultz JR. ISS Potable Water Sampling and Chemical Analysis: Expeditions 4 & 5. 33rd International Conference on Environmental Systems; 2003; Vancouver, Canada.


Plumlee DK, Mudgett PD, Schultz JR. Chemical Sampling and Analysis of ISS Potable Water: Expeditions 1-3. 32nd International Conference on Environmental Systems; 2002 July 15; San Antonio, TX.


Castro VA, Thrasher AN, Ott CMark, Healy M, Pierson DL. Microbial Charcterization during the Early Habitation of the International Space Station. Microbial Ecology. 2004; 47: 119-126. DOI: 10.1007/s00248-003-1030-y.

---
Ground Based Results Publications
---
ISS Patents
---
Related Publications
---
Related Websites
---
Imagery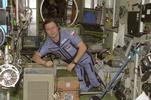 NASA Image: ISS006E45319 - Cosmonaut and Flight Engineer for ISS Expedition 6, Nikolai Budarin is posing near the Potok 150MK air decontamination equipment in the Zvezda Service Module.
+ View Larger Image
NASA Image: ISS010E11563 - An example of microbial contamination that developed on interior panel 406 aboard ISS. Following workouts the crew placed there clothes on this panel to dry out. Attempts to clean this panel with supplies aboard ISS failed and the panel had to be replaced.
+ View Larger Image

NASA Image: ISS012E10245 - Astronaut William McArthur Jr., Expedition 12 commander and NASA space station science officer, performs in-flight maintenance on the Volatile Organic Analyzer in the Destiny laboratory of the International Space Station.
+ View Larger Image