Seedling Growth, formerly Seed Growth-2 (Seedling Growth)
OpNom:
Overview | Description | Applications | Operations | Results | Publications | Imagery
Experiment Overview
This content was provided by John Z. Kiss, Ph.D., Francisco-Javier Medina, and is maintained in a database by the ISS Program Science Office.
Brief Summary
Seedling Growth studies the effects of microgravity on the growth of plants. The Seedling Growth experiment will be performed on board the International Space Station (ISS) in collaboration with the European Space Agency. Images of the plants will be captured and down-linked to Earth. Samples of the plants will be harvested and returned to Earth for scientific analysis. The results of this experiment can lead to information that will aid researchers in food production studies concerning future long-duration space missions, as well as data that will enhance crop production on Earth.
Principal Investigator(s)
John Z. Kiss, Ph.D., Miami University, Oxford, OH, United States
Francisco-Javier Medina, Centro de Investigaciones Bioligicas, Madrid, Spain
Co-Investigator(s)/Collaborator(s)
Elodie Boucheron-Dubuisson, Ph.D., Université Pierre et Marie Curie, Paris, France
Julio Sáez-Vásquez, Ph.D., CNRS-IRD-Université de Perpignan via Domitia, Perpignan, France
Richard E. Edelmann, Ph.D., Miami University, Oxford, OH, United States
Developer(s)

NASA Ames Research Center, Moffett Field, CA, United States

Sponsoring Space Agency
National Aeronautics and Space Administration (NASA)
Sponsoring Organization
Human Exploration and Operations Mission Directorate (HEOMD)
Research Benefits
Information Pending
ISS Expedition Duration
March 2013 - September 2013
Expeditions Assigned
35/36
Previous ISS Missions
This experiment builds on previous space flight experiments for both Principal Investigators using the model plant Arabidopsis thaliana. Concerning the TROPI (Kiss) experiment in the EMCS on the ISS, data were obtained on the phytochrome photoreceptors responsible for the phototropic response of seedlings grown in microgravity. Growth, development, and phototropic curvature of plants in response to varying qualities of light were analyzed, as well as global gene expression changes using DNA microarrays. In the ROOT experiment (Medina, ISS) and in the experiments GENARA and ROOT CELL PROLIFERATION (approached until now in ground-based facilities), results indicated that cell growth and proliferation in root meristems were altered by changing the effective gravity, including the expression of relevant cell cycle genes. Furthermore, the distribution of auxin was altered, resulting in modifications of the pattern of primary and secondary root growth.
---
Experiment Description
Research Overview
Seedling Growth studies the effects of various gravity levels on the growth responses of plant seedlings (roots and shoots; wild type and genetically modified).



Images of seedlings are captured and downlinked. Plant samples are harvested and preserved on orbit for analysis on Earth.



While this project addresses basic research questions in plant biology, the research also provides insight into the cultivation of plants during space flight on long-term missions. Ultimately, an understanding of plant development mechanisms will aid in improving crop production and agricultural yields on Earth.
Description
Plants provide a complete and economical means for human life support for long-duration space exploration and habitation. However, since the space environment is not optimal for plant growth, an understanding of how plants sense and respond to changes in their environment is of fundamental importance. The Seeding Growth investigation studies the effects of various gravity levels on the growth responses of plant seedlings (roots and shoots; wild type and genetically modified). Studying the mechanisms of root and shoot responses to stimuli in microgravity is important to understanding how to effectively use plants in life support systems on long-term space missions.
---
Applications
Space Applications
During long-term space exploration, it is necessary to provide crewmembers with regenerative sources of food as well as supplemental methods to recycle carbon dioxide into breathable oxygen. As new information emerges concerning the way plants grow in microgravity, sustainable plant-based life support systems may be developed.
Earth Applications
Further understanding of how plants grow and develop at a molecular level can lead to significant advancements in agricultural production on Earth. Understanding mechanisms of plant development will support improved agricultural production and higher crop yields on Earth.
---
Operations
Operational Requirements
16 EC/EUE/Seed Cassettes are required to be delivered to the ISS. For launch, the ECs should be oriented such that launch loads are directed perpendicular to the baseplate. At selected times, images will be automatically downlinked. The EMCS facility is required to perform experiment runs. A stowage facility is required to store the preserved samples. A stowage facility is also required to return the preserved samples to Earth.
Operational Protocols
Crewmembers destow EC/EUE Assembly and install ECs in the EMCS Facility. At the conclusion of the automated experimental sequence, crewmembers remove ECs from the EMCS Facility and preserve the seedlings using a Fixation Device. The ECs are stowed in ambient stowage. For return to Earth, both preserved samples and ECs are placed in stowage.
---
Results/More Information
---
Related Websites
---
Imagery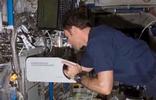 NASA Image ISS014E10639: Crewmember Michael Lopez-Alegria performs the EMCS Experiment Container Replace Activity.
+ View Larger Image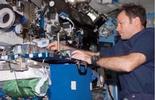 NASA Image ISS014E10647: Crewmember Michael Lopez-Alegria works with EMCS Experiment Containers.
+ View Larger Image
Image of the EMCS Experiment Container with ARC Experiment Unique Equipment (EUE)/Plant Seedling Seed Cassettes.
+ View Larger Image